Top Pine Nut Consuming Countries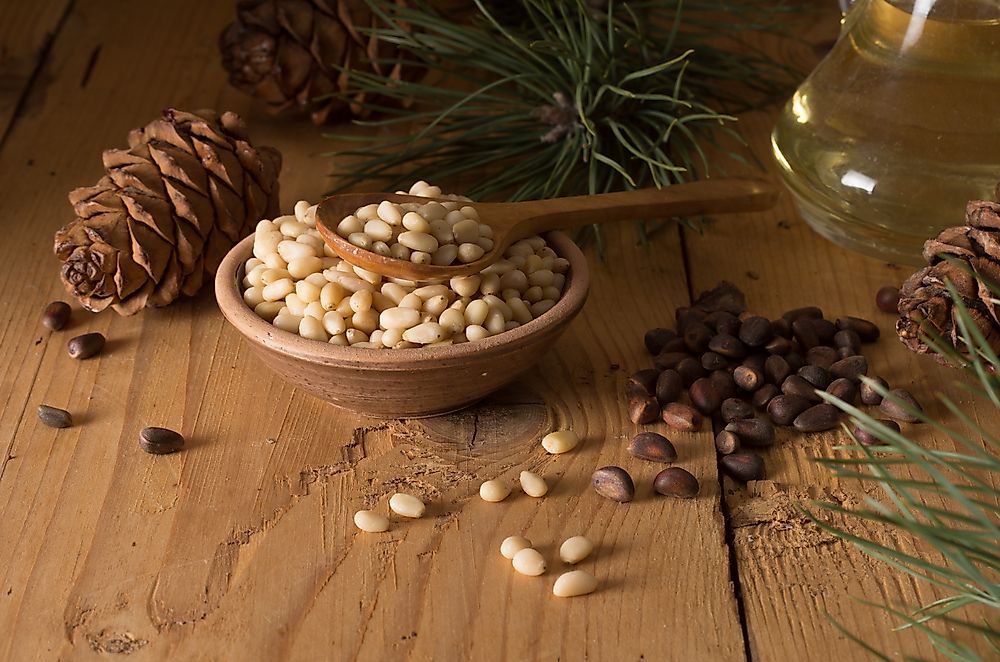 Pine nuts are edible seeds derived from pine trees. Though the nut trees are natives to the Mediterranean region and Middle East, there has been global acceptance. Today, pine nuts are grown and consumed in many countries around the world. Pine nut kernels grow in the wild as well as in orchards. Production of pine nut is irregular with considerable harvest occurring almost every five years. The general harvesting procedure is that mature green cones from the trees are cut, sun-dried or machine dried, then seeds are removed. Already dried seeds can be collected beneath trees. The global production has grown steadily over the last ten years with approximately 22,850 metric tons produced in 2017/2018 alone. China produces 30% making it the top producer and exporter. Other leading producers are North Korea, Afghanistan, Italy, and Pakistan. Germany and USA were the biggest importers.
Countries Consuming the Most Pine Nuts
China
China is the top consumer of pine nuts having consumed an estimated 4,605 metric tons in 2016. The rate translates to an annual consumption rate of 0.010 kg per capita. There are two main varieties of pine nuts which grow in the Jilin province in Northeast China. The pine seeds are harvested from September to October. Globally China leads in exports with two companies processing and packaging the nuts. The companies are Hunchun HongSongBao Pine Nut Industrial Co. Ltd and Jilin Zhongxin Chemical Group (JZC).
North Korea
North Korea is the second largest consumer having consumed 3868 metric tons in 2016, translating to an estimated annual per capita consumption of 0.610 Kg. Production has grown steadily over the years with 6,000 metric tons harvested in 2017 alone representing 25% of global production. North Korea rarely imports the product since its own production is able to meet the demand.
The United States
The United States is the third consumer of pine nuts. In 2016 alone a total of 3,659 metric tons were consumed, translating to an estimated annual per capita consumption of 0.045kg. Currently, the United States has embarked on the management of all woodlands to enhance pine nut production. The US is also the second largest importer of shelled pine nut. In 2016 the country imported 3,670 metric tons a growth of 187 metric tons since 2006.
Russia
Russia is the fourth consumer with an estimated 3,304 metric tons in 2016 translating to an annual per capita consumption of 0.230 kg. Production has steadily gone higher over the last ten years though the country still depends on imports to meet the growing demand.
Nutritional Information
Pine nuts are widely consumed due to their medicinal and nutritional value. The kernels are a source of plant-derived nutrients which include essential minerals, vitamin, and fatty acids. Potassium, phosphorous and linolenic acids are found in smaller qualities in the nuts. Consumption of pine nuts leads to lower cholesterol levels, better blood circulation, and reduced hepatic fats. Pine nuts can be consumed in raw form or roasted. Processed nuts can be ingredients of desserts, cookies, bread, pesto sauce, etc. Their high oil content can be extracted and used as cooking oil, beauty products, massage oils, and wood finish. Pine nuts are a source of food for wild animals such as quails, black bears, mule deer, and squirrels.
Top Pine Nut Consuming Countries
| Rank | Country | Consumption (MT) |
| --- | --- | --- |
| 1 | China | 4,605 |
| 2 | North Korea | 3,868 |
| 3 | United States | 3,659 |
| 4 | Russia | 3,304 |
| 5 | Germany | 2,294 |
| 6 | Italy | 2,214 |
| 7 | Netherlands | 1,545 |
| 8 | United Kingdom | 1006 |
| 9 | Australia | 902 |
| 10 | Israel | 634 |