Society
Thingvellir - Birthplace Of Icelandic Democracy
For almost nine centuries, the Althing assembly met at Thingvellir to govern and administer Iceland.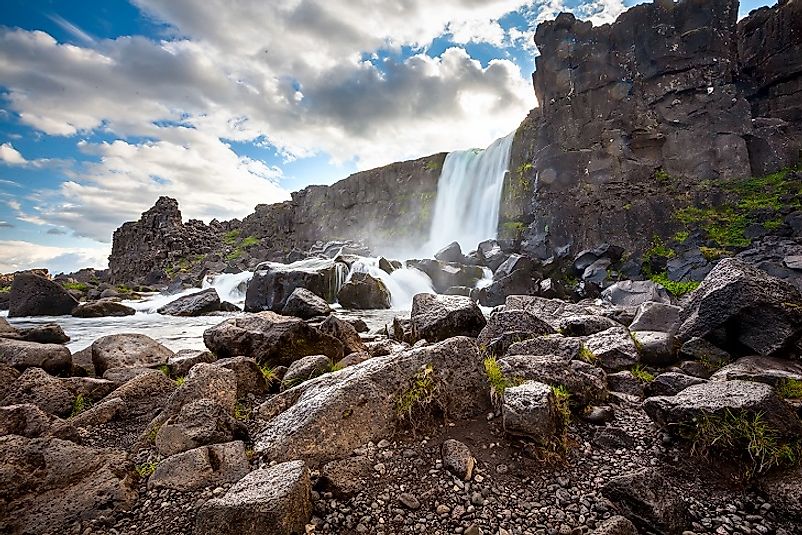 5. Description and History -
Today, Thingvellir is a national park located in the southwestern region of Iceland. This park lies along the border between the Eurasian and North American tectonic plates. The historical and cultural significance of Thingvellir dates back to 930 AD. People of Norse and Celtic origin began to inhabit Iceland around 874 AD and by 930 AD, the population had grown significantly. This growth created the need for a larger form of government.
Around this time, the owner of the present-day Thingvellir region was found guilty of murder and lost ownership of his land. This area was centrally located for community leaders from all regions of Iceland and became the site for the Althing Parliament, the most powerful legislative and judicial commission. Public speeches, announcements, and arguments were held from Logberg (also known as Law Rock), a natural rocky area within Thingvellir. Parliament was held here from 930 AD until 1798.
Thingvellir was a culture center during this time. During annual parliamentary meetings, residents from all over the country would travel here and set up temporary housing in order to remain informed about legislative decisions. In addition, these individuals came to sell and trade goods and services, share news from different regions of the country, take part in games and feasts, and watch a wide variety of entertainers. This was the hub around which Icelandic language, literature, and culture were formed.
4. Tourism and Education -
Today, Thingvellir is a UNESCO World Heritage Site and the most popular tourist destination in the country. Tourists can visit the tourist center and learn more about the historic, geographic, and environmental significance of this region. Additionally, visitors can go camping, hiking, and snorkeling or scuba diving within the Silfra Lake and Canyon. The lake was created as the Eurasian and North American tectonic plates moved away from each other. Ruins from the temporary housing, market booths, and Parliament can still be seen here as well.

3. Uniqueness -
Thingvellir is unique for a variety of reasons. Perhaps one of the most important aspects of this site is that it provides a glimpse into the evolution of Viking communities over nearly a thousand years. Geographically, it is unique due to volcanic and tectonic activity that has created the rift valley located here. Several of the fissures throughout the region are filled with clear water. The Peningagja is full of coins that visitors began throwing after the King of Denmark visited in 1907. Doing so has become a European tradition.

2. Natural Surroundings, Sights, and Sounds -
This important national park is surrounded on three sides by mountains and bordered by Lake Thingvallavatn, the largest natural lake in Iceland, on its south side. The majority of the area within these borders is made up of grass-covered lava fields cut through with several rifts, the most famous of these is the Silfra which is filled with crystal clear water. Rocky patches and cliffs can also be seen throughout the Thingvellir. The Oxara River flows through here as well, creating the Oxararfoss Waterfall.

1. Threats and Conservation Efforts -
The park is managed by the Thingvellir Commission, which works to preserve the area and ensure its sustainability. Despite their dedication, the park does face some environmental threats. One of the most pressing environmental concerns in Iceland is rapid glacier loss as a result of global climate change. This suggests an increasing temperature in the country, which could affect the native plants and animals of Thingvellir. The government of Iceland and the Thingvellir Commission are, however, committed to conservation efforts. These efforts are laid out in the park's Management Plan. Additionally, the government has implemented and follows a strategy and action plan against climate change.

About the Author
Amber is a freelance writer, English as a foreign language teacher, and Spanish-English translator. She lives with her husband and 3 cats.
This page was last updated on April 25, 2017.
Citations
Your MLA Citation
Your APA Citation
Your Chicago Citation
Your Harvard Citation
Remember to italicize the title of this article in your Harvard citation.