Travel
The Most Visited Shopping Centers In France
Les Quatre Temps received 42 million visitors in 2017 making it the most visited shopping centre in France.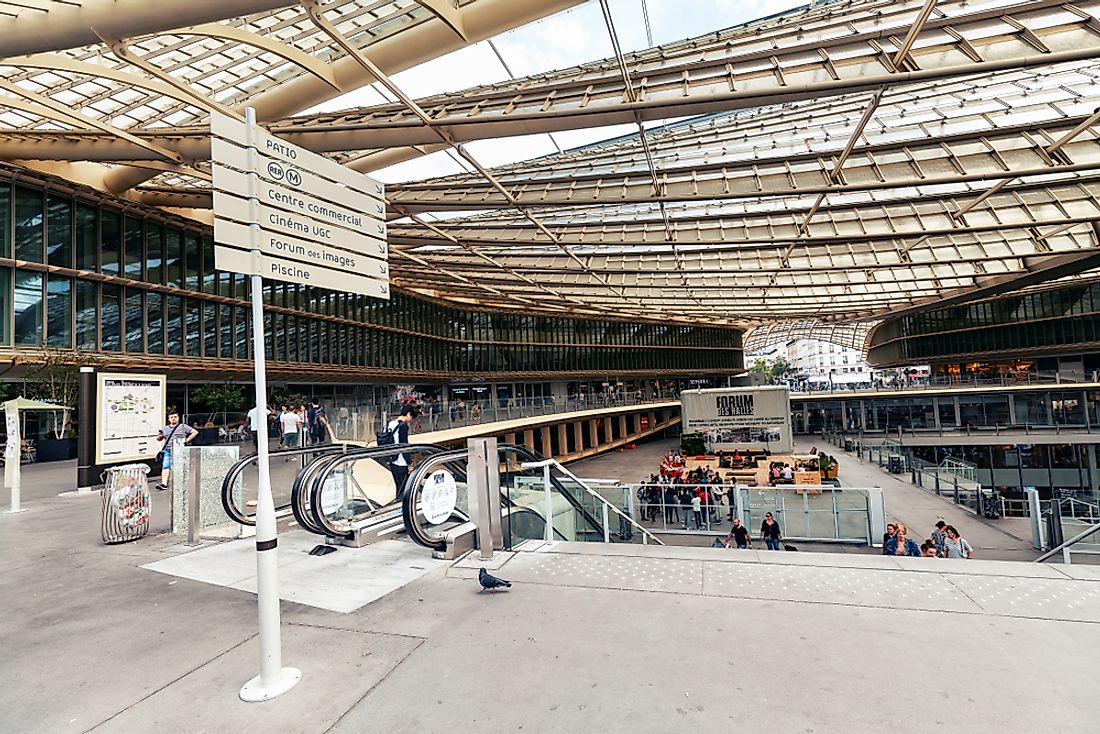 With the advent of online shopping, most people thought it would usher the end of traditional shopping malls. However, there are many malls around the world that still see a high amount of foot traffic. Each country has its own most visited shopping centers, and the following are some of the most visited in France.
Les Quatre Temps
Les Quatre Temps is the largest mall in Europe, and it is located 10 minutes away from downtown Paris in the La Defense District. Forty-two million people visited the shopping mall in 2017, making it by far the most visited shopping center in France. The shopping complex covers an area of 1,399,308 square feet, and it is divided into four levels drawing shoppers in millions. The mall host several leading French brands as well as international brands and offers 230 boutiques.
La Part-Dieu
La Part-Dieu is the 2nd most visited shopping center in France, and it is located in the third arrondissement in Lyon and covers an area of 1,370,246 square feet. In 2017, the shopping complex attracted 35.6 million people. The mall was opened in 1975, and it is still among the biggest shopping centers in Europe. As of 2010 the size of the mall had been increased to cover an extra area of 118,403 square feet. The renovation of the mall began in 2017, and it was anticipated to be completed by 2022. The renovation will include creating new and more significant entrances as well as the appearance of the outside.
Forum des Halles
Forum Des Halles is one of the largest shopping centers in Europe. It is standing on the site where Les Halles was demolished in 1971. It is one of the most popular malls receiving approximately 150,000 visitors every day. In 2017, it received 3.9 million visitors, becoming the third most visited shopping center in France. In 2010 significant innovations of the shopping complex was undertaken, and in 2018 the newer version of forum Des Halles was inaugurated. It has a huge underground shopping center that features different stores, restaurants, cinemas, sports, and recreation centers.
Créteil Soleil
Créteil Soleil is one of the leading shopping centers in France, and in 2017, it attracted 21 million visitors franking as the fourth most visited shopping center in the country. Every Saturday the mall receives about 300,000 visitors. Sixty-eight percent of its customers have been visiting the mall for more than three years, and about 62% visit the shopping complex at least once a week. It is directly linked to the city of Paris and easily accessible by A86 and A4. It is also served by at least ten bus routes and several other pedestrian streets. Créteil Soleil was officially opened in 1974, and it covers an area of 1,334,724 square feet.
Evry2
Every2 is another major shopping mall in France which was opened officially in 1975 and currently features 225 shops. In 2017, Evry2 mall was visited by 20 million people, making it one of the most visited shopping malls in the country. All the leading French and international sports, ready-to-wear, and beauty products are found in the mall. Evry2 is open from 10 a.m. to 8 p.m. in the evening. On Sundays, the mall is open until 9 p.m. There are more than 30 cafes and restaurants. Between 2001 and 2003, the mall was renovated and expanded by more than 172,222 square feet. The whole shopping complex covers an area of 1,345,488 square feet and has 4,400 parking spaces.
The Most Visited Shopping Centers In France
| Rank | Shopping Center | Number of visitors in 2017 in millions |
| --- | --- | --- |
| 1 | Les Quatre Temps | 42 |
| 2 | La Part-Dieu | 35.6 |
| 3 | Forum des Halles | 33.9 |
| 4 | Créteil Soleil | 21 |
| 5 | Evry2 | 20 |
About the Author
Benjamin Elisha Sawe holds a Bachelor of Arts in Economics and Statistics and an MBA in Strategic Management. He is a frequent World Atlas contributor. 
This page was last updated on September 18, 2019.
Citations
Your MLA Citation
Your APA Citation
Your Chicago Citation
Your Harvard Citation
Remember to italicize the title of this article in your Harvard citation.