World Facts
The Largest Shopping Malls in Europe
Aviapark, in Moscow, Russia, is the largest shopping mall in Europe.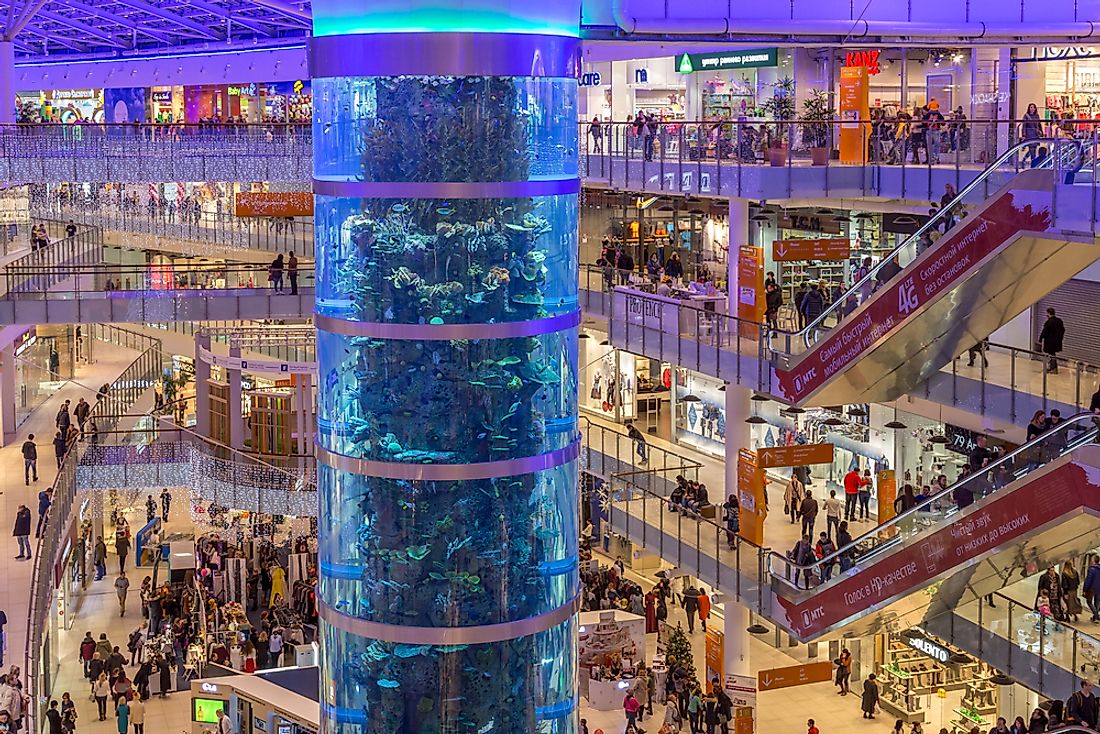 Shopping malls are quickly becoming a common occurrence in most big cities. The idea of building large shopping malls is to bring together people's favorite stores under one roof. Furthermore, it provides an arena where high profile persons in society can relax, shop, have fun, and eat.
The Largest Shopping Malls in Europe
Among the top 15 largest malls in Europe, five malls have their locations in the United Kingdom namely Trafford Center, Bluewater, Avenham Center, Westfield Stratford City, and Liverpool One. The largest mall in the UK by square footage is Trafford Center which is 207,000 square meters. It is located in Manchester-England. Intu Properties are the owners of the mall, and its market value as at 2017 is 2,312 billion sterling pounds. Trafford Center contains 280 stores and services located on three floors. According to the Intu CEO David Fischel, people spent about 55 million pounds per minute in the mall's shopping centers in 2015.
Besides the United Kingdom, Russia has three malls listed on the top 15 European malls list. The malls located in Russia include Aviapark, MEDA Belaya Dacha, and MEGA Khimki. All of the three malls have their location in Moscow which is Russia's cosmopolitan capital. Aviapark is the largest mall in Russia as well as the European continent. One of the most popular sights at the mall is its aquarium which is home to close to 2,500 specimens of fish. The mall covers an area of 230,000 square miles. It has shopping centers and entertainment centers among other services.
Regarding Croatia, there are two great malls among the top 15 in Europe called Westgate Shopping City and Arena Centar. Both of them have their locations at Zagreb which is the capital city of Croatia. Westgate Shopping City is the largest in Croatia covering an area of 226,000 square meters. It is also the second largest mall in the whole of Europe. There are 260 shops and 30 bars and restaurants which visitors can utilize. The Arena Centar mall also offers the Croatians unique dining, shopping, and entertainment experiences. The mall was opened in 2010. It presents the modern fourth generation entertainment as well as shopping center to the region and the world.
Future Trends in the Development of Malls in Europe
The future is bright for large real estate owners regarding shopping malls. In the past, the shopping centers have been focusing on satisfying the needs of the high net-worth individuals. However, currently and into the future, the middle class is seeking fast-fashion brands in the malls. Therefore, the mall shopping centers will begin to attend to these growing needs. However, it will also keep monitoring the changing needs of their high-profile-customers. Doing so will enable them to satisfy their requirements better than they have done before. The shift in the target market for the malls is based on research that individuals plan on reducing their budgets for luxury shopping.
What is the Biggest Mall in Europe?
Aviapark, in Moscow, Russia, is the largest shopping mall in Europe. The mall covers an area of 230,000 square miles. Other large malls include the Westgate Shopping City in Croatia, the Mega Belaya dacha in Moscow, and the Trafford Centre in Manchester, United Kingdom.
The Largest Shopping Malls in Europe
| Rank | Mall Name | Location | Square Footage (meters squared) |
| --- | --- | --- | --- |
| 1 | Aviapark | Moscow, Russia | 230,000 |
| 2 | WESTGATE Shopping City | Zagreb, Croatia | 226,000 |
| 3 | MEGA Delaya Dacha | Moscow, Russia | 225,000 |
| 4 | Trafford Centre | Manchester, United Kingdom | 207,000 |
| 5 | Bluewater | Greenhithe, United Kingdom | 200,000 |
| 6 | Shopping City Sud | Vosendorg, Austria | 192,500 |
| 7 | Westend City Center | Budapest, Hungary | 186,000 |
| 8 | Avenham Centre | Preston, United Kingdom | 180,000 |
| 9 | Forum Istanbul | Istanbul, Turkey | 176,380 |
| 10 | Arena Centar | Zagreb, Croatia | 175,000 |
| 11 | Westfield Stratford City | London, United Kingdom | 175,000 |
| 12 | Paradise Center | Sofia, Bulgaria | 175,000 |
| 13 | MEGA Khimki | Moscow, Russia | 174,688 |
| 14 | Ocean Plaza | Kiev, Ukraine | 165,000 |
| 15 | Liverpool One | Merseyside, United Kingdom | 154,000 |
About the Author
Sharon is a Kenyan native with a wide range of interests. An accountant and financial analyst by profession, Sharon enjoys writing about world facts, the environment, society, politics, and more.
This page was last updated on January 23, 2018.
Citations
Your MLA Citation
Your APA Citation
Your Chicago Citation
Your Harvard Citation
Remember to italicize the title of this article in your Harvard citation.