Travel
The Most Visited Museums In Asia
The National Museum of China is the most visited museum of Asia.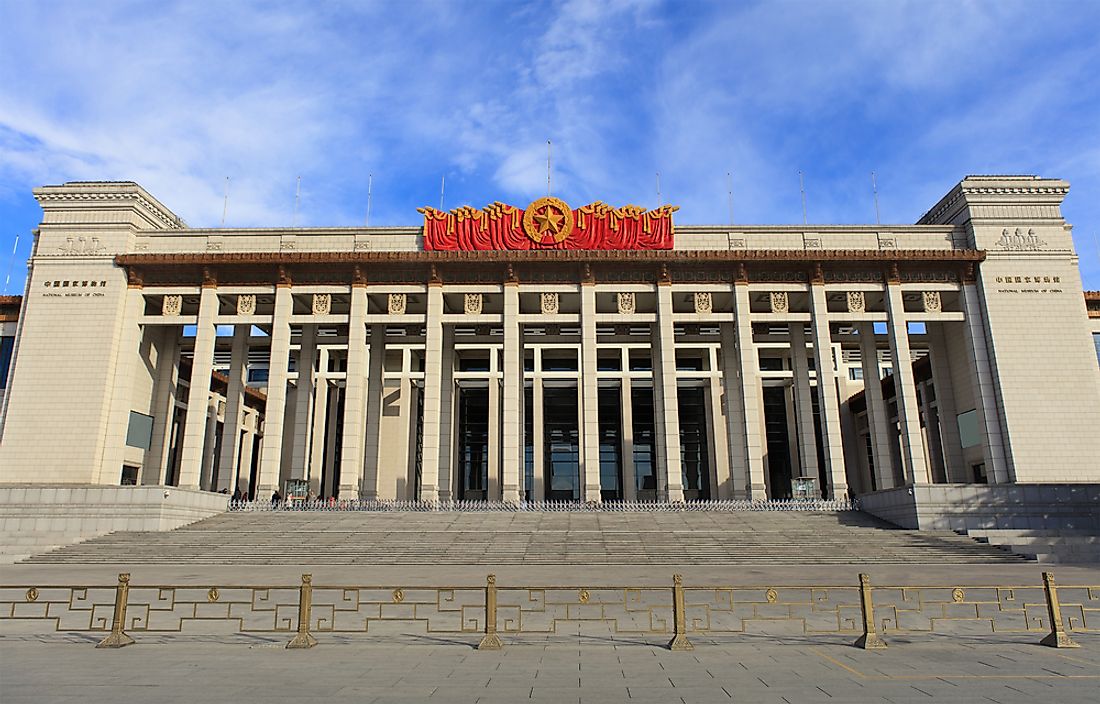 Asia is home to some of the world's oldest civilizations. As such, the continent has a vast wealth of historical and archaeological treasures that are protected as exhibits in the numerous museums distributed in its many countries. Many of these museums serve as major tourists attractions.
10. Chengdu Museum
Located in the Tianfu Square of Chengdu, this museum is the 10th most visited museum in Asia. It houses both permanent and temporary exhibits that include historical artifacts, royal collectibles, pottery, porcelain, and more. The museum displays the evolution of the water transport system during the Tang dynasty period and the market culture prevalent during the Song Dynasty rule. The fifth floor of the museum also serves as a venue for puppetry and shadow plays.
9. The National Museum of Natural Science
Located in the North District in Taichung, Taiwan, the National Museum of Natural Science is another popular museum in the continent. It encompasses an area of 89,000 square m dedicated to exhibits related to various scientific fields like zoology, geology, anthropology, etc. Some of the major divisions of the museum include the Space Theater, Life Science Hall, Human Cultures Hall, etc.
8. The Nanjing Museum
Asia's eighth most visited museum, the Nanjing Museum, is located in Nanjing, Jiangsu province, China. It has an area of about 70,000 square meters and houses more than 400,000 items in its permanent collection including imperial porcelain from the Ming and Qing eras. Other popular exhibits at the Nanjing Museum include the bronze ware artifacts, sculptures from Ming and Qing eras, jade and lacquer items, and folk art.
7. The Gansu Provincial Museum
Located in Lanzhou, China, the Gansu Provincial Museum houses more than 350,000 artifacts in its natural science and history sections. Originally established in 1939 to serve as a history museum for the Gansu Province, it soon grew to accommodate natural history specimens and was re-purposed to be a natural history museum in 1956. Buddhist art, pained pottery, silk road civilization, fossils, and paleontology are some of the permanent exhibitions at the museum.
6. The National Museum of Korea
The National Museum of Korea is dedicated to Korean art and history. It is located in the Yongsan District in South Korea and is Asia's 6th most visited museum. It was established in 1945. Many valuable exhibits related to Korean history, art, architecture, etc., are found in the museum like the Silla gold crown, the Pensive Bodhisattva, a 12th-century incense burner, etc. The venue also serves as a learning and research center and hosts a variety of educational programs and exhibitions.
5. The Zhejiang Provincial Museum
This museum is located on the Gushan Island in the West Lake of Hangzhou. It was founded in 1929 and houses more than 100,000 items in its permanent exhibits many of which are related to the rich history of the region.
4. China Science and Technology Museum
A comprehensive science and technology museum, the China Science and Technology Museum is located in Beijing. It was founded in 1988 by the government of the country. The aim of establishing the museum was creating scientific awareness and promoting research in science and technology.
3. The National Palace Museum
Asia's third most popular museum, the National Palace Museum, is located in Taipei in Taiwan's Chiayi County. Over 700,000 items are displayed in the permanent exhibits of the museum. Most of these items are ancient Chinese imperial artworks and artifacts of immense historical value that were collected by the emperors of China over a period of centuries.
2. Shanghai Science and Technology Museum
Asia's second most visited museum is also located in China. It is the Shanghai Science and Technology Museum in Pudong, Shanghai. The museum that is dedicated to science was established with the aim of popularizing science in the region and promote the development of Pudong. There are 14 permanent exhibitions at the museum and 4 cinemas themed on science. The World of Robots is one of the most popular exhibitions.
1. The National Museum Of China
Located on the eastern side of Beijing's Tiananmen Square, the National Museum Of China is one of the world's biggest museums and Asia's most visited museum. The government-managed museum was founded in 2003 by merging two pre-existing museums. The collections at the museum are regarded as national treasures by the Chinese. There are over 1,050,000 items in the museum that bears witness to the long history of human evolution and settlement in the region from the Yuanmou Man of 1.7 million years ago to the end of the Qing Dynasty. A lot of information about the modern history of China can also be gathered by studying the exhibits at the museum.
The Most Visited Museums In Asia
| Rank | Name | City | Visitors annually |
| --- | --- | --- | --- |
| 1 | National Museum of China | Beijing | 8,062,625 |
| 2 | Shanghai Science and Technology Museum | Shanghai | 6,421,000 |
| 3 | National Palace Museum[iii] | Taipei | 4,436,118 |
| 4 | China Science and Technology Museum | Beijing | 3,983,000 |
| 5 | Zhejiang Provincial Museum | Hangzhou | 3,670,000 |
| 6 | National Museum of Korea | Seoul | 3,476,606 |
| 7 | Gansu Provincial Museum | Lanzhou | 3,300,000 |
| 8 | Nanjing Museum | Nanjing | 3,300,000 |
| 9 | National Museum of Natural Science | Taichung | 3,115,000 |
| 10 | Chengdu Museum | Chengdu | 3,000,000 |
| 11 | National Art Center | Tokyo | 2,987,000 |
| 12 | National Science Education Center | Taipei | 2,869,000 |
| 13 | Tokyo Metropolitan Art Museum | Tokyo | 2,723,955 |
| 14 | Shaanxi History Museum | Xi'an | 2,700,000 |
| 15 | National Museum of Nature and Science | Tokyo | 2,600,000 |
| 16 | Tokyo National Museum | Tokyo | 2,180,000 |
| 17 | Three Gorges Museum | Chongqing | 2,112,000 |
| 18 | Shanghai Museum | Shanghai | 2,109,200 |
| 19 | National Science and Technology Museum | Kaohsiung | 1,981,000 |
| 20 | National Folk Museum of Korea | Seoul | 1,813,626 |
About the Author
Oishimaya is an Indian native, currently residing in Kolkata. She has earned her Ph.D. degree and is presently engaged in full-time freelance writing and editing. She is an avid reader and travel enthusiast and is sensitively aware of her surroundings, both locally and globally. She loves mingling with people of eclectic cultures and also participates in activities concerning wildlife conservation.
This page was last updated on June 17, 2019.
Citations
Your MLA Citation
Your APA Citation
Your Chicago Citation
Your Harvard Citation
Remember to italicize the title of this article in your Harvard citation.