Society
The Most Prosperous Towns and Villages in the United Kingdom
Windsor is the wealthiest UK town by number of millionaires.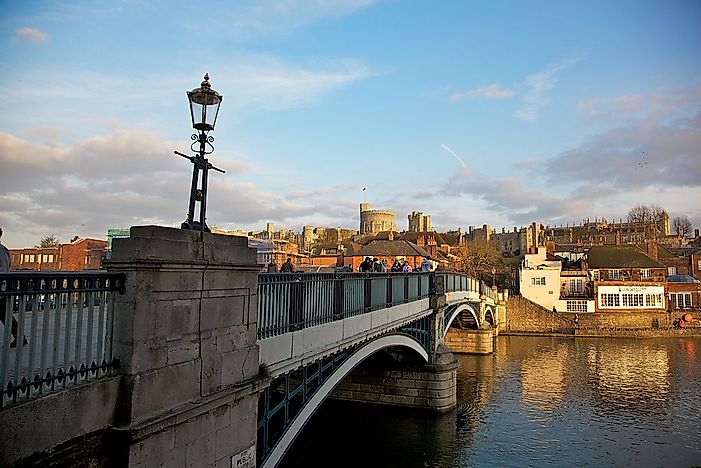 The United Kingdom boasts a highly developed economy, and accordingly is home to numerous affluent communities. Many of the richest villages or towns in the United Kingdom are located in southeast England.
1. Windsor
The town of Windsor lies in Berkshire, England, and is included in the Royal Borough of Windsor and Maidenhead. Windsor has 850 to 900 millionaires, with a population of 27,000. The most notable resident of the village is the Queen, who occupies Windsor Castle on numerous weekends. Former professional golfer Nick Faldo and pop singer Elton John are among the other famous residents.
2. Weybridge
The town of Weybridge is situated in the Elmbridge district of Surrey, England. It was named due to its location by the River Wey. Real estate prices in Weybridge are well above the national average. The village was home to six of the ten priciest streets situated in South East England in 2008. Weybridge is included in the Greater London Urban Area, and it is also a suburban area in the commuter belt of London. Over a population of 19,500, the village has between 800 and 850 millionaires.
3. Sevenoaks
The village of Sevenoaks lies southeast of London in Kent County, England. Sevenoaks traces its history to the 13th century, when a settlement was facilitated after a market was established. Most of its inhabitants are commuters, and its population is approximately 18,500. The number of millionaires who have taken up residence in Sevenoaks is estimated to be between 800 and 850. Sevenoaks prides itself on a skilled resident workforce, and it has seen its house prices rise in recent years. There is also significant pressure on the local region to increase the housing supply. The high prices hinder people from acquiring property.
4. Beaconsfield
Beaconsfield is the market town as well as a civil parish in the South Bucks district of Buckinghamshire, England. The average house prices in Beaconsfield are greater than those in Buckinghamshire. Among the community's residents are prosperous business people, as well as celebrities such as actor Tom Chambers. The increasing popularity of Beaconsfield has been attributed to its continued status as a catchment area for RGS. Beaconsfield lies within London's commuter belt, a factor which has resulted in high housing costs. The village has a population of 12,000 residents, and between 450 and 500 millionaires.
5. Henley-on-Thames
Henley-on-Thames is a town and a civil parish which lies by the River Thames in Oxfordshire, England. The town has numerous notable landmarks such as the Henley Bridge, Fawley Court, Greenlands, and the Henley Business School. The town's average property price of £748,001 is one of the priciest in the country. The town's riverside setting, coupled with the backdrop of rolling countryside, serves to fuel its popularity. The village has been spared from large-scale development, and its excellent private schools are a major attraction for young, affluent families. The number of millionaires in the town number between 400 and 450 out of a population of 10,600.
Emerging Trends
Commuter towns are growing in popularity across the UK as working professionals seek to reside outside London in areas with good schools and low crime rates. Housing prices have been increasing in commuter towns, such as Surrey, as more residents settle. Villages in Surrey and Buckinghamshire, for example, have become more exclusive.
The Most Prosperous Towns and Villages in the United Kingdom
| Rank | UK Town or Village | Population | Number of Millionaires |
| --- | --- | --- | --- |
| 1 | Windsor | 27,000 | 850 to 900 |
| 2 | Weybridge | 19,500 | 800 to 850 |
| 3 | Sevenoaks | 18,500 | 800 to 850 |
| 4 | Beaconsfield | 12,000 | 450 to 500 |
| 5 | Henley on Thames | 10,600 | 400 to 450 |
| 6 | Marlow | 14,000 | 350 to 400 |
| 7 | Hale | 15,300 | 300 to 350 |
| 8 | Alderley Edge | 4,400 | 300 to 350 |
| 9 | Bray | 4,600 | 300 to 350 |
| 10 | Ascot | 11,600 | 250 to 300 |
This page was last updated on August 3, 2017.
Citations
Your MLA Citation
Your APA Citation
Your Chicago Citation
Your Harvard Citation
Remember to italicize the title of this article in your Harvard citation.