Travel
The Most Popular Cities In The World To Visit
The contest between cities is highly contentious, as London, Paris and, in recent years, Bangkok all vie for the top spot.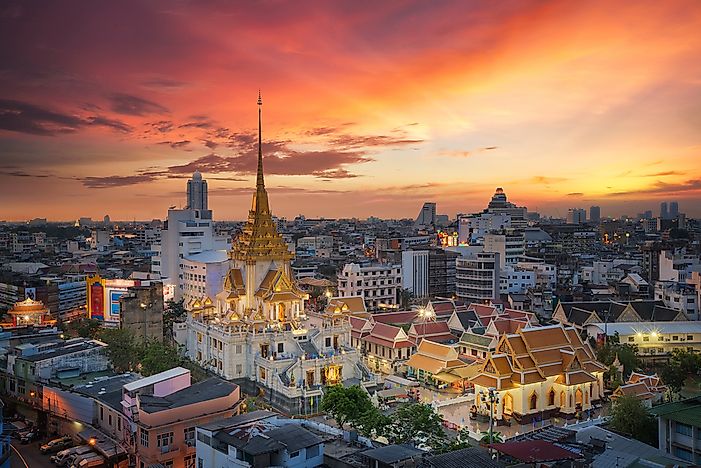 If you are looking for fun and excitement during your next vacation, you might want to consider adding a few of these top global tourists destinations in your itinerary. This is according to a research that was recently published by the Mastercard Global Destination Cities Index.
Bangkok
Back in 2012 and 2013, Bangkok held the top position on the list, and although Bangkok saw its ranking drop slightly in 2015, in 2016 and 2017 it managed to hold on to the top spot with 21.47 million travellers passing through it. The city of Bangkok attracts visitors from far and wide with its many culinary delicacies and vibrant nightlife. The city serves as the starting and stopping point for many travellers who have their sights set on Southeast Asia.
London
London is the largest city and capital of the United Kingdom, home to many world class museums and tourist attractions including the London Eye, London Bridge, the British museum and more. In its 2017 report, Mastercard states that 19.88 million tourists paid a visit to London. This makes it the top visited tourist attraction in Europe and the second most visited attraction in the world.
Honorable Mentions
Paris, Dubai, and New York took the third, fourth, and fifth positions, with 18.03 million, 15.27 million, and 12.75 million visitors, respectively. Dubai has constantly moved up the rankings since the launch of the MasterCard Global Destination Cities Index. The future of Dubai looks promising as it prepares itself for the Expo 2020. The Expo is one of numerous event opportunities and other key economic drivers expected to reinforce its position in the world of travel. Prospective tourists to the city is projected to increase 8 percent from last year. When examining the number of international overnight visitors that destination cities attracted per city resident, Dubai emerges as the world's champion, with 5.7 visitors per resident, an increase of 0.8 percent over the 2014 figure.
Istanbul is the world's eighth most popular city for tourists. International flights to Istanbul are cheaper when compared to the neighboring cities, so, in conjunction with its convenient geography, the city becomes a perfect starting point for trips across Europe, Asia, or North Africa. The city itself is a spectacle: an exquisite intersection of west and east.
Up and Coming Destination Cities
According to the MasterCard-sponsored study, the cities of Osaka, Japan, Chengdu, China, Colombo, Sri Lanka, and Abu Dhabi, United Arab Emirates are all cities that grow promising signs of growth in their tourism sectors. This is mostly said to be due to the increased of visits from tourists from neighboring countries. Some particular factors can also be cited for the growth in tourism in some of these cities, such as the re-strengthening of Sri Lanka's tourism industry thanks to rebuilding from a civil war and the increase in international tourists to China.
The Most Popular Cities In The World To Visit
| Rank | City | Visitors |
| --- | --- | --- |
| 1 | Bangkok | 21.5 |
| 2 | London | 19.9 |
| 3 | Paris | 18.0 |
| 4 | Dubai | 15.3 |
| 5 | New York | 12.8 |
| 6 | Singapore | 12.1 |
| 7 | Kuala Lumpur | 12.0 |
| 8 | Istanbul | 12.0 |
| 9 | Tokyo | 11.7 |
| 10 | Seoul | 10.2 |
| 11 | Hong Kong | 8.4 |
| 12 | Barcelona | 8.2 |
| 13 | Amsterdam | 8.0 |
| 14 | Milan | 7.7 |
| 15 | Taipei | 7.4 |
| 16 | Rome | 7.1 |
| 17 | Osaka | 7.0 |
| 18 | Vienna | 6.7 |
| 19 | Shanghai | 6.1 |
| 20 | Prague | 5.8 |
| 21 | Los Angeles | 5.6 |
| 22 | Madrid | 5.3 |
| 23 | Munich | 5.3 |
| 24 | Miami | 5.2 |
| 25 | Dublin | 5.0 |