Economics
The Leading Cotton-Producing US States
Texas produces the highest amount of cotton in the US.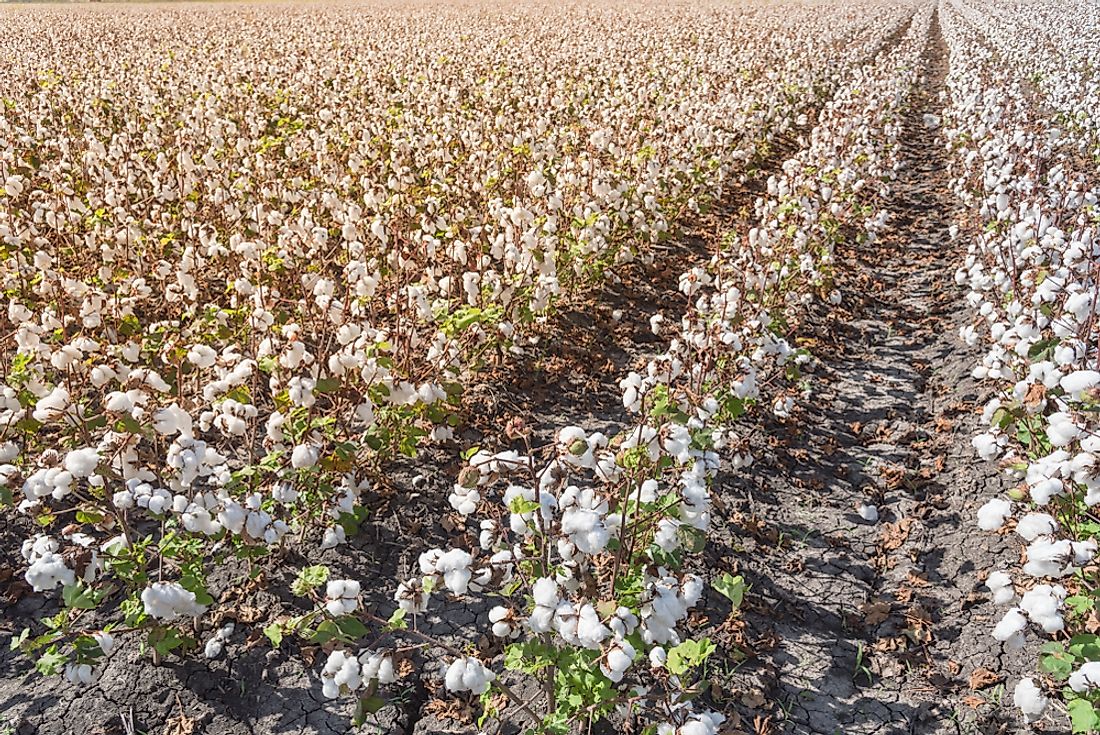 In 2017, Texas led in cotton production in the US, producing 8,830,000 bales of cotton. Georgia and Mississippi followed with 2,900,000 and 1,220,000 bales respectively. The others were Arkansas (1,000,000), California (996,000), Alabama (860,000), Oklahoma (720,000), North Carolina (705,000), Missouri (700,000), and Arizona (560,000). Most of the US's cotton come from the Southern states that also go by the name the "Cotton Belt." Globally, the US is the third largest cotton producer, behind China and India. Most of the states produce the Upland type of cotton, however, Arizona and California cultivate the Pima type which is finer and more expensive. Technical improvements in how cotton farmers produce the product, increased cotton demand, and government policies help keep cotton farming in the US to be competitive.
Top Cotton Producers in the US
Texas
In 2014, Texas produced 42% of cotton in the US which generated $1.75 billion. There are eight cotton-producing regions in the state, making it Texas' main cash crop. There are over 9,000 square miles of cotton fields in the state. Texans do not just believe in growing cotton, but in doing it better than any other place. Most of the cotton farmers embrace technology and innovation both in the farms and manufacturing plants. New biotechnology advancements enable Texan cotton farmers to use fewer chemicals thus improving plant health. Texas is an international player in the cotton business and Texan cotton remains a brand with global consumers. Texan farmers usually market the product more aggressively which give rise to purchase.
Georgia
Georgia produces 18% of cotton in the US, which is also its leading crop. The climate and environment in Georgia facilitate the high-quality cotton growth which textile mills worldwide desire this product. Georgia has high rainfall but the soil cannot hold water for long, therefore, cotton is the best crop for the conditions. Another factor that favors this state is a long growing season and high temperatures. Since 1965, farmers have been funding the Georgia Cotton Commission which, in turn, invest in research, education, and promotion of farmers. This commission also advances the interests of farmers in every way possible, making sure that producers remain profitable even with fluctuating cotton prices.
Mississippi
Approximately 1.1 million acres of land in Mississippi is under cotton farming any time of the year. In 2004, the state recorded yields of 1034 pounds of lint for every acre. Recent setbacks, however, saw the production of cotton in the state slide down to an all-time low but Mississippi has since bounced back to the "Cotton is King" slogan. The state overcame the challenges by eradicating boll weevils, introducing better transgenic varieties, and reducing tillage programs among other measures.
Overview of Cotton Farming in the US
The US was the fifth largest cotton consumer globally in 2008, behind Turkey, Pakistan, India, and Mainland China. Cotton industry in the US accounts for approximately $25 billion in terms of services and products every year and generate at least 250,000 jobs. On the other side, there is a general concern over the decrease in cotton production in recent years as more farmers take up other crops like corn. Various state governments and farmers, however, are not letting go of the crop easily. Most of them are conducting research and using alternative technology to improve yield and profitability. Also, the US government normally use its international influence to negotiate better terms for American farmers, making sure US cotton get the best prices in international trade.
The Leading Cotton-Producing US States
| Rank | US State | Cotton Production in 2017 (in 1,000 bales) |
| --- | --- | --- |
| 1 | Texas | 8,830 |
| 2 | Georgia | 2,900 |
| 3 | Mississippi | 1,220 |
| 4 | Arkansas | 1,000 |
| 5 | California | 996 |
| 6 | Alabama | 860 |
| 7 | Oklahoma | 720 |
| 8 | North Carolina | 705 |
| 9 | Missouri | 700 |
| 10 | Arizona | 560 |
About the Author
Mark is a student at Maseno University and community commentator in Kenya. Mark also has interests in geography, African history, and international development.
This page was last updated on July 5, 2018.
Citations
Your MLA Citation
Your APA Citation
Your Chicago Citation
Your Harvard Citation
Remember to italicize the title of this article in your Harvard citation.