Economics
The 10 Largest Rice Importers In The World
The global rice trade has been transformed since the late 1980's as a result of new liberalization policies.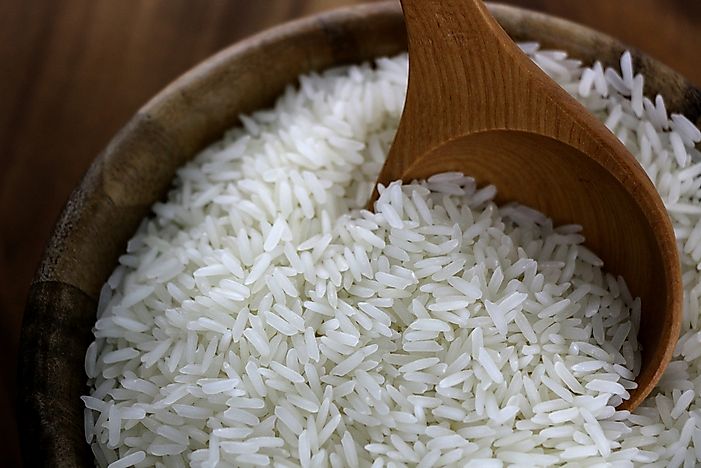 One of the most important measures of many Asian countries' economic performance is the price and quality of its rice. It's no wonder, then, that policymakers have taken significant strides in attempting to control the dynamics of their national rice trade in order to stabilize their respective domestic markets. The five top importers of rice are responsible for about 30% of the total global trade, and the top ten are responsible around 50% of total rice imports worldwide. Many of the major players, including the most recent top importer, China, are located in Asia, which is the continent most responsible for shifts in the world's rice market. Other significant rice-importing countries include Nigeria, the Philippines, Iran, and Indonesia.
The Various Types of Imported Rice
There are two main categories that the global rice trade is based on: non-fragrant and fragrant rice. Parboiled, Glutinous (sticky), and most long-grain white rice varieties fall under the non-fragrant rice umbrella, while Jasmine and Basmati are placed under the fragrant category.
Ten years ago, Thailand was recognized as the dominant force in the Jasmine rice market but, in the most recent of years, Cambodia and Vietnam have both made important headways into the market, causing Thailand's share in the Jasmine market to fall down to less than 50%. To date, Vietnam has claimed 40% of the global market share for Jasmine rice, making it the biggest competitor globally for Thai 'Hommali' Jasmine rice.
The major destinations of intact-grain Jasmine rice are the following countries: China, Singapore, Malaysia, the United States, Singapore, Hong Kong, and Côte d'Ivoire. Moreover, between 600 to 700 thousand tons of broken (lower quality) jasmine rice are shipped, primarily sent to such West African countries as Senegal, Ghana, and Côte d'Ivoire.
Parboiled and other common non-fragrant white rice are being exported to Middle Eastern and African countries primarily by Thailand and India. On the other hand, the Basmati rice trade is currently dominated by Pakistan and India, with their shipments' destinations primarily being to Middle Eastern countries. Growth over the past decade and a half is has seen a massive increase to 4 million tons from 1 million tons, with the aforementioned countries as the major contributors to the phenomenal growth.
The Future of the Rice Trade
Despite massive gains over the past 15 years, the global rice market has been going through several periods of contraction over the past couple of years. Despite this, the world's rice trade is expected to go through major expansion in years to come, as key countries continue to initiate programs to increase their rice production and drastically cut down their dependence on imported rice.
As the world's top consumers of rice modernize their lifestyles and diversify their respective diets, demand for new varieties of rice is also expected to increase, allowing for other countries to play increasingly important roles in the global rice market. China's unprecedented growth in 2015 came as a surprise and, to this date, whether it will continue to dominate the market remains a tough question to answer. Experts claim that by the year 2040 an additional rice supply of no less than 112 million tons will be required to meet the growing global demand, especially if countries from Africa fail to address their own growing populations and subsequently greater food resource requirements.
The Largest Rice Importers In The World
View information as a:
List
Chart
| Rank | Country | Rice Imported (1,000 metric tons) |
| --- | --- | --- |
| 1 | China | 4,700 |
| 2 | Nigeria | 3,000 |
| 3 | Phillippines | 1,800 |
| 4 | Iran | 1,600 |
| 5 | Indonesia | 1,600 |
| 6 | Saudi Arabia | 1,550 |
| 7 | European Union | 1,500 |
| 8 | Iraq | 1,200 |
| 9 | Senegal | 1,100 |
| 10 | Malaysia | 1,000 |
This page was last updated on April 25, 2017.
Citations
Your MLA Citation
Your APA Citation
Your Chicago Citation
Your Harvard Citation
Remember to italicize the title of this article in your Harvard citation.