World Facts
The Largest Lock Systems in the World
Locks are a navigational tool for boats to move within different levels of water.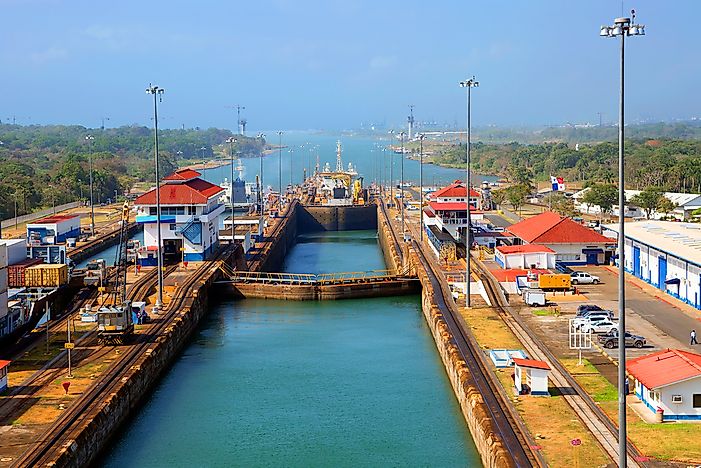 What Is A Water Navigational Lock System?
A lock system is a mechanism used in water navigation to transfer boats and similar vehicles from one level of water to another. These devices are typically located along rivers and canals. Locks function through the use of a special chamber that holds ships and other watercrafts while the device either fills with water to lift the vessel or empties in order to lower the vessel. Locks are an important component of water navigation and serve to improve the cost effectiveness of trading goods while making riverways less dangerous to navigate and unlevel lands easier to cross.
Largest Canal Lock Systems In The World
Kieldrecht Lock
The Kieldrecht Lock, located in the Port of Antwerp in Belgium, is the largest in the world. It was opened in June of 2016 to provide users of the Left Bank docks access to the sea between the Waasland and Schelt canals. Construction of this mechanism began in November of 2011 and copied the design of the nearby Berendrecht Lock. In fact, the Kieldrecht has the same height and width as its neighbor. It is larger due to its 58-foot depth, which is deeper than the Berendrecht. The Kieldrecht measurements are: 1,600 feet in length, 223 feet in width, and 58 feet in depth.
Berendrecht Lock
The Berendrecht Lock is the second largest lock in the world; its rank only recently replaced by the previously mentioned Kieldrecht. This mechanism is located on the right-side banks of the Port of Antwerp in Belgium. It was built in 1989 when the Post-Panamax ship was introduced with a wider-than-average size. In addition to servicing this new ship, the Berendrecht facilitated the development of the right-side bank. This lock measures at 1,600 feet in length, 223 feet in width, and 44 feet in depth.
Panama Canal Lock
The Panama Canal locks originally opened in 1914 when it was considered one of the most challenging engineering projects and largest concrete constructions of its time. In 2007, an expansion project began and in June of 2016, the 3rd set of locks was opened for commercial use. The Panama Canal now houses 12 separate locks. The newest of these had a construction cost of $5.2 billion and allows for the transportation of the New PANAMAX ship which has a larger cargo load than the other locks are capable of handling. It consists of 2 lock chambers, which are filled by 18 water basins and closed off by 3,200-ton rolling gates. This newest set of locks can accommodate ships of up to 160 feet in width and measure 1,200 feet in length and 50 feet in depth.
The Importance Of Water Navigation Locks
Locks date back to the 3rd century BC and have played an important role in trade and economic development ever since. These mechanisms serve to make water transportation faster, thereby reducing the cost of transporting traded goods. Environmentalists often criticize locks for their negative effects on natural habitats and freshwater species as they may block migratory routes and change water temperatures, affecting the breeding habits of many animals
The chart published below offers a look at some of the other largest lock systems around the world.
The Largest Lock Systems in the World
| Rank | Lock Name | Location |
| --- | --- | --- |
| 1 | Berendrecht Lock | Port of Antwerp, Belgium |
| 2 | Kieldrechtsluis | Port of Antwerp, Belgium |
| 3 | Bollene Lock | Leerstetten, Germany |
| 4 | Leerstetten, Eckersmuhlen, Hilpolstein | Rhine-Main-Danube Canal, Germany |
| 5 | Oskemen Lock | Irtysh River, Kazakhstan |
| 6 | Hiram M. Chittendom Locks | Seattle, United States |
| 7 | Grand Canal Locks | Beijing Hangzhou, China |
| 8 | Panama Canal Third Locks | Panama |
| 9 | Caen Hill Locks | Wiltshire, England |
| 10 | Three Gorges Dam Locks | Hubei, China |
This page was last updated on August 1, 2017.
Citations
Your MLA Citation
Your APA Citation
Your Chicago Citation
Your Harvard Citation
Remember to italicize the title of this article in your Harvard citation.