World Facts
The Largest Lakes in Italy
Lake Garda is the largest lake in Italy, occupying a total surface area of 370 square km.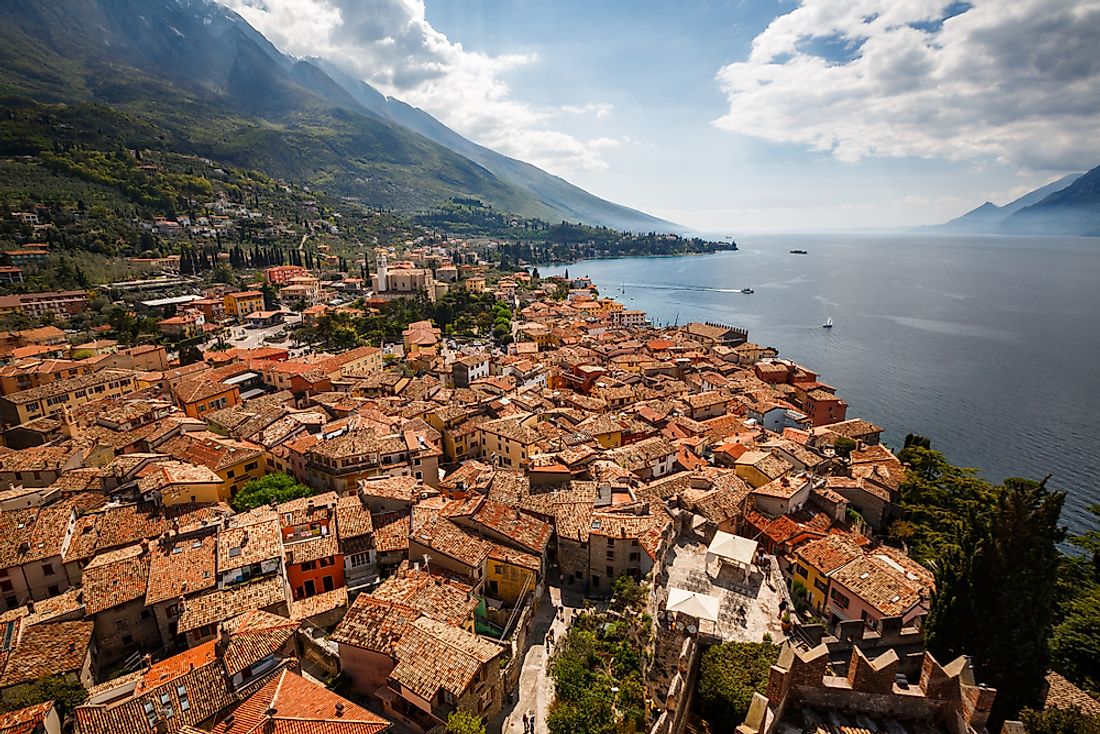 Italy is known for its spectacular scenery, and is home to its fair share of lakes. Some of them are tucked in remote corners while others are in alpine regions. The mountainous terrain and volcanic surface of several of these lakes make them very attractive to tourists. Below are the largest lakes in Italy.
Top Five Lakes
Lake Garda
Lake Garda is the largest lake in Italy. It occupies Verona, Brescia, and Trentino provinces in northern Italy. The lake is shaped like a moraine valley and is more narrow towards its north. There are many islands in the lake with Isola del Garda being the largest. Its main tributaries are Rivers Sarca and Ponale while the outlet is Mincio River. Lake Garda has a surface area of 370 square kilometers and a depth of 346 meters. The lake is quite long with a maximum length of 51.6 kilometers although the maximum width is only 16.7 kilometers. Garda can hold approximately 50.35 cubic kilometers of water. A variety of flora and fauna are found in the lake. The Salmo Carpio is the most common fish species in the lake.
Lake Maggiore
Italy's second largest lake, Lake Maggiore is 210 square kilometers. The location of the lake is in the southern side of the Alps. The lake is surrounded by Mediterranean plants and there are numerous islands with the largest ones being Brissago and Borromean. Water intake is mainly from Ticino, Toce, Tresa, and Maggia tributaries while the main outlet is Ticino River. Lake Maggiore has a maximum length of 64.37 kilometers while the maximum width is 10 kilometers. The volume is approximately 37 cubic kilometers of water in an average depth of 372 meters.
Lake Como
Lake Como is ranked third and occupies an area of 146 square kilometers. Rated among the deepest lakes in Europe, Lake Como is 410 meters deep. The lake is a famous tourist and retreat center for the aristocrats from the ancient Roman Empire era to date. The letter Y shaped lake has a maximum length of 46 kilometers and a maximum width of 4.5 kilometers. Water intake is by many tributaries among them Adda and Mera Rivers. The major outlet is also called Adda River. The lake can hold 22.5 cubic kilometers of water.
Lake Trasimeno
Lake Trasimeno is found in Perugia Province in Umbria area. This lake is the fourth largest lake in the country and is 124 square kilometers. It is among the shallowest lakes at only 7 meters deep. Trasimeno is muddy and shallow with adequate vegetation that allows fish to thrive. Risks associated with the lake is malaria causing mosquitoes which reproduce rapidly in the shallow waters. The salinity of the water is high due to the lack of an outlet. The tributaries are small and affected by rainfall. The elevation is 257 meters.
Lake Bolsena
Lake Bolsena is found in central Italy and is oval in shape. It is mainly supplied with water from an aquifer and rain. Lake Bolsena has two main islands, namely Bisentina and Martana located to the south. The lake occupies an area of 114 square kilometers. Lake Bolsena is at an elevation of 305 meters. The depth is 151 meters while the water volume is approximately 9.2 cubic kilometers.
The Beauty of Italian Lakes
The lakes in Italy are magnificent and the surrounding host spectacular structures which offers unique Italian picturesque. Tourists have flocked the lake regions since the Roman Empire era. The lakes give ideal camping and pleasant beaches for sight viewers. The lake setting offers unique blend of Italian serene nature, wilderness experience, and information centers.
The Largest Lakes in Italy
| Rank | Lake Name | Area (square km) |
| --- | --- | --- |
| 1 | Lake Garda | 370 |
| 2 | Lake Maggiore | 210 |
| 3 | Lake Como | 146 |
| 4 | Lake Trasimeno | 124 |
| 5 | Lake Bolsena | 114 |
| 6 | Lake Iseo | 65.3 |
| 7 | Lake Bracciano | 56.7 |
| 8 | Lake Lugano | 48.7 |
| 9 | Lake Omodeo | 29 |
| 10 | Lago d'Orta | 18.2 |
This page was last updated on July 29, 2019.
Citations
Your MLA Citation
Your APA Citation
Your Chicago Citation
Your Harvard Citation
Remember to italicize the title of this article in your Harvard citation.