World Facts
The Largest City Squares in the World
A city square has historically been an important meeting place for large cities and smaller towns alike. Today, they still serve an important purpose.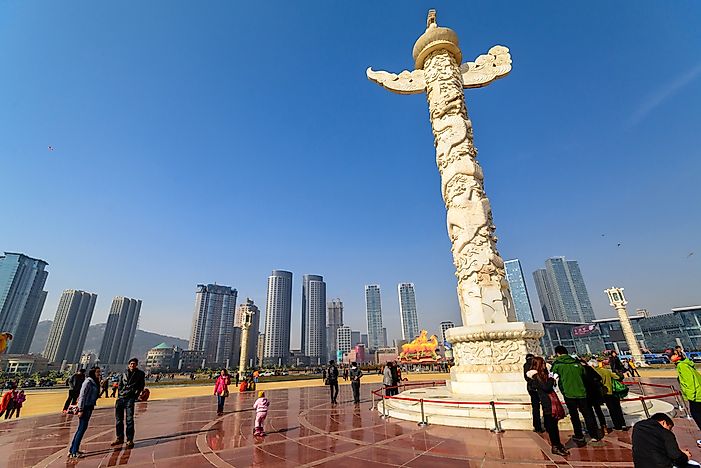 Most of the traditional towns around the world are defined by an open space for public gathering known as a town or city square, also known as a civic center, urban square, or public square. Some of the major uses of a city square could be for political rallies, for concerts, or as an open market. Some squares are the site of government structures and other public buildings such as the city squares in China. Centrally located town squares are surrounded by shops, restaurants, and bakeries and usually have a fountain, statue, or monument at the center. Here are some of the largest city squares in the world by area.
Largest City Squares
City Squares Measuring Over 10,000,000 Square Feet
China is famed for some of the largest city squares in the world. In fact, four of the ten largest city squares in the world are found in China. Xinghai Square in the city of Dalian, China, is the largest city square in the country and world, covering an area of 18.9 million square feet. The square was constructed in 1997 to commemorate Dalian's 100th anniversary. Following in second is the Times Square in Daqing City at 15.5 million square feet. Completed in 2000, the Times Square is popular for playing a Chinese propaganda video on South China Sea dispute, 120 times a day on its big screen. Indonesia's Merdeka Square in the city of Jakarta is the largest square outside China and the third largest in the world at 11 million square feet. Completed in 1976, the square often hosts military parades and civic demonstrations.
City Squares Measuring Between 4,000,000 and 10,000,000 Square Feet
The Largest city square in North America is Brazil's Sunflower Square in the city of Palmas, Tocantins. It is also the largest city square outside Asia. Sunflower Square, measuring 6.1 million square feet, was completed and opened to the public in 1991. Rizal Park on the new central line in Manila, Philippines, is the 5th largest city square in the world. Completed in 2010, Rizal Park covers the same area as China's Huacheng Square in Guangzhou at 6.098 million square feet. Another of China's city Square, Tiananmen Square in Beijing is the 7th largest in the world at 4.7 million square feet. Macroplaza in Monterrey, Mexico completes the list of city squares measuring over 4 million square feet. It measures 4.3 million square feet and was completed in the 1980s. The square is famous for the Fero del Comercio, a tall lighthouse that shoots its light throughout the city at night.
Below 4 Million Square Feet
Only seven city squares in the world cover an area of over 4 million square miles. The other significantly large city squares are less than 4 million square feet. Some of the notable city squares include India Gate Complex, Quezon Memorial Circle, and Alexanderplatz.
Uses Of City Square
City squares have several uses, ranging from official use to general uses. In Europe, city squares are the focal points of public life in the towns and cities. Apart from meeting points, city squares also host small businesses such as fast food shops, bakeries, cheese stores, and clothing shops. Some city squares like Moscow's Red Square host several military parades and demonstrations. Concerts and live performance are also commonly held at city squares.
The Largest City Squares in the World
| Rank | Square Name | City | Country | Area (Squared Meters) | Area (Squared Feet) |
| --- | --- | --- | --- | --- | --- |
| 1 | Xinghai Square | Dalian | China | 1,760,000 | 18,900,000 |
| 2 | Times Square | Daqing | China | 1,440,000 | 15,500,000 |
| 3 | Merdeka Square | Jakarta | Indonesia | 1,000,000 | 11,000,000 |
| 4 | Sunflower Square | Palmas, Tocantins | Brazil | 570,000 | 6,100,000 |
| 5 | Rizal Park | Manila | Philippines | 566,560 | 6,098,400 |
| 6 | Huacheng Square | Guangzhou | China | 566,560 | 6,098,400 |
| 7 | Tiananmen Square | Beijing | China | 440,000 | 4,700,000 |
| 8 | Macroplaza | Monterrey | Mexico | 400,000 | 4,300,000 |
| 9 | India Gate Complex | New Delhi | India | 306,600 | 3,300,000 |
| 10 | Quezon Memorial Circle | Manila | Philippines | 271,139 | 2,918,520 |
| 11 | Alexanderplatz | Berlin | Germany | 250,000 | 2,700,000 |
| 12 | Parade Square | Warsaw | Poland | 240,000 | 2,600,000 |
| 13 | Quancheng Square | Jinan | China | 220,000 | 2,400,000 approx. |
| 14 | People's Square | Linyi | China | 216,000 | 2,330,000 |
| 15 | Cultural Square | Changchun | China | 205,000 | 2,210,000 |
| 16 | Praça do Relógio | São Paulo | Brazil | 176,000 | 1,890,000 |
| 17 | Kuybyshev Square | Samara | Russia | 174,000 | 1,870,000 |
| 18 | Perm Esplanade | Perm | Russia | 152,000 | 1,640,000 |
| 19 | People's Square | Shanghai | China | 140,000 | 1,500,000 |
| 20 | Piazza Carlo III of Bourbon | Caserta | Italy | 130,000 | 1,400,000 |
| 21 | Universitetskaya Square | Moscow | Russia | 130,000 | 1,400,000 |
| 22 | Moskovskaya Square | St. Petersburg | Russia | 130,000 | 1,400,000 |
| 23 | Place des Quinconces | Bordeaux | France | 126,000 | 1,360,000 |
| 24 | People's Square | Dalian | China | 125,000 | 1,350,000 |
| 25 | Bayi Square | Nanchang | China | 122,588 | 1,319,530 |
| 26 | Republic Square | Almaty | Kazakhstan | 121,800 | 1,311,000 |
| 27 | Freedom Square | Kharkiv | Ukraine | 119,000 | 1,280,000 |
| 28 | Sanam Luang | Bangkok | Thailand | 114,000 | 1,230,000 |
| 29 | Millennium Park | Chicago | United States | 99,000 | 1,070,000 |