The Largest Cities in the Midwest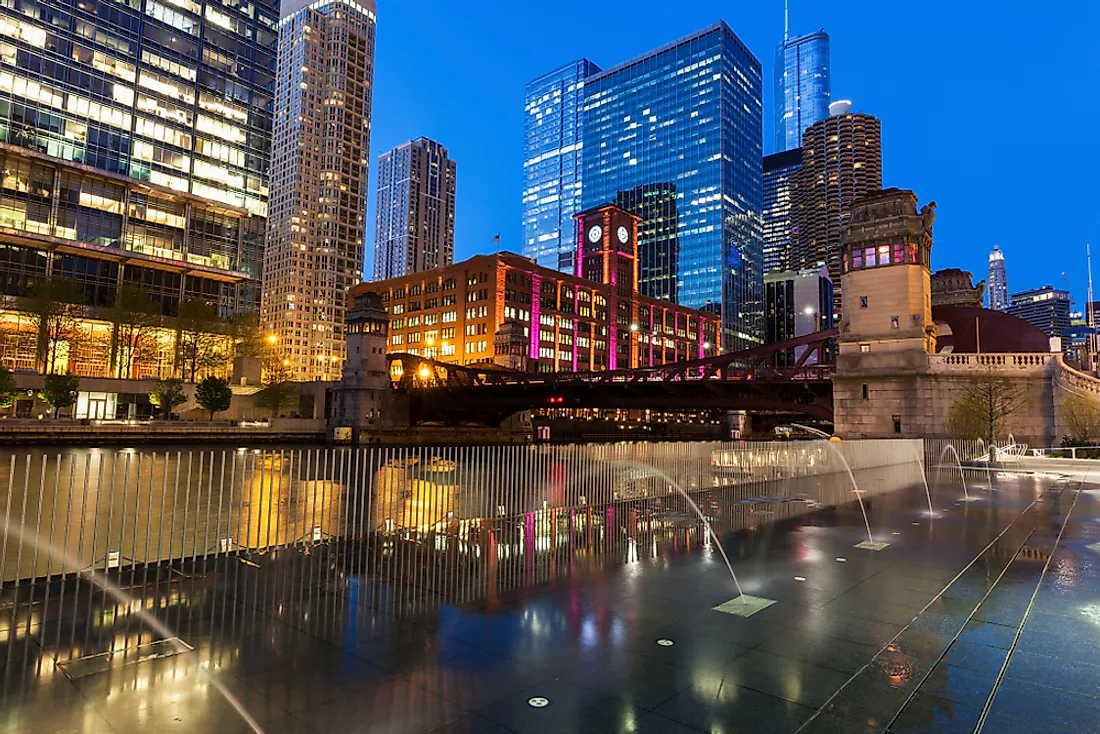 The Midwest or the Midwestern United States consists of the states that cover the north-central part of the country. The Midwestern states are South Dakota, North Dakota, Minnesota, Nebraska Missouri, Iowa, Illinois, Wisconsin, Michigan, Kansas, Ohio, and Indiana. The term "Midwest" was adopted in the late 19th century. Other names that refer to the region include "the Heartland," "Old Northwest," or the "Northwest." The Midwest plays a significant role as the farming and manufacturing center of the country. The region represents a broad aspect of American culture due to its diverse economy, politics, and demography. More than a quarter of American presidents emerge from the Midwest. The cities of the Midwest are growing and attracting populations from across the country although Chicago remains the only city in with a population of more than a million. The following are the largest cities of the Midwest.
The Largest Cities In The Midwest
Chicago
The City of Chicago is the largest both in Illinois and in the Midwest. It is also the third largest city in the country with a population of about 2.72 million. The city is an international hub for technology, commerce, industry, and finance. It has the fourth largest city GDP in the world producing over $670.45 billion. Chicago is the second most visited city in the country after New York.
Columbus
Columbus is the second most populous city in the Midwest after Chicago and 14th populous in the country with a population of nearly 880,000. Columbus is one of the fastest growing cities in the country. It ranked third during the 2010 census, but the population has grown significantly over the past nine years to surpass Indianapolis. It is also the third most populous state capital after Phoenix and Austin. The primary drivers of the economy are energy, healthcare, technology, service industry, manufacturing, insurance, government, and education.
Indianapolis
Indianapolis is the third largest city in the Midwest with a population of about 865,000. It is the capital of Indiana State and the seat of Marion County. Census in 2010 placed Indianapolis second in the Midwest, but recent estimates show that it has been surpassed by Columbus, Ohio. Regardless of this, Indianapolis is still a significant player in the economics of the Midwest with the Indianapolis Metropolitan Area housing more than 2 million. The city's economy is primarily driven by manufacturing, wholesale trade, service industry, insurance, finance, and education.
The Economy Of The Midwest
Agriculture generally dominates the economy of the Midwest, but financial and manufacturing sectors drive the cities. The region has some of the most productive farmlands in the world and accounts for billions of dollars in exports and thousands of jobs. Illinois, Iowa, Minnesota, and Nebraska account for half the corn produced in the United States.
The Largest Cities in the Midwest
| Rank | City | State | Population |
| --- | --- | --- | --- |
| 1 | Chicago | Illinois | 2,695,598 |
| 2 | Indianapolis | Indiana | 829,718 |
| 3 | Columbus | Ohio | 787,033 |
| 4 | Detroit | Michigan | 713,777 |
| 5 | Milwaukee | Wisconsin | 594,833 |
| 6 | Kansas City | Missouri | 459,787 |
| 7 | Omaha | Nebraska | 432,958 |
| 8 | Cleveland | Ohio | 396,815 |
| 9 | Minneapolis | Minnesota | 387,753 |
| 10 | Wichita | Kansas | 382,368 |