Environment
The Fastest Birds In The World
The Peregrine Falcon, a bird of prey, is the fastest bird in the world and can reach a maximum speed of 389 km per hour while diving.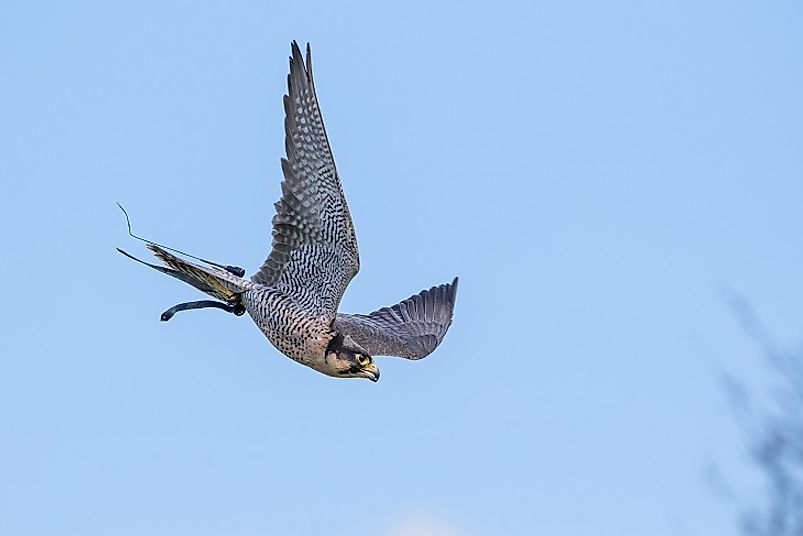 Birds are unique in the animal kingdom. They are covered in feathers, lay eggs, have beaks, and, of course, have the amazing ability to fly. To carry out this aerial locomotion, they must perfectly combine thrust, drag, weight, and lift. Wings are the key factor in flight and those with a short, pointed shape allow for maximum speed. Several theories try to explain why birds developed this ability. They include ideas such as hopping while running that led to flight, preying on animals from high places led to flight, and balancing arms while running led to wing development. Regardless of how it began, one thing is for certain. Some birds have evolved into the fastest of their kind, and some of these are listed below.
The World's Fastest Birds
Peregrine Falcon
The Peregrine Falcon can reach speeds of up to 240 miles per hour (mph) while diving! Long pointed wings help to direct them as they take these powerful dives to kill their prey, smaller birds. The peregrine has evolved a type of nasal covering that diverts the high-pressure air from entering and damaging their lungs.
Golden Eagle
The Golden Eagle is in second place, reaching 150 to 200 miles per hour in flight. This bird can be found all over the Northern Hemisphere and they have long, wide wings with separated, finger-like feathers on the ends. They hold these wings close to their bodies when diving which is done for hunting and sometimes territorial reasons.
White-throated Needletail
The White-Throated Needletail flies up to 105 miles per hour during the horizontal flight! Because of this distinction, horizontal vs. diving speed, this bird is considered the fastest in flapping flight. They inhabit part of Southeast Asia, India, and Australia.
Eurasian Hobby
The Eurasian Hobby is another species of falcon, smaller and thinner than the peregrine. Once used in falconry, the Eurasian Hobby prefers open lands and scattered forest habitats. It can reach deadly speeds of up to 99 miles per hour which it uses to attack swallows and swifts mid-flight. They are so agile that pairs even pass food while flying.
Frigatebird
The frigatebird is the first sea bird on the list and reaches speeds of up to 95 miles per hour during the flight. They must be this fast to catch their prey, mainly fish, from the water. These birds also steal food from other birds and use their speed to escape.
Other Fast Birds
Other birds on this list are extremely fast as well. They all have recorded speeds of less than 100 miles per hour, yet are still faster than any land mammals. Remaining fast birds include the Rock dove (or Rock pigeon) which can achieve speeds of 92.5 miles per hour, the Spur-winged goose (88 mph), the Red-breasted merganser (80 mph), the Grey-headed albatross (78.9 mph), the Anna's hummingbird (61 mph), and the Ostrich (60 mph).
The Fast, Flightless Ostrich
Of note on this list is the ostrich, a flightless bird that lives throughout the African continent. This is the largest bird in the world and therefore too heavy to fly. Instead, they have evolved into some of the fastest running land animals in the world. The legs of an ostrich are the most important component in their speed and theirs can take 10- to 15-foot strides! Their legs are so powerful that just one kick could kill a human. In the case of this bird, its wings are used only to help change direction while running.
What are the World's Fastest Birds?
The Peregrine falcon, a bird of prey, is the fastest bird in the world and can fly at a maximum speed of 240 miles per hour. They are a common bird that can be found all over the world, from North America to Australia. The golden eagle is the second fastest, and can reach a maximum speed of 200 kilometers.
The Fastest Birds In The World
| Rank | Bird | Maximum Speed |
| --- | --- | --- |
| 1 | Peregrine falcon | 389 km/h |
| 2 | Golden eagle | 240–320 km/h |
| 3 | White-throated needletail | 169 km/h |
| 4 | Eurasian hobby | 160 km/h |
| 5 | Frigatebird | 153 km/h |
| 6 | Spur-winged goose | 142 km/h |
| 7 | Red-breasted merganser | 129 km/h |
| 8 | Rock dove (pigeon) | 148.9 km/h |
| 9 | Grey-headed albatross | 127 km/h |
| 10 | Anna's hummingbird | 98.27 km/h |
| 11 | Ostrich | 96.6 km/h |
About the Author
Amber is a freelance writer, English as a foreign language teacher, and Spanish-English translator. She lives with her husband and 3 cats.
This page was last updated on May 1, 2019.
Citations
Your MLA Citation
Your APA Citation
Your Chicago Citation
Your Harvard Citation
Remember to italicize the title of this article in your Harvard citation.