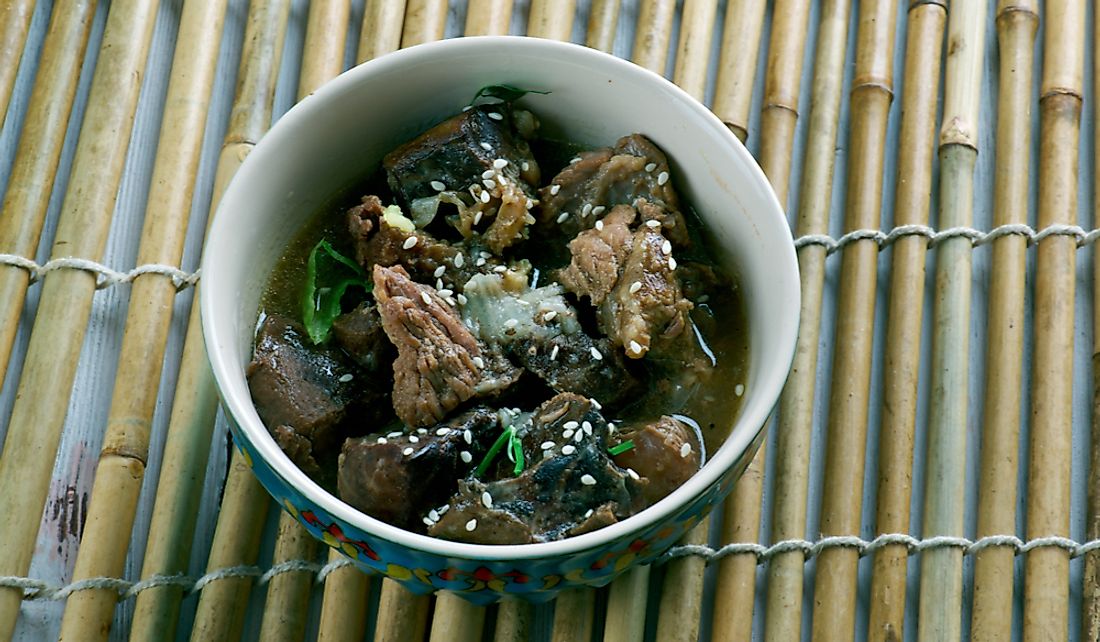 Guyana is a South American country with a rich and diverse culture that is an amalgamation of the cultures of its diverse ethnic groups.
6. Ethnicity, Language, and Religion in Guyana
Guyana is home to 740,685 individuals. East Indians are the largest ethnic community in the country accounting for 39.8% of the population. Those of African descent make up 29.3% of the population. Mixed, Amerindians, Portuguese, Chinese, and others constitute the rest of Guyana's population. English is the official language of the country and acts as the lingua franca of the people. Guyanese, Creole, Caribbean Hindustani, Chinese, Amerindian languages, etc., are spoken by the country's different ethnic groups. There is also great religious diversity in Guyana. Protestant Christians account for 34.8% of the population. Hindus and Muslims comprise 24.8% and 6.8% of the population, respectively. Roman Catholicism and other Christian denominations also have a significant presence in Guyana.
5. Guyanese Cuisine
Guyanese cuisine reflects the ethnic diversity of the population. It is influenced by East Indian, African, Portuguese, Amerindian, Creole, Chinese, and British cuisines. Thus, a wide variety of dishes are consumed in Guyana. Dal Bhat, curry, and roti (East Indian influence) is one of the country's most popular dishes. The curry can have seafood, chicken, goat, lamb, or vegetables. Guyana Pepperpot (an Amerindian stew made with cassareep, meat, and seasonings) is a signature dish of the country. Homemade bread, pastries, tarts, patties, and cheese rolls (British influence) are produced in many villages. Guyanese-style chowmein (Chinese influence) is cooked in many homes. Fresh food and vegetables are consumed in plenty. Ginger beer, peanut punch, Lime Wash, pine drink, mauby, etc., are some popular beverages.
4. Literature and the Arts in Guyana
Guyana has a rich tradition of folklore that is a mix of African, Indian, European, and Amerindian beliefs. Today, many of these folktales and legends have been penned down by Guyanese authors. Edgar Mittelholzer was the first major novelist from the nation. He worked in England and is most well-known for his novel Corentyne Thunder that was published in 1941. Wilson Harris is another author from the country whose works reflect the influences of Amerindian myths and the natural beauty of the country.
Guyanese visual arts take many forms with the dominant themes being the ethnic diversity of the population and the natural splendor of the nation. Folk art from Guyana is also famous. Some of the country's leading modern and contemporary artists are Frank Bowling, Stanley Greaves, Roshini Kempadoo, and others. The Guyanese also excel in a variety of handicrafts like pottery, basketry, woodcraft, etc.
3. Performance Arts in Guyana
Guyana has a rich heritage of music, dance, and drama. There is also great diversity in the performing arts scene of the country. Each ethnic group has its own set of music and dance. Calypso is the most popular type of music in Guyana. Other well-liked music styles include chutney, soca, Bollywood film songs, etc. Foreign cultures have also influenced the Guyanese music and dance. Salsa, Reggaeton, Bachata, Merengue have been introduced in Guyana from neighboring countries.
2. Sports in Guyana
Football and cricket are the most popular sports in Guayana. Other games with a significant presence in the country include netball, tennis, basketball, boxing, squash, beach cricket, etc. Many professional cricket players of Guyana are members of the West Indies cricket team. Watching cricket matches is a popular form of entertainment for the Guyanese. Several games of the 2007 Cricket World Cup were held in Guyana. The Providence Stadium in the country hosted these matches.
1. Life in the Guyanese Society
Both men and women in Guyana enjoy equal rights and freedoms as per the Constitution and law. However, in practice, such equality is yet to be realized in the true sense. The status of Guyanese women varies widely depending on the ethnic group to which they belong. Fewer women than men are represented in the government. The country had one female president in the past. However, there is still a paucity of women in the cabinet. In recent years, more and more women have received education and have entered the country's workforce. They work as farmers, market vendors, civil servants, teacher, clerks, etc. In the poorer sections of society, there are many cases of abandonment of family by men. Male-centered drinking culture is also prevalent in the lower classes. Such situations have often left women with the sole responsibility for their children. Household size in Guyana varies from single mother led households to nuclear families and extended families.