Burren is located on the Irish West Coast. Most of it is designated a Special Area of Conservation to protect this extremely unusual habitat, but the tourists are allowed to enter and explore it. The word "Burren" comes from an Irish word "Boíreann," which means rock or a rocky place. It is a place of contrasts: shaped by glaciers of the distant past, its grey and silver landscapes look almost lunar. Yet, in spring (around May and June), the stony hills and steppes burst in wildflowers, many of which are endemic to the area.
The Unexpected Mix Of Flora And Fauna
The diversity of the plants occupying Burren is quite fascinating: this moon-like realm managed to earn the reputation of "fertile land." Arctic-alpine plants grow next to Mediterranean ones, lime-loving next to acid-loving, all thriving in an unusual and unexpected mix. From centuries-old lichen to delicate orchids that only bloom for a month each year, they all survive in a land that seems to be composed entirely of rocky pavements. Over 70% of Ireland's species of flowering plants are found here in the area that represents 1% of the country's extent. 
The hillsides of the Burren host a nearly entire variety of Irish mammals and unique to the region herds of feral goats, which have very little fear of humans. The seven species of bats inhabiting Ireland all present in Burren. Along the coast, visitors can meet seals, dolphins and basking sharks. Like anywhere else in Ireland, there are no snakes, but you have to be careful to check yourself for ticks, as they are plentiful in Burren.
Ancient Fossil Grounds
Sculpted in the last glacial period, Buren is one of the finest examples of glaciokarst landscapes in the world. Limestones of the Lower Carboniferous period fortify the Burren's foundation. Limestones are formed by horizontally compressed sediments of the tropical sea, which covered the majority of Ireland approximately 350 million years ago. These sediments were stratas and contain fossilized corals, sea urchins, sea lilies, and ammonites. Halfway through the Burren walk, there is a sign that suggests to stop and look under your feet. Take a moment to explore: you are standing on the exposed fossils of the ancient corals, and they are literally everywhere around you, exposed to the sight in huge rocks and stones.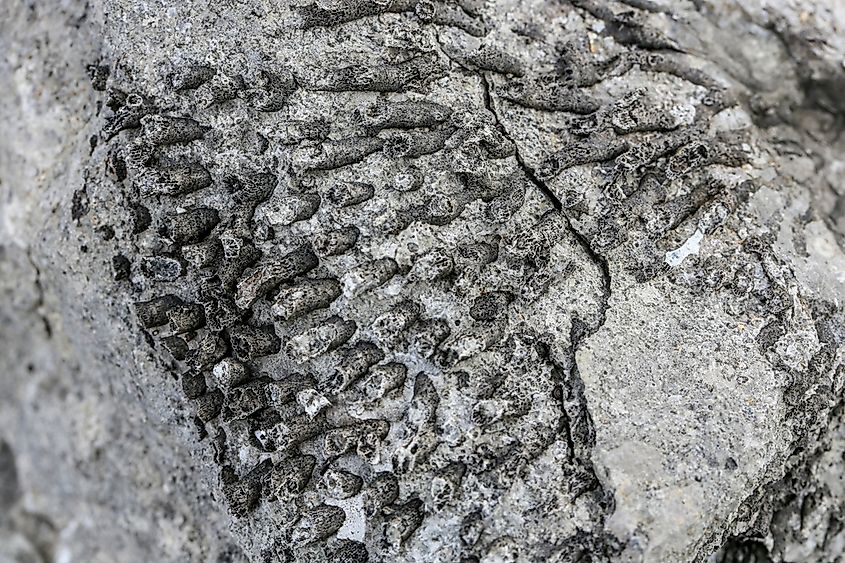 Flat or covered in soft ups and dips, hills are covered in karsts with occasional huge stones that look as if they were placed there by man. In fact, those were brought there and disposed of by melting glaciers. The Burren way is a long walk across the most impressive viewpoints.
The Atlantic shore has several beautiful beaches bordered by rocks and sandy dunes, and, although Irish water is not very warm, safe, and suitable for swimming. Sandy dunes are home to rabbits, hares, and foxes. Fanore Beach and Flaggy Shore Heritage Trail are the most popular locations for those who prefer ocean views.
The Preserved History 
Visiting the Burren is often compared to taking a journey through time. Of the 6,000 or so national monuments in County Clare, the majority are found here. Burren is proud of the variety of monuments from well-preserved ring forts such as Caherconnell, to megalithic wedge tombs like Poulnabrone (which is reported to be over 6,000 years old, making it more ancient than the pyramids). Even without a purposely organized trip, you will encounter many ruins and castle remains, standing, at times, on the local farmlands.   
Some of the notable castles in the area are:
Ennis Friary (Ennis, Co. Clare), 
Listowel Castle (Listowel, Co. Kerry),
Gregan's Castle,
Co Clare (offers a wonderful dining experience, too),
Adare Castle (Adare, Shannon),
Bunratty Castle,
Craggaunowen (Quin, County Clare),
Doonagore Castle,
Dunlough Castle (the northern tip of the Mizen Peninsula, incredible view).