Economics
The Biggest Italian Banks By Total Assets
The UniCredit, headquartered in Milan, is the biggest Italian bank.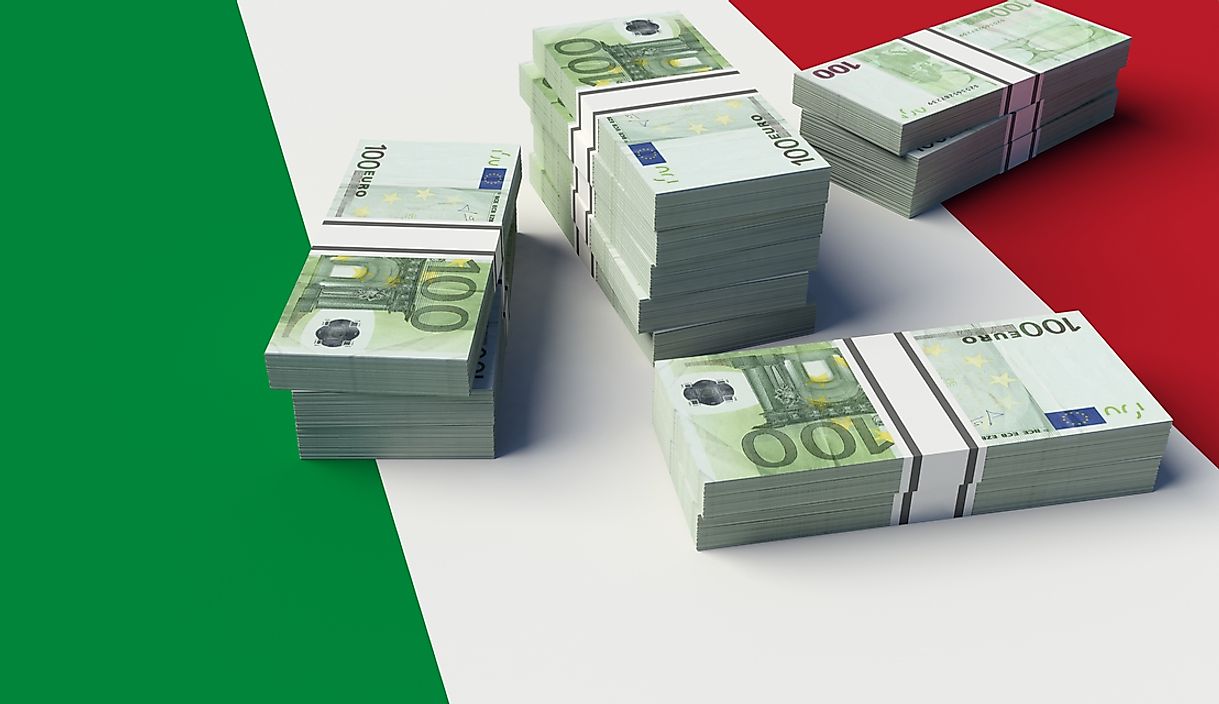 The history of banking in Italy dates back to the Renaissance period when wealthy families set up financial institutions locally and abroad. The towns of Florence, Siena, Venice, Genoa, and Lucca were the major financial centers during this period. The city of Florence flourished especially as a hub for banking and financial services due to the minting of the Florin. The major families involved in the growth of modern banking in Italy and to an extent Europe, were the Peruzzi, the Bardi, the Pazzi, and the Medici. Currently, the banking scene in Italy is one of the best in Italy with some of its banks ranking among the top in assets.
UniCredit
With more than 8,500 branches in 17 countries, UniCredit is Italy's biggest bank with assets worth 982.151 million Euros. The bank was founded in 1998 as a merger between several banks. The bank is headquartered in Milan. The bank has grown in size due to mergers with other national and international banking groups. UniCredit focuses its efforts in establishing relations between Western and Eastern Europe; therefore, most of its branches and holdings are in Europe.
Intesa Sanpaolo
Intesa Sanpaolo is Italy's second biggest bank with assets amounting to 676,798 million euros and the leading in Italy in market capitalization. Based in Turin, the bank was founded as a merger between Banca Intesa and Sanpaolo IMI in 2007. The bank has a well-established presence in Italy and a developing influence in the Middle East, Central Europe, and North African countries. The bank employs more than 90,000 people.
Banca Monte dei Paschi di Siena (BMPS)
Banca Monte dei Paschi di Siena(BMPS) is the third biggest bank in Italy with an asset base of 197,943 million Euros and a revenue of about 4 billion Euros. Founded in 1472 in Siena, BMPS is the world's oldest surviving bank. The bank provides various financial services including retail, corporate and investment banking, insurance, and investment management. The bank serves more than five million customers and employs more than 26,000 employees. The bank has about 2000 branches located in Italy and abroad.
Banco Popolare
Ranking fourth in assets is the Banco Popolare based in Verona. The bank has assets worth 123,743 million Euros and 19 regional branches within Italy. Banco Popolare was formed in 2007 as a cooperative partnership, but legal requirements led to its transformation. The bank merged with Banca Popolare di Milano in January 2017 to form a limited company. With more than 1800 branches, the bank employs more than 16,000 people and makes a profit of about 430 million Euros.
UBI Banca
Based in Bergamo, UBI Banca (Unione di Banche Italiane) is the fifth biggest bank with assets. The bank formed in 2007 has more than 1500 branches and assets of about 121,323 million Euros. The bank has more than 17,000 employees who help deliver its services including retail and corporate banking and asset management. Like Banco Popolare, the bank was transformed into a limited company (Societa per Azioni) in 2015 following legislation.
Financial Crisis In Italy
A slowdown in the economic growth of the Italian economy has put the country in deep debts. Efforts to remove the public debts from tax revenue have led to increased bad debts as businesses find it harder to generate income. The result is increased losses for banks with some of them threatened with closure.
What is the Largest Bank in Italy?
The UniCredit, headquartered in Milan, is the biggest Italian bank.
The Biggest Italian Banks By Total Assets
| Rank | Company | Headquarter | Assets (€ mil.) |
| --- | --- | --- | --- |
| 1 | UniCredit | Milan | 982,151 |
| 2 | Intesa Sanpaolo | Turin | 676,798 |
| 3 | Banca Monte dei Paschi di Siena | Siena | 197,943 |
| 4 | Banco Popolare | Verona | 123,743 |
| 5 | UBI Banca | Bergamo | 121,323 |
| 6 | Banca Nazionale del Lavoro | Rome | 84,892 |
| 7 | Mediobanca | Milan | 72,428 |
| 8 | Banca Popolare dell'Emilia Romagna | Modena | 61,266 |
| 9 | Banca Popolare di Milano | Milan | 49,257 |
| 10 | Crédit Agricole–Cariparma Group | Parma | 48,235 |
About the Author
Benjamin Elisha Sawe holds a Bachelor of Arts in Economics and Statistics and an MBA in Strategic Management. He is a frequent World Atlas contributor. 
This page was last updated on August 1, 2017.
Citations
Your MLA Citation
Your APA Citation
Your Chicago Citation
Your Harvard Citation
Remember to italicize the title of this article in your Harvard citation.