Society
The Biggest Cities In Russia
Moscow and St. Petersburg are both culturally rich, historically significant, and the most populous cities in Russia.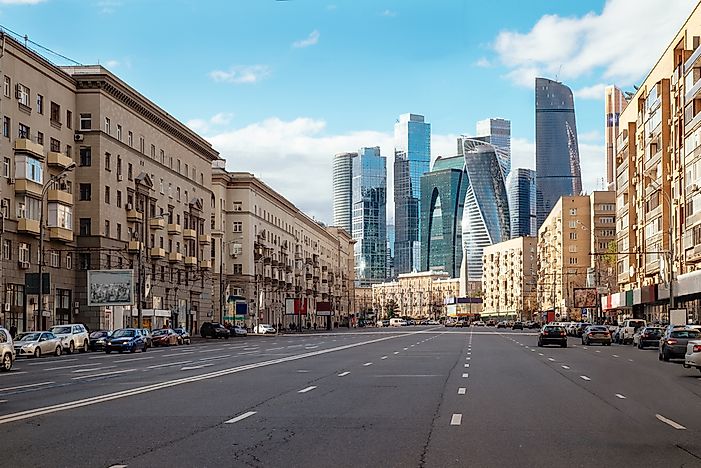 General Population Demographics of Russia as a Nation
Russia is the ninth most populous nation in the world, and its 143,437,912 people make up 1.95% of the global population. Most of the people, around 73% of them, live in urban areas. Russia's population has a median age of 38 years old. Its population growth rate has fallen from a robust 1.68% in 1954 to -0.43% in 2002, after which it has improved to -0.01% in 2016. The age structure reveals 16.4% are in the age group of 0-14 years, 10.7% between 15 and 24 years, 45.8% between 25 and 54 years, 13.8% between 55 and 64 years, and 13.3% of the population is older than 65 years.
Russia's Major Urban Centers
Of its roughly 143 million inhabitants, the largest numbers concentrated in single cities live in Moscow with its 12.05 million residents. St. Petersburg has 5.19 million, Novosibirsk has 1.57 million, Jekaterinburg 1.43 milllion, NizniJ Novgorod 1.27 million, Kazan 1.21 million, Cel' abinsk 1.18 million, Samara and Omsk 1.17 million house each, and Rostov-na-Donu has 1.11. Russia has 1,100 towns and cities in 46 provinces. Russia is an multi-ethnic society made of around a 100 ethnic groups. Russian is however the common language used by all. Practice of religion, which was restricted by the erstwhile USSR, is flourishing once again, and 75% of the people are Orthodox Christians, 5% are Muslims, and Catholics, Protestants, Jews, and Buddhists each account for around 1% each.
Moscow
Moscow started as a hunting resort in the 12th Century. Since the days of the Russian Empire it has been the political capital of Russia except for a brief period before the formation of the USSR. It is situated central in Russia, so has always been an important economical, cultural, scientific, and military center. Its prosperity and varied attractions have swelled its population since the USSR times, with people moving to it from rural areas and the city currently is not able to provide adequate housing and infrastructure to all its citizens. All the major religions of the world are found in Moscow. It has a rich and historic cultural, artistic and literature scene that also attracts international tourists. Moscow also attracts immigrants, both legal and illegal.
Saint Petersburg
St. Petersburg, the second largest city in Russia, was founded in 1703 AD by Peter the Great for whom it was named. Its name was changed to Petrograd after WWI, and then to Leningrad after Lenin's death in 1924, then back to St. Petersburg in 1991 based on a referendum. It was briefly the capital of Russia, and still is important as a cultural, military, industrial, scientific and educational center. Its long history of industry predominates life in St. Petersburg, and it is a major producer of nuclear reactors, tractors, electric and electronics equipment, machinery, ships, and consumer goods. It has several beautiful palaces, and scientific museums.
Vladivostok

Vladivostok is the largest city on the eastern side of the country and Russia's principal Pacific port. It is a growing commercial center, and one which attracts increasingly more foreign businesses and people, including tourists from America, Japan, Korea, and China.
Yekaterinburg

Yekaterinburg is the third largest city in Russia. Situated close to iron and copper mines in the Urals, metallurgy is important, and it mints the Russian coins. Its health system is however not well developed, and cultural activities are limited to performing arts.
Other Large Cities

Samara is important for industry, research, and culture. Nizniy Novgorod is a river port and industrial center. Volvograd is a major river port and railroad junction. Novonikolayevsk became important during the building of the Trans-Siberian railroad, and is still an important center for rail, road and air traffic.
Future Prospects for the Russian Population
Given its current negative population growth rate, Russia's population is estimated to continue to decline, and by 2100 return to its circa 1950 level of around 100 million. The reasons high mortality in the country's youth due to drinking, smoking and associated violence and serious health risks, as well as obesity. Compounding this is a poor health care system. The live expectancy for Russian men is 64 years, a good 15 years less than advanced European countries. Women can expect to live up to 74 years, which is worse than even Poland's life expectancy for women. Changing perceptions of marriage, a high divorce rate, and emigration of its literate people contribute to its low fertility. Since immigrants are not allowed to easily settle down due to xenophobia, they are unable to increase birth numbers either.
The Biggest Cities In Russia
| Rank | Country | Residents In Million |
| --- | --- | --- |
| 1 | Moscow | 12.05 |
| 2 | St. Petersburg | 5.19 |
| 3 | Novosibirsk | 1.57 |
| 4 | Jekaterinburg | 1.43 |
| 5 | NizniJ Novgorod | 1.27 |
| 6 | Kazan | 1.21 |
| 7 | Cel' abinsk | 1.18 |
| 8 | Samara | 1.17 |
| 9 | Omsk | 1.17 |
| 10 | Rostov-na-Donu | 1.11 |