Society
Biggest Cities In Lesotho
Maseru, meaning "red sandstones" in the Sesotho language, is the capital and the largest city of Lesotho.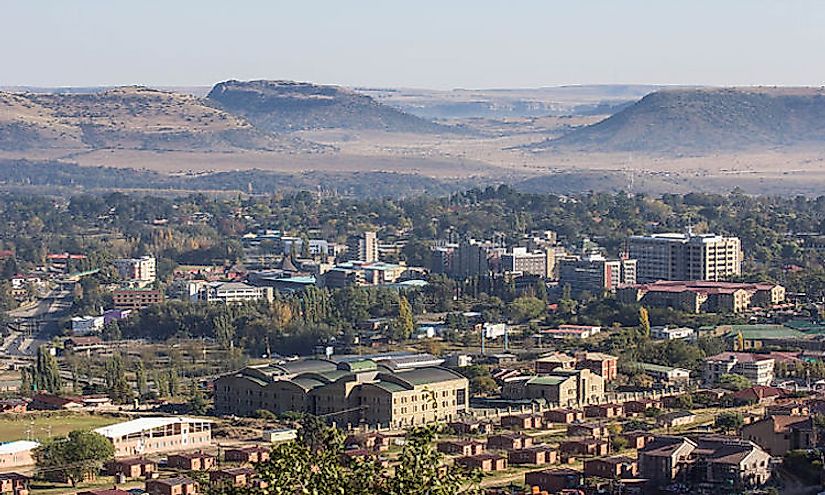 Lesotho is a South African country completely surrounded by South Africa. The country has a mountainous terrain with most of its towns and villages located in areas with an altitude of more than 1600m above sea level. The high altitude allows for a number of tourist activities such as hiking and pony-trekking as well as natural sights. Lesotho's major towns are mainly administrative headquarters of various districts in the country. These towns are important and tourist centres with various cultural and historical aspects unique to the people of Lesotho.
Maseru
Maseru is the largest city in Lesotho and the capital of the country. The town was established in 1869 by the British colonisers. During the colonial period, Maseru served as a police camp and capital of Lesotho. Maseru played an important administrative role between 1869 and 1871 and from 1884 to-date. The city remained underdeveloped until the country gained independence in 1966. The city is the most populated with more than 200,000 people. Maseru has a rapidly growing economy due to industries, trade, and foreign and local investments based in the town.
Teyateyaneng
Teyateyaneng is located in Lesotho's Berea district and has an estimated population of 75,115. Teyateyaneng was founded in 1886 by chief Masupha as a settlement of the dispute between him and the British. Teyateyaneng served as the administrative capital of Berea. Its location on a hill gives Teyateyaneng a natural and outstanding view of the Maloti Mountains located to the southeast and the lowlands found to the north-east of the town. Teyateyaneng is a rich cultural center with hoisin art specimens in rock shelters as well as the cannibal cave which was used by the cannibals for guerrilla warfare. Teyateyaneng is an important marketplace in Lesotho with unique products including stoneware pottery, finely woven mohair rugs and textiles.
Mafetang
Mafetang is the capital of Mafetang district of Lesotho with a population of about 57,059. Mafetang is an important trading centre and tourist attraction owing to its rich historical importance and nature-inspired activities such as hiking and pony-trekking. In the late 19th century, the town served as the battle field during the Gun war confrontation. The soldiers who died there are commemorated with an obelisk above their cemetery. Mafetang is a thriving economy with local and foreign businesses based in the town. Agricultural products particularly wheat and maize are the main commodities of trade in the town. The Old Mill owned by the Scott and Osborne families processed corn and wheat for the local communities is currently a tourist attraction in the town.
Hlotse
Hlotse town was established by John Widdicombe, a British missionary in 1876. Hlotse existed as a colonial centre during the colonial period and is currently an important market centre in Lesotho. Sometimes the town is referred to as Leribe as it is the capital of Leribe and the presence of the French mission- leribe which was established in 1867. Hlotse is the home to the Leribe Crafts Centre which deals with handmade wool crafts. Tourist attractions in Hlotse include the Tsehlanyane Nature Reserve which is a habitat to a unique and rare biodiversity of alpine flora and fauna.
Problems Faced By Lesotho's Cities
Lesotho's towns including Mohale's Hoek, Maputsoe, Qacha's Nek, Quthing, Peka, Butha-Buthe, Roma, Mokhotlong and Thaba-Tseka are faced by common challenges including prevalent poverty with most of their populations living below the poverty line, food shortages and high maternal and infant mortality rates.
The Biggest Cities In Lesotho
| Rank | City | Estimate 2005 | District |
| --- | --- | --- | --- |
| 1 | Maseru | 218,355 | Maseru |
| 2 | Teyateyaneng | 75,115 | Berea |
| 3 | Mafeteng | 57,059 | Mafeteng |
| 4 | Hlotse | 47,675 | Leribe |
| 5 | Mohale's Hoek | 40,514 | Mohale's Hoek |
| 6 | Maputsoe | 32,117 | Leribe |
| 7 | Qacha's Nek | 25,573 | Qacha's Nek |
| 8 | Quthing | 24,130 | Quthing |
| 9 | Peka | 17,161 | Leribe |
| 10 | Butha-Buthe | 16,330 | Butha-Buthe |
| 11 | Roma | 11,612 | Maseru |
| 12 | Mokhotlong | 8,809 | Mokhotlong |
| 13 | Thaba-Tseka | 5,423 | Thaba-Tseka |
About the Author
Benjamin Elisha Sawe holds a Bachelor of Arts in Economics and Statistics and an MBA in Strategic Management. He is a frequent World Atlas contributor. 
This page was last updated on August 14, 2019.
Citations
Your MLA Citation
Your APA Citation
Your Chicago Citation
Your Harvard Citation
Remember to italicize the title of this article in your Harvard citation.