Society
Biggest Cities In Jordan
Amman is Jordan's capital and most populous city, as well as the country's economic, political, and cultural center.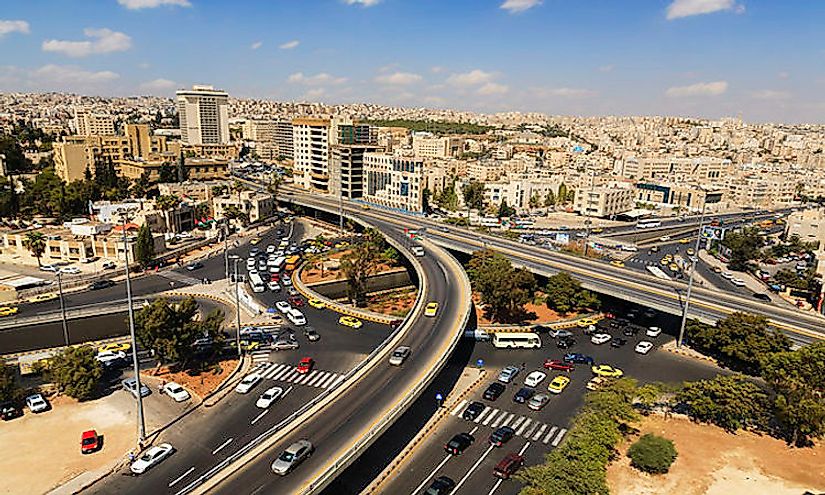 The Biggest Cities In Jordan
Jordan also formally known as the Hashemite Kingdom of Jordan is a country in the Middle East bordering five countries including Iraq, Israel, Saudi Arabia, Syria, and West Bank. It is located at the head of the Gulf of Aqaba, and it is the only Arab country sharing the longest border with Israel and the occupied West Bank. The country has cities that date to several centuries old. These cities have developed into important economic, political, and cultural zones over the years. Amman is the capital of Jordan and an important administrative unit. These cities are major residential town to most of the population of Jordan. Industries and other economic activities in the cities provide a source of livelihood to the people of Jordan.
Amman
Amman is Jordan's most populous city with more than one million people. Amman has its origin as the ancient town of the Ammonites. The town is a booming economy within Jordan and is among the highest ranking cities in Asia and North Africa regions. The town also serves as a cultural and political town as well as the capital of Jordan and the administrative center of Amman governorate. The city served as an agricultural and trading center during the ancient times and as a battlefield during a series of wars from the mid-20th century. Amman is currently experiencing rapid growth economically and culturally. Due to its rapid growth and population influx, the city faces problems of water shortages and accommodation. Amman is a major tourist attraction with ancient and classical remains and museums with a profound historical coverage.
Zarqa
Zarqa is the second most populous city in Jordan with a population of 395,227. The city existed from the first century and was established by the Chechen. Zarqa then served as a residential and military town. Zarqa serves as the industrial area of Jordan with more than half of the industries in Jordan. Industries and commercial industries in Zarqa include the Chamber of Commerce, agricultural, garment, leather, pharmaceutical, oil refinery, and chemical industries. The city serves other functions such as transport, education, and residence.
Irbid
Irbid is the third most populous city in Jordan with a population of 250,645. Irbid existed as the town of Arabella which was famous for the production of fine wine. During the Islamic era, the production of olive oil became the leading agricultural activity. Irbid is an important historical town with architecture from the ancient times with a number of archaeological sites. Irbid serves as an educational center with such institutions as the Jordan University of Science and Technology, an important agricultural center due to its fertile soils making it the most active agricultural producer in Jordan. Crops grown here include citrus fruits, olives and grain and animals such as honey bees and livestock. Irbid is also a trading center, a cultural center, and a sports center.
Russeifa
Russia is the fourth most populous city in Jordan with a population of 227,735. Russeifa is an important mining town famous for its phosphate deposit that has been mined since 1935. The location between Amman and Zarqa makes it an important site for heavy industries such as those of mining. The Zarqa River provides a means of transporting the produce and raw materials for the industry.
Problems Facing Jordan's Cities
Problems experienced by Jordan's cities include terrorism attacks by IS militia, overpopulation in the municipalities, insufficient water resources and accommodation facilities, soil erosion due to overgrazing and communicable diseases from overcrowding and poor sanitation. Other big cities in Jordan include Al-Quwaysimah, Wadi as-Ser, Tila al-Ali, Khuraybat as-Suq, Aqaba, as-Salt, Ar Ramtha, and Madaba, Al-Jubayhah, Al-Baq'a, Mafraq, Sahab, Muhayyam Hatin, Ayn al-Basha and Umm Qushayr.
The Biggest Cities In Jordan
| Rank | Name Of City | Population |
| --- | --- | --- |
| 1 | Amman | 1,036,330 |
| 2 | Zarqa | 395,227 |
| 3 | Irbid | 250,645 |
| 4 | Russeifa | 227,735 |
| 5 | Al-Quwaysimah | 135,500 |
| 6 | Wadi as-Ser | 122,032 |
| 7 | Tila al-Ali | 113,197 |
| 8 | Khuraybat as-Suq | 84,975 |
| 9 | Aqaba | 80,059 |
| 10 | as-Salt | 73,528 |
| 11 | Ar Ramtha | 71,433 |
| 12 | Madaba | 70,338 |
| 13 | al-Jubayhah | 64,200 |
| 14 | al-Baq'a | 62,508 |
| 15 | Suwaylih | 61,949 |
| 16 | Mafraq | 47,764 |
| 17 | Sahab | 43,909 |
| 18 | Muhayyam Hatin | 38,501 |
| 19 | Ayn al-Basha | 37,222 |
| 20 | Umm Qushayr | 36,785 |
About the Author
Benjamin Elisha Sawe holds a Bachelor of Arts in Economics and Statistics and an MBA in Strategic Management. He is a frequent World Atlas contributor. 
This page was last updated on April 25, 2017.
Citations
Your MLA Citation
Your APA Citation
Your Chicago Citation
Your Harvard Citation
Remember to italicize the title of this article in your Harvard citation.