Society
The Biggest Cities In Israel
The Tel Aviv-Yafo (Gush Dan) metro area houses almost one half of the Israeli population.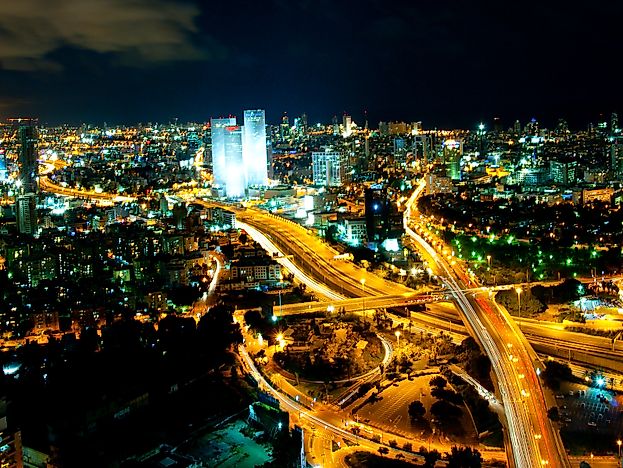 The Middle Eastern country of Israel was fought over by many generations of Jews, Arabs, and Crusaders from the Biblical times to modern times. Israel's cities were established long before the first foreigner from the West stepped on its soil. The Biblical Israel co-existed with Egypt around 1209 BCE. Around that period, small village centers were found amidst the highlands of Canaan. Many ancient kings came and left after crushing and subjugating Israel and its people, but it always recovered and those who fled also returned to their homeland. The return of modern Jews began with the First Aliyah in 1881.
Israel's Modern Cities
The following Israeli cities are listed in the order of largest population. The Tel Aviv-Yafo (3,713,200) (Gush Dan) metro area, has almost one-half of the entire Israeli population. It was the site of the ancient tribe of Dan in Israel and established in 1909 as the city of Tel Aviv Yafo. It is the economic center of the country. Second is Jerusalem (1,124,300) which is claimed by both Palestinians and Jews as their capital city. Historically, Jerusalem has been attacked, pillaged, and destroyed since ancient times but remains a city today. In its 5,000 year history, old Jerusalem has been occupied by Arabs, Jews, Christians, and Armenians. Third, is the port city of Haifa (1,050,000) which runs the oldest high-tech park in the country. It has an oil pipeline, chemical processing plants, petroleum refining, and heavy industries. Fourth is Rishon LeZion (235,123) populated by a majority of Jews in the business of commerce, services, construction, and wine. It has a water desalination plant. Fifth is Petah Tikva (225,400), east of Tel Aviv. Its economy is based on the manufacturing of processed foods, soap, textiles, metalwork, plastics, carpentry, and rubber products. Big American companies have also built headquarters in the city namely: ECI Telecom, Alcatel-Lucent, Intel, IBM, Oracle Corporation, and GlaxoSmithKline. Sixth is Ashdod with a population of 217,959 people. Seventh is Netanya with a population of 202,428 people. Eighth is Beersheba with a population of 201,086 people. Ninth is Holon with a population of 182,575 people. The tenth is Bnei Brak with a population of 178,288 people.
Religious Demographics Of Israel
The estimated population of Israel in 2016 was about 8,502,900 million people of whom 74.9% are Jews, and 20.7% are Arabs. The remaining 4.4% are non-Arab Christians and people with no religion. The majority of Israelis or about 92% of Jews live in urban settings. Israel subscribes to two official languages namely: Hebrew and Arabic. Although, English is still on par as an official language after its status was downgraded on the establishment of the State of Israel. The religious affiliations of Jews in Israel has a wide representation: traditional (55%), secular (20%), Religious Zionists (17%), and Haredi Jews (8%). The non-Jews are Christians(2%), Druze (1.5%), and Muslims (16%). Jews, Muslims, and Christians all, hold the city of Jerusalem as a religious place central to their faith. Among the holy structures are the Western Wall, Temple Mount, Church of the Holy Sepulcher, and the Al-Aqsa Mosque. There are more significant religious places to the three faiths found all over the city.
The Biggest Cities In Israel
| Rank | Metropolitan Area | Population |
| --- | --- | --- |
| 1 | Tel Aviv-Yafo (Gush Dan) | 3,713,200 |
| 2 | Jerusalem | 1,124,300 |
| 3 | Haifa | 1,050,000 |
| 4 | Rishon LeZion | 235,123 |
| 5 | Petah Tikva | 225,400 |
| 6 | Ashdod | 217,959 |
| 7 | Netanya | 202,428 |
| 8 | Beersheba | 201,086 |
| 9 | Holon | 182,575 |
| 10 | Bnei Brak | 178,288 |