The Biggest Cities In Israel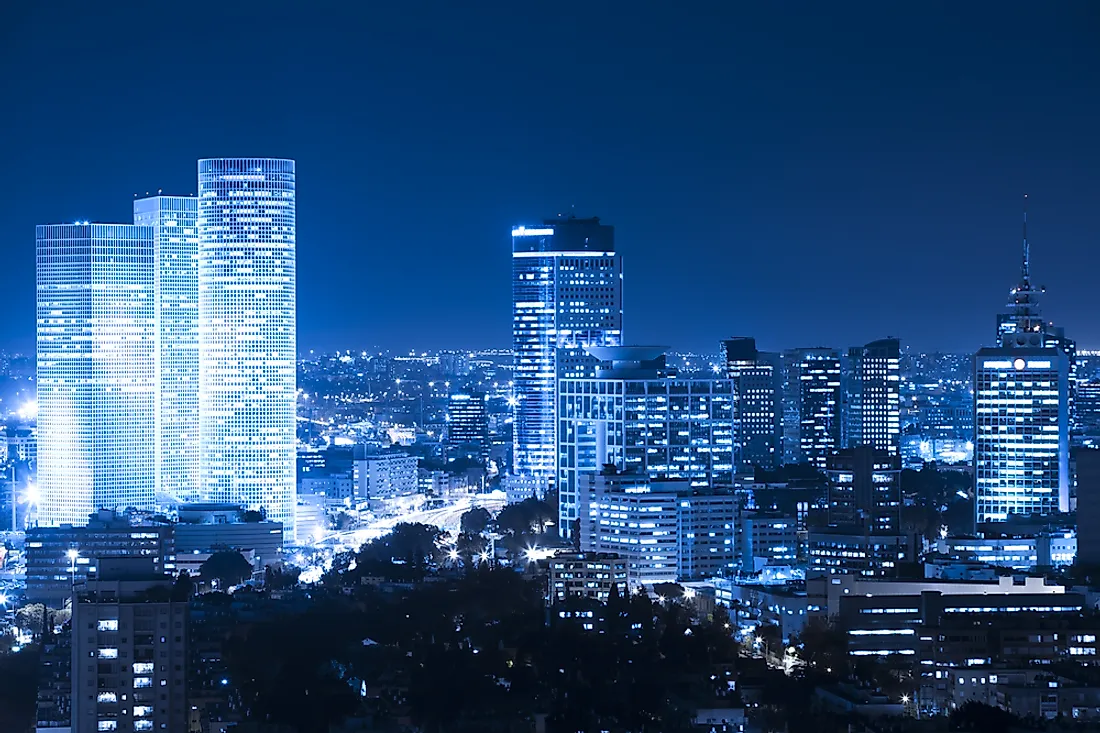 The Middle Eastern country of Israel is home to around 8.547 million individuals, Just over half of the country's population lives in one of the country's major cities, the largest of which are outlined below.
5 Largest Cities in Israel
5. Petah Tikva - 236,169
The city of Petah Tikva, located east of Tel Aviv, is the fifth largest city in Israel in terms of population. Petah Tikva has an economy based on the manufacturing of processed foods, soap, textiles, metalwork, plastics, carpentry, and rubber products. Big American companies have also built headquarters in the city namely ECI Telecom, Alcatel-Lucent, Intel, IBM, Oracle Corporation, and GlaxoSmithKline. Petah Tikva originally grew out of an agricultural settlement in Israel.
4. Rishon LeZion - 246,323
Rishon LeZion, the fourth largest city in Israel, is an important center for industries such as commerce, services, construction, and wine. The name Rishon LeZion translates to mean "first to Zion". The city was founded by Jewish people from Eastern European who were facing discrimination in their adopted communities. In commemoration of this history, Rishon LeZion is home to an open-air museum dedicated to its past.
3. Haifa - 279,591
The third largest city is Haifa. The largest port in the country, Haifa is located on the Mediterranean Sea. Its beaches attract many tourists. Haifa is well known for its dedication to religious tolerance, and for its high quality of life. It is the largest city in northern Israel and is known as one of Israel's picturesque cities.
2. Tel Aviv - 438,818
Tel Aviv is the second largest city in Israel. It was the site of the ancient tribe of Dan in Israel and was established in 1909 as the city of Tel Aviv Yafo. It is the economic center of the country. Tel Aviv is well-known for hosting a young population, and for the quality of its nightlife. Tel Aviv is considered to be the world's first modern Hebrew city.
1. Jerusalem - 882,652
Jerusalem is a city claimed by both Israel and Palestine. Neither claim is completely recognized by the international community. Historically, Jerusalem has been attacked, pillaged, and destroyed, and then rebuilt one more than one occasion. Today, it hosts Israel's administrative buildings. Jerusalem is home to just under one million residents, and is considered to be a holy city by the world's three largest religions - Judaism, Islam, and Christianity.
Other Major Cities of Israel
Other large cities in Israel include:
Ashdod, which is a large port city found on the Mediterranean Coast.
Netanya, which is a popular beach resort as well as a city.
Beersheba, a city found in the desert of southern Israel.
The Biggest Cities In Israel
| Rank | Metropolitan Area | Population |
| --- | --- | --- |
| 1 | Tel Aviv-Yafo (Gush Dan) | 3,713,200 |
| 2 | Jerusalem | 1,124,300 |
| 3 | Haifa | 1,050,000 |
| 4 | Rishon LeZion | 235,123 |
| 5 | Petah Tikva | 225,400 |
| 6 | Ashdod | 217,959 |
| 7 | Netanya | 202,428 |
| 8 | Beersheba | 201,086 |
| 9 | Holon | 182,575 |
| 10 | Bnei Brak | 178,288 |