World Facts
The Biggest Cities In Indiana
Indianapolis is the capital and largest city in the US state of Indiana.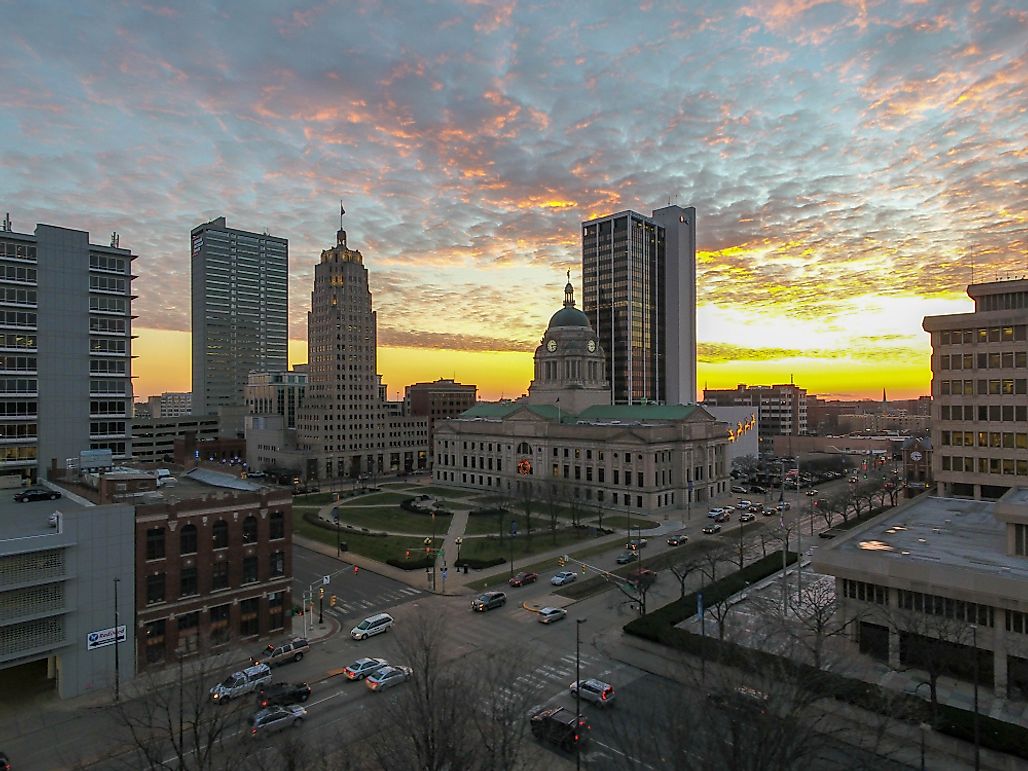 The State of Indiana
The US state of Indiana is located in the Midwestern region of the country. With an area of 36,418 square miles and an estimated population of 6,633,053, Indiana is the 38th largest US state by area and the 17th most populated. According to state law, a municipality can be designated as a city only if its population exceeds 2,000 people. Cities are further divided into three classes: "third-class" cities have a population between 2,000 and 35,000, and are governed by a seven-member city council and an elected clerk-treasurer; "second-class" cities have a population between 35,000 and 600,000, and are governed by a nine-member city council and an elected clerk; Indiana has only one "first-class" city, Indianapolis, which is the state capital and has a consolidated city-county government called Unigov.
The Five Most Populated Cities in Indiana
1. Indianapolis
According to the 2010 census, Indianapolis has a population of 820,445 people. Located in Marion County, it serves as the capital and is the 16th biggest city in the United States and the 3rd biggest in the American Midwest in terms of population. Indianapolis covers an area of 936.1 square km, making it the country's 16th biggest by land area.
2. Fort Wayne
Indiana's second biggest city, Fort Wayne, has a population of 253,691. It is the seat of Allen County, and is located in the northeastern part of the state, about 29 km west of the Indiana-Ohio border. It is the country's 75th most populous city. Fort Wayne is the economic and cultural hub of northeastern Indiana.
3. Evansville
Evansville, the county seat of Vanderburgh County, has a population of approximately 117,429 people. It ranks as the third most populous city in the state, and the 232nd most populous in the country. Evansville is the largest city in southern Indiana, and serves as that region's cultural and commercial hub. The city is often nicknamed the "River City" or "Crescent Valley" given its location on an oxbow of the Ohio River.
4. South Bend
With a population of approximately 101,168, South Bend is the fourth most populous city in Indiana. It is the county seat of St. Joseph County, and serves as the cultural and economic hub of northern Indiana. The city's name is derived from its location near the southernmost bend of the St. Joseph River.
5. Carmel
With a population of 79,191, Carmel is Indiana's fifth biggest city. It is located north of Indianapolis and is experiencing rapid growth. In 2012, CNN's Money magazine designated Carmel as the "Best Place to Live in the United States."
Population Growth in Indiana
Since 1990, Indiana's population growth has been concentrated in counties around its capital, Indianapolis. The state's fastest growing counties include Hamilton, Hendricks, Johnson, and Hancock.
What Is The Biggest City In Indiana?
With a population of over 820,000 people, Indianapolis is the largest city in the state of Indiana as well as the the third largest city in the American Midwest and the sixteenth largest city in the country.
The 10 Biggest Cities In Indiana
| Rank | City | Population (2010 Census) | County | Land Area | Population Density (People per sq mi) |
| --- | --- | --- | --- | --- | --- |
| 1 | Indianapolis | 820,445 | Marion | 361.43 sq mi (936.1 km2) | 2,388/sq mi (922/km2) |
| 2 | Fort Wayne | 253,691 | Allen | 110.62 sq mi (286.5 km2) | 2,404/sq mi (928/km2) |
| 3 | Evansville | 117,429 | Vanderburgh | 44.15 sq mi (114.3 km2) | 2,694/sq mi (1,040/km2) |
| 4 | South Bend | 101,168 | St. Joseph | 41.46 sq mi (107.4 km2) | 2,466/sq mi (952/km2) |
| 5 | Carmel | 79,191 | Hamilton | 47.46 sq mi (122.9 km2) | 1,943/sq mi (750/km2) |
| 6 | Fishers | 76,794 | Hamilton | 33.59 sq mi (87.0 km2) | 2,734/sq mi (1,056/km2) |
| 7 | Bloomington | 80,405 | Monroe | 23.16 sq mi (60.0 km2) | 3,673/sq mi (1,418/km2) |
| 8 | Hammond | 80,830 | Lake | 22.78 sq mi (59.0 km2) | 3,363/sq mi (1,299/km2) |
| 9 | Gary | 80,294 | Lake | 49.87 sq mi (129.2 km2) | 1,524/sq mi (588/km2) |
| 10 | Lafayette | 67,140 | Tippecanoe | 27.74 sq mi (71.8 km2) | 2,610/sq mi (1,008/km2) |
About the Author
Oishimaya is an Indian native, currently residing in Kolkata. She has earned her Ph.D. degree and is presently engaged in full-time freelance writing and editing. She is an avid reader and travel enthusiast and is sensitively aware of her surroundings, both locally and globally. She loves mingling with people of eclectic cultures and also participates in activities concerning wildlife conservation.
This page was last updated on January 14, 2019.
Citations
Your MLA Citation
Your APA Citation
Your Chicago Citation
Your Harvard Citation
Remember to italicize the title of this article in your Harvard citation.