Germany is a country located in central-western Europe. It has a land area of 137,847 square miles and a total population of 82 million. The climate is seasonal temperate and the country is the second most popular migration destination in the world. Its residents enjoy universal healthcare, free education, and a high standard of living. They make their homes across the many cities located there, the biggest of these are described below in this article.
1. Berlin - 3,520,031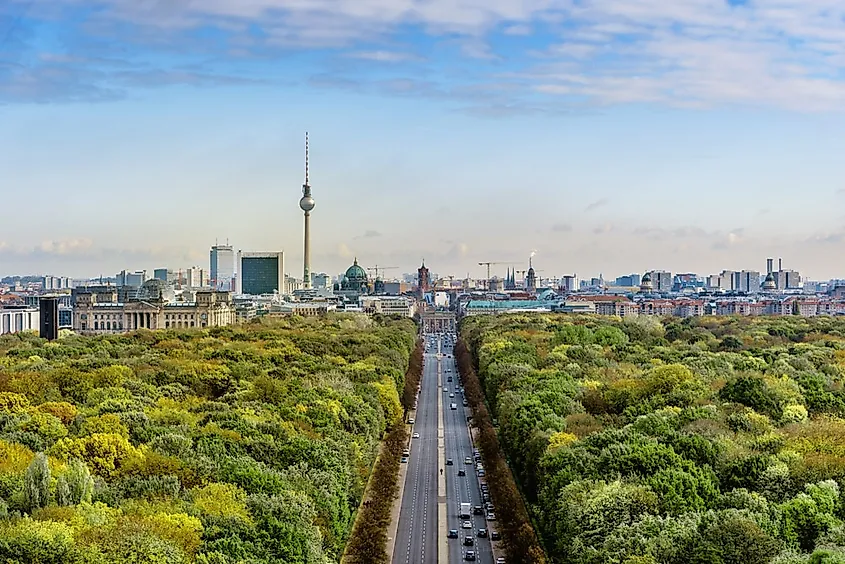 Berlin is the capital of Germany and holds city-state status as the city is surrounded by the state of Brandenburg. Berlin is the largest city in Germany by population. Around 3,520,031 people live in Berlin. Forests, parks, rivers, and lakes cover roughly 30% of the capital region. Berlin has played an important role in German society since the 15th Century. Lowlands and marshy woodlands surround the city. It experiences a temperate continental climate. The service industry provides roughly 84% of all jobs in Berlin. This city was also hosted the largest number of start-up companies in Europe in 2015.
2. Hamburg - 1,787,408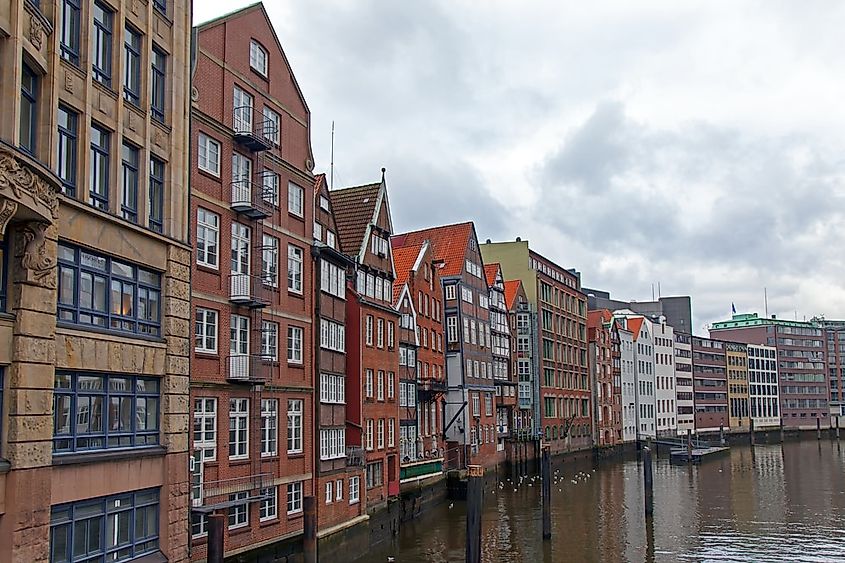 Hamburg is the second-largest city in Germany, with a population of around 1.7 million. Located in the country's north, Hamburg was once known for being an important industrial city. Today, it is known for being a prominent tourist attraction and for its large entertainment district. Hamburg also has the claim to fame of having more bridges than any other city in the world - yes, even more than Venice.
3. Munich - 1,450,381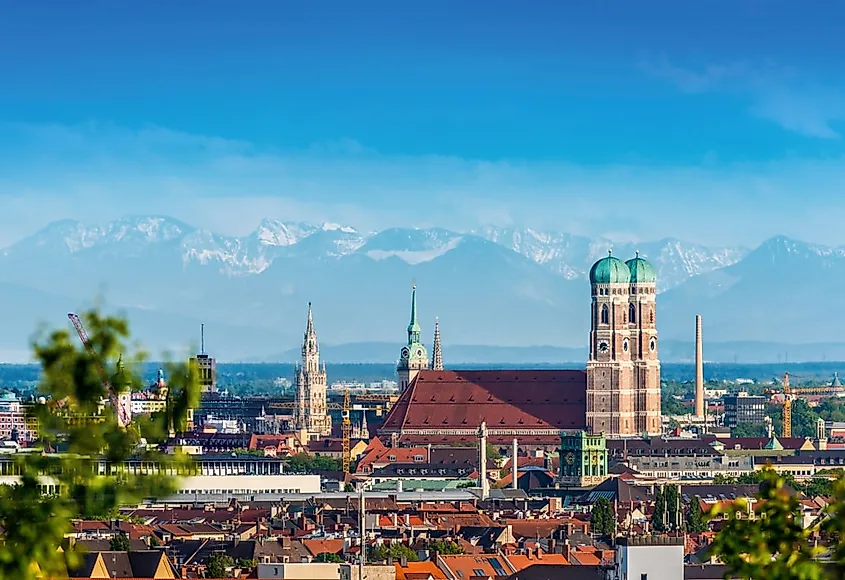 Munich is the third-largest city in Germany and the largest city in the region of Bavaria. Munich is perhaps best known for Oktoberfest, an annual festival of German culture that is held in October. The area surrounding Munich has the highest population density in Germany. Munich is home to one of the largest parks in the world, the English Garden (The Englische Garten).
4. Cologne - 1,060,582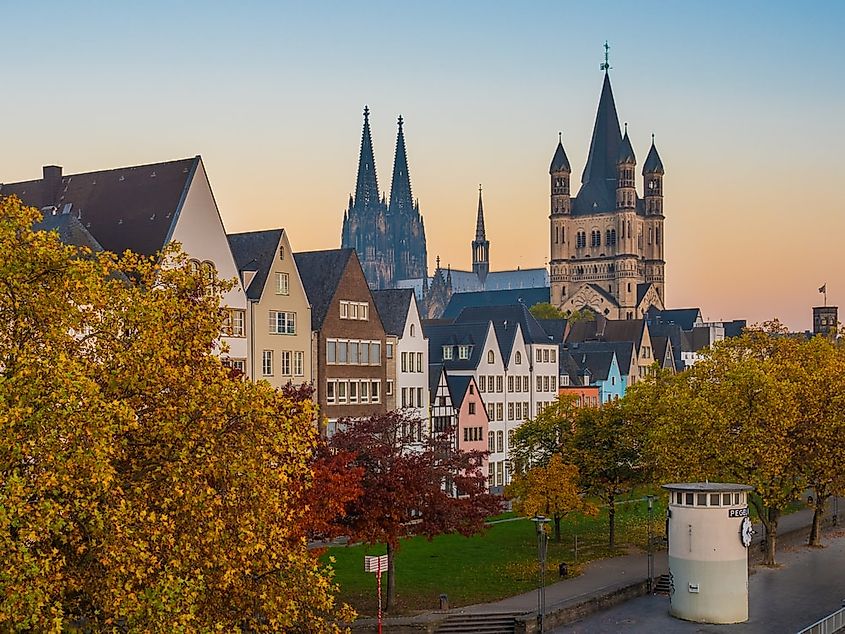 Cologne is found near the German borders with Belgium and the Netherlands. Cologne is famous for its Cologne Cathedral, which is Germany's most visited landmark and hosts around 20,000 visitors a day. The Cologne Cathedral is notable for its long construction process, which took a total of 632 years! Cologne is an important city in Germany's Rhineland region, which is roughly located in the middle of the country.
5. Frankfurt am Main - 732,688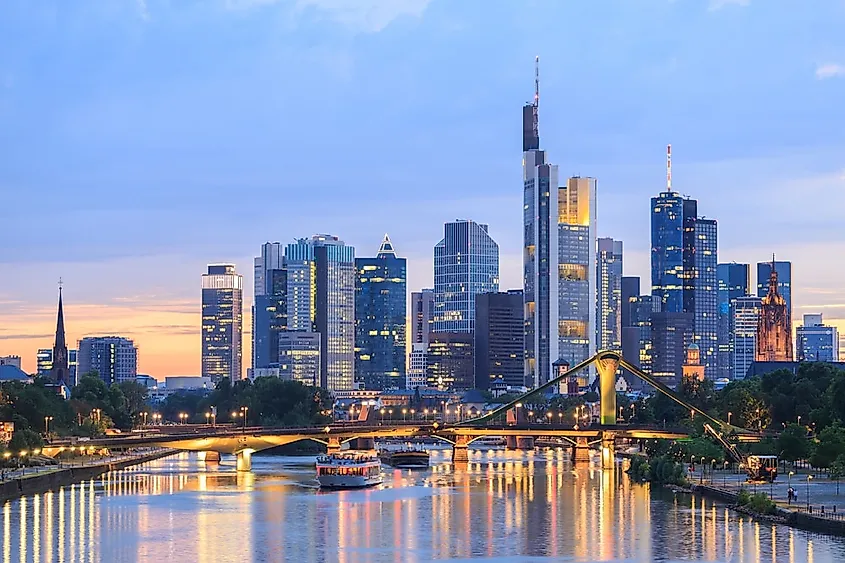 Formerly one of the most important cities of the Holy Roman Empire, Frankfurt today is known as an important financial center not only for Germany but for the European Union as a whole. Frankfurt's financial center features many high-rise buildings, making it one of the most recognizable skylines of Europe. Frankfurt is also known for being home to the largest and busiest airport in Germany as well as in Europe as a whole.
6. Stuttgart - 623,738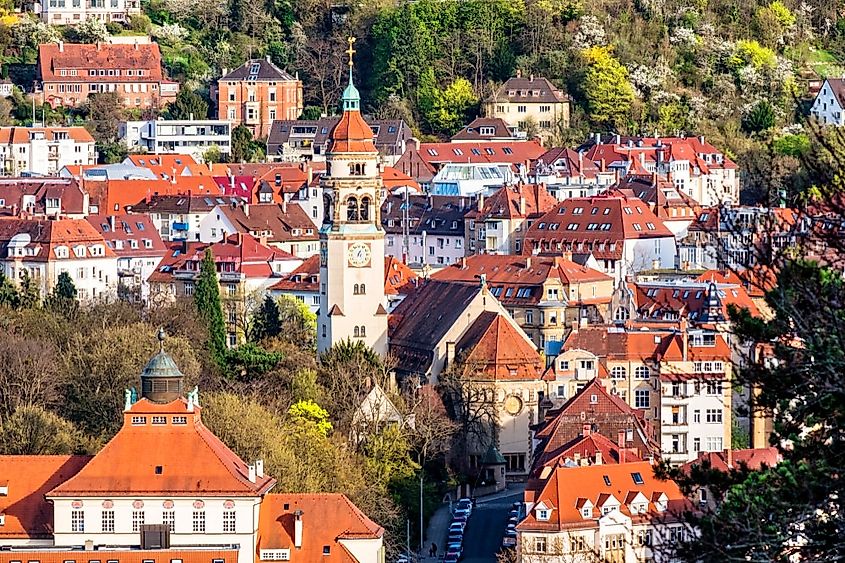 Stuttgart, located in Baden-Wurttemberg, has a population of 623,738. The city is covered in hilly terrain with many green spaces. The area has a growing economy and therefore, a fast growing population. The economy is supported by its high-tech industry. Both Mercedes-Benz and Porsche hold their headquarters in the city. This state is bordered by the Rhine river and the Black Forest overlooks the Upper Rhine Valley.
7. Düsseldorf - 612,178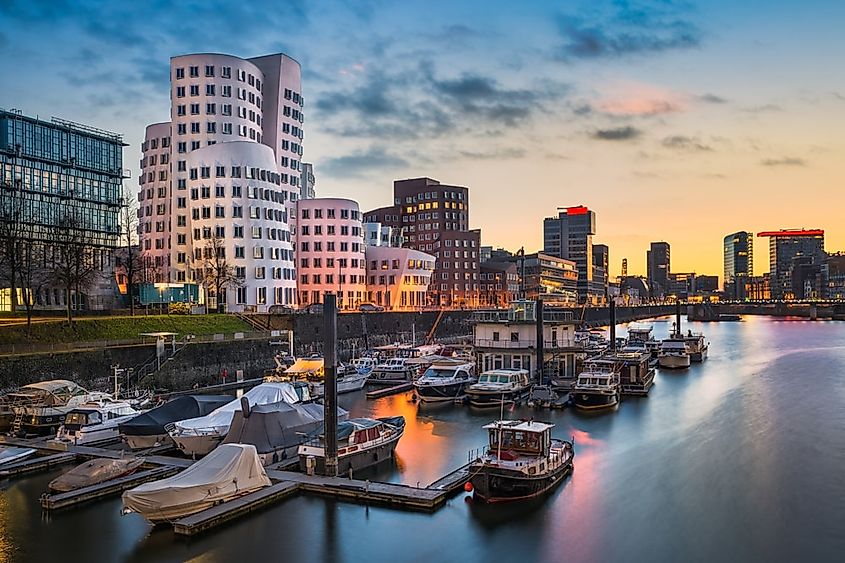 Düsseldorf serves as the state capital of North Rhine-Westphalia and therefore is the center of public administrative activities which provide the majority of jobs. Düsseldorf has existed since long before the 17th Century and is rich in history and cultural traditions including classical music, opera, and theater. Düsseldorf is notably home to the most popular shopping street in all of Germany, called "Königsallee" (or simply just "Kö").
8. Dortmund - 586,181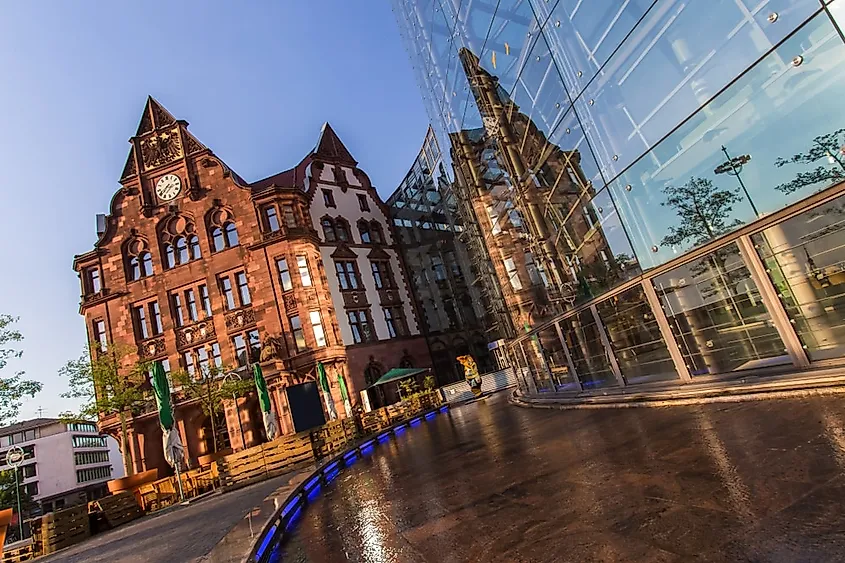 Like Düsseldorf, Dortmund is also located in North Rhine-Westphalia. The city dates back to around the year 882. Dortmund is known for being the center of the Ruhr Area, a highly-developed, highly-industrialized area of Germany. Dortmund was hit by bombs more than any other city in World War II. Today, however, the city has rebuilt and reinvented itself to be a hotbed of culture and education, as well as arts and culture. While the city has an industrial past, today it is known for possessing an impressive amount of park land.
9. Essen - 582,624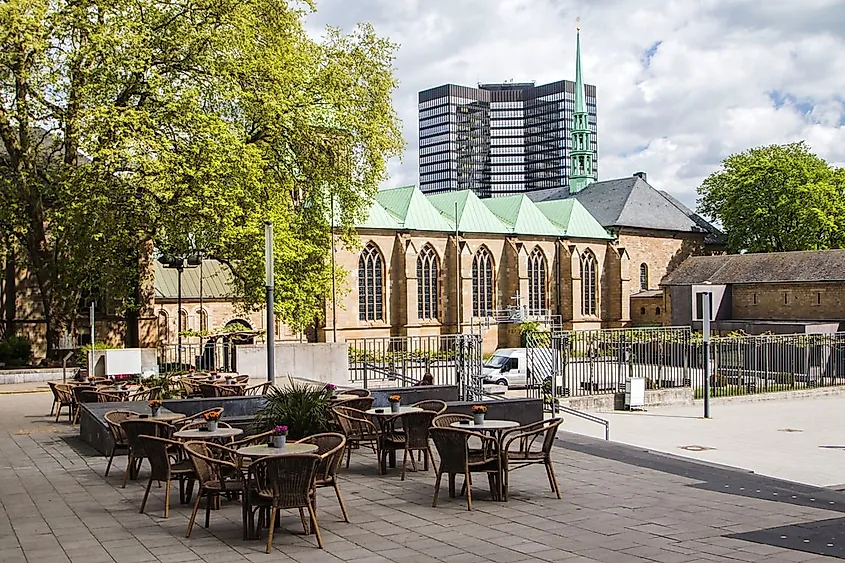 Essen's 582,624 inhabitants make it the ninth-largest city in the country. Also located in North Rhine-Westphalia in the heavily industrialized Ruhr area, Essen is known for being home to many German corporations, including the largest energy companies in Germany, E.ON and RWE. Essen is also well-known for being one of the greenest cities in the country, with plenty of forest coverage and park space.
10. Leipzig - 560,472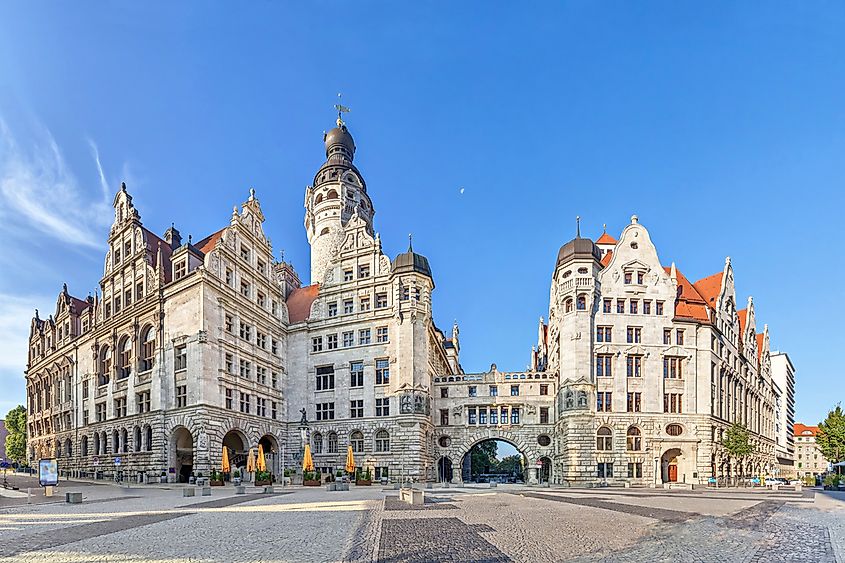 Leipzig is the tenth-largest city in Germany. It is home to 560,472 residents. Leipzig today is known for being a very liveable city, as well as for its distinctive Renaissance-style buildings and famous opera house, Oper Leipzig. Leipzig is around 160 km southwest of Berlin. The main train station of Leipzig, called Hauptbahnhof, is the largest train station in Europe.