Anti-Apartheid Movement - Leaders, Activists, And Notable Supporters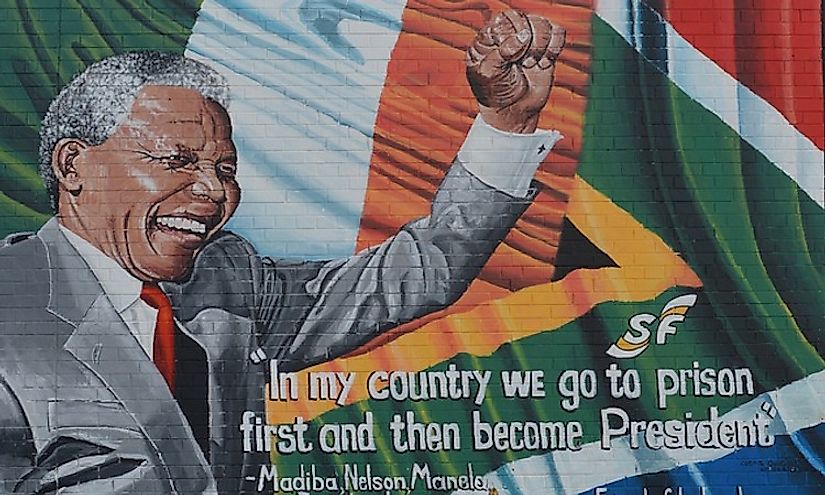 Apartheid Regime In South Africa
South Africa's apartheid regime was a political system put into place by the National Party that forced racial segregation between 1948 and 1994. Although white residents were the minority, they held all of the political power and stripped blacks and other ethnic groups of their rights and freedoms. These individuals were removed from their homes, placed into segregated neighborhoods, prohibited from participating in politics, and stripped of their citizenship.
Anti-Apartheid Movement
In response to this systemic racism, a group of exiled South Africans living in England called for a boycott of products from the country. The movement gained popularity and grew after news of police killing unarmed protesters in South Africa. Its members began to lobby Parliament and push for economic sanctions. Global attention turned toward the anti-apartheid movement, South Africa was removed from the Commonwealth, and in 1962, the United Nations resolved that its members should implement trade sanctions against the nation. The Committee for Olympics games suspended South Africa in 1964 and expelled them in 1970. British academics banned together refusing to work in South African universities that practiced segregation. In 1994, the African National Congress political party won the elections and began to abolish apartheid.
Leaders Of The Anti-Apartheid Movement
Nelson Mandela
When the African National Congress (ANC) party took political control in 1994, Nelson Mandela became president of South Africa. He is, perhaps, the most well-known leader of the anti-apartheid movement. He joined the ANC in the 1940's, helping to lead peaceful protests and even armed resistance across the country. He led the Campaign for the Defiance of Unjust Laws in 1952 and together with his colleague, Oliver Tambo, opened a law firm that provided free and low-cost legal advice to blacks and ethnic minorities affected by apartheid law.
When peaceful civil disobedience had been unsuccessful for so long, he led the party toward more violent approaches. Due to Mandela's involvement with the anti-apartheid movement, the South African government found him guilty of treason and imprisoned him for nearly 30 years. Despite being behind bars, Mandela remained involved in the movement by sending political messages to the outside world and obtained a law degree. When he was released in 1990, he was a hero in the eyes of ANC and anti-apartheid supporters. He began peace talks with the National Party in an attempt to dissolve segregation and won, with de Klerk, the Nobel Peace Prize in 1993. The following year, he was elected president and continued working to dismantle the system of oppression that his country had been living under for the previous 50 years.
Desmond Tutu
Another great leader of the anti-apartheid movement was Desmond Tutu. An Anglican cleric, he became Secretary of the South African Council of Churches in the late 1970's and began speaking out against the apartheid system. He continued to draw international attention to South Africa throughout the 1980's. In 1984, he was recognized for his efforts with a Nobel Peace Prize.
Walter Max Ulyate Sisulu
Walter Max Ulyate Sisulu is another activist who was sentenced to prison for his involvement in the anti-apartheid movement. He fought alongside both Nelson Mandela and Oliver Tambo as a member of the ANC party. He traveled the world, taking with him the message of injustice occurring in South Africa. After being jailed on several occasions, he went into hiding. When he couldn't be found, authorities arrested his wife instead. He stood trial with Nelson Mandela and several others for treason.
Many individuals were crucial to the eventual success of anti-apartheid and the ANC party. They all worked together and fought for justice at a time when they were being oppressed by a minority government. A list of their names is available below.
Current Presence Of Racial Discrimination
Although apartheid has ended, racial discrimination continues to be a problem in South Africa today. Whites only towns continue to exist, disguised by the pretense that they are there to protect Afrikaner values and culture. Other small towns still uphold whites only cemeteries, barring the burial of people of color. Universities and their students continue to participate in racial discrimination by prohibiting blacks and non-white ethnicities from joining student groups and publishing racist videos. Given the long, complex history of colonialism and modern-day, legalized systemic racism, it seems that racism in South Africa has become embedded in the culture. Perhaps it will diminish with increased media attention and public outreach among different racial groups.
The Anti-Apartheid Movement : The Most Famous Leaders, Activists, And Supporters
| Rank | Anti-Apartheid Hero | Lifetime | Notes |
| --- | --- | --- | --- |
| 1 | Nelson Mandela | 1918-2013 | The most respected anti-apartheid activist revolutionary who served long terms in jail for his anti-apartheid activism. He also led South Africa as the President between 1995 and 1999, attempting to dismantle the influence of the apartheid from the political and social system of the country. He received the Nobel Peace Prize in 1993. |
| 2 | Desmond Tutu | 1931-Present | Won Noble Peace Prize for his efforts to improve the conditions of the those oppressed under the apartheid regime. |
| 3 | Walter Max Ulyate Sisulu | 1912-2003 | Former ANC Secretary General, was jailed at Robben Island for over 25 years for his anti-apatheid activism. |
| 4 | Oliver Tambo | 1917-1993 | Exiled politician and anti-apartheid activist |
| 5 | Robert Sobukwe | 1924-1978 | Founded and headed the Pan-Africanist Congress |
| 6 | Denis Goldberg | 1933 -Present | Only white member of ANC to be arrested and sentenced to life imprisonment for supporting the anti-apatheid movement. |
| 7 | Helen Suzman | 1917-2009 | A white South African politician who criticized the apartheid regime in the country |
| 8 | Steve Biko | 1946-1977 | Leader of the Black Consciousness Movement |
| 9 | Albert Luthuli | 1898-1967 | Received Nobel Peace Prize in 1960 for his activism against racial discrimination |
| 10 | Joe Slovo | 1926-1995 | Negotiated talks between the anti-apartheid activists and the ruling National Party |
| 11 | Ruth First | 1925-1982 | Investigative journalist and anti-apartheid activist |
| 12 | Leon Sullivan | 1922-2001 | An anti-apartheid activist who tried to create opportunities for African Americans to be trained for employment |