World Facts
The 7 National Natural Landmarks of Iowa
There are seven sites listed as National Natural Landmarks in the state of Iowa.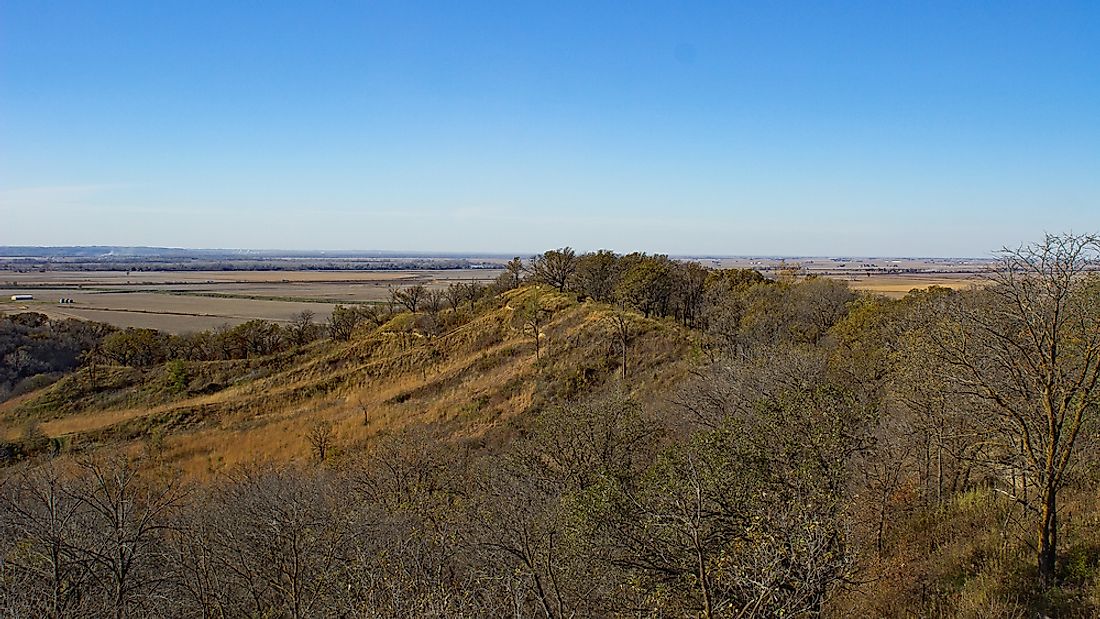 The United States National Natural Landmarks (NNL) is a program that identifies and encourages the management, conservation, and rehabilitation of natural history in the US. The program identifies the geological and biological features in private and public ownership. The main aim of the program is to encourage and support individual and organization efforts in preserving sites that illustrate the ecological and geological history of the country. The program also seeks to encourage the public to appreciate natural heritage. There are 599 national natural landmarks in the country spread across 48 states, and the territories of Virgin Islands, Puerto Rico, Guam, and American Samoa. Delaware and Louisiana are the only states without a national natural landmark. The federal, state, county, or municipal governments manage about one-half of the landmark sites. One-third is privately owned while the rest is owned and managed by a public-private cooperation. A site qualifies as NNL because it contains the remnants of a specific geological, ecological, or biological feature. Designated NNLs include terrestrial and aquatic ecosystem, geological landforms and processes, and historical record on geologic processes. There are seven NNLs in Iowa, which include remnant prairie, glacial pothole lakes, loess landscape, and caves. The seven were designated between 1965 and 1987.
7. Anderson Goose Lake
Anderson Goose Lake is a privately owned natural glacial pothole lake in Hamilton County. It was designated in 1975 and covers an area of 90 acres. The lake creates an important habitat for waterfowl.
6. Cayler Prairie
Cayler Prairie consists of a rare prairie grassland that offers a unique outdoor laboratory. The state-owned grassland occupies 155 acres of Dickinson County. It is dominated by golden alexander, sawtooth sunflower, big bluestem grass, and dotted gayfeather. The adjacent wetlands combine with the grassland to create a habitat for wildfowl.
5. Cold Water Cave
The Cold Water Cave is a unique, extensive cave system in Winneshiek County. The cave is decorated with speleothems and contains several vertical shafts. An underground stream meanders below the case for approximately 7.3 miles. It is younger than other caves in the United States, but it is enlarging at a faster rate. It is characterized by low oxygen content and exceptionally high amounts of carbon dioxide. The private cave system was designated in 1987 and occupies an area of 159 acres.
4. Dewey's Pasture and Smith's Slough
Dewey's Pasture and Smith's Slough is a state-owned NNL that covers an area of 698 acres across Clay and Palo Alto Counties. The site contains diverse habitats including wetlands, woodlands, tallgrass prairie, and a pothole lake formed during the last glacial period. It is a habitat for a significant number of waterfowl.
3. Hayden Prairie State Preserve
The Hayden Prairie contains the remnants of tallgrass prairie that once covered a large area of Iowa. Although the preserve covers an area of 5226 acres, the prairie occupies 240 acres. It is the largest remaining parcel of tall grass in Iowa outside the Loess Hills. The site was used by Iowa state university to conduct research demonstrating the effects of litter on annual herbage yields.
2. Loess Hills
Loess hills consist of Little Sioux and Turin lake sites. It represents an example of loess topography in the Missouri River Bluffs. Loess Hills is the region where the deepest loess in the United States has accumulated. The site represents unique landforms and native vegetation that can only be matched by the loess areas along the yellow river in Northern China. The privately owned site was designated in 1986.
1. White Pine Hollow State Forest
The White Pine Hollow Preserve takes up 679 acres of the 944-acre White Pine Hollow State Forest. The site preserves the only remaining white pine in Iowa. The state-owned NNL is located in Dubuque County and was designated in 1967.
The 7 National Natural Landmarks of Iowa
| Rank | Name | Date | County | Ownership |
| --- | --- | --- | --- | --- |
| 1 | Anderson Goose Lake | 1975 | Iowa | Private |
| 2 | Cayler Prairie | 1965 | Dickinson | State |
| 3 | Cold Water Cave | 1987 | Winneshiek | Private |
| 4 | Dewey's Pasture and Smith's Slough | 1975 | Clay, Palo Alto | State |
| 5 | Hayden Prairie State Preserve | 1965 | Howard | State |
| 6 | Loess Hills | 1986 | Harrison, Monona | State, private |
| 7 | White Pine Hollow State Forest | 1967 | Dubuque | State |
About the Author
Victor Kiprop is a writer from Kenya. When he's not writing he spends time watching soccer and documentaries, visiting friends, or working in the farm. 
This page was last updated on June 13, 2018.
Citations
Your MLA Citation
Your APA Citation
Your Chicago Citation
Your Harvard Citation
Remember to italicize the title of this article in your Harvard citation.