Politics
The 10 Youngest State Capitals
Oklahoma City, Oklahoma became the state capital in 1910.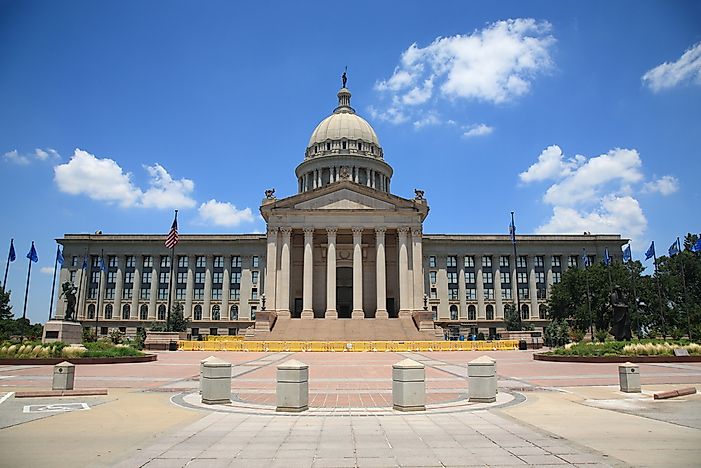 For each and every state of the United States of America, there is a capital city. Looking at the history, the majority of the states have not switched their capital cities since the states were established. However, the capital cities of the regions that they were before becoming states such as territories, colonies, republics, and kingdoms changed a number of times. While analyzing state capitals, it is crucial to note that the entirety of the US has a capital city as well; Washington, DC.
The Youngest State Capitals
Oklahoma City, Oklahoma
Among this list, the youngest capital city is that of the state of Oklahoma. Incidentally, the capital city of the state of Oklahoma is known as Oklahoma City. Oklahoma City has been the capital since 1910. Previously, the capital has been Guthrie, Oklahoma since 1890. The capital was moved after an electoral vote, and construction of the Capitol Building in Oklahoma City begun in 1914 to house the judicial branch of the government.
Juneau, Alaska
Juneau, the capital city of the state of Alaska, is the second youngest having been the capital since 1906. Previously, the capital under Russian America had been Sitka, and remained so after Alaska was transferred to the US. in 1900, Congress dictated that the capital be moved to Juneau. The Alaska Governor's Mansion, built from 1906 to 1912, became the official residence of the Governor of Alaska.
Providence, Rhode Island
Founded in 1636, Providence is one of the oldest cities in the US. However, it was not until 1900 that Providence became the capital city of Rhode Island. From 1854 to 1900, Providence and Newport shared the role of state capital, until a constitutional amendment named Providence as the sole capital. The Rhode Island State House, built from 1895 to 1901, houses the officers of the Governor, Lieutenant Governor, Secretary of State, and General Treasurer, as well as the General Assembly.
Youngest and Oldest US States
Looking at the years that the respective states attained statehood, the state of Connecticut is the oldest after attaining statehood in 1788. The following state, Rhode Island, was officially made a state two years later in 1790. The youngest state is Alaska having attained its statehood in 1959. Arizona is the second youngest state on the list after achieving statehood in 1912.
The 10 Youngest State Capitals
| Rank | City | State | Capital Since |
| --- | --- | --- | --- |
| 1 | Oklahoma City | Oklahoma | 1910 |
| 2 | Juneau | Alaska | 1906 |
| 3 | Providence | Rhode Island | 1900 |
| 4 | Phoenix | Arizona | 1889 |
| 5 | Pierre | South Dakota | 1889 |
| 6 | Charleston | West Virginia | 1885 |
| 7 | Bismarck | North Dakota | 1883 |
| 8 | Baton Rouge | Louisiana | 1880 |
| 9 | Hartford | Connecticut | 1875 |
| 10 | Helena | Montana | 1875 |
This page was last updated on June 22, 2018.
Citations
Your MLA Citation
Your APA Citation
Your Chicago Citation
Your Harvard Citation
Remember to italicize the title of this article in your Harvard citation.