Environment
The Tallest Volcanoes In Asia
With an elevation of 5,609 m, Mount Damavand is Asia's highest volcano.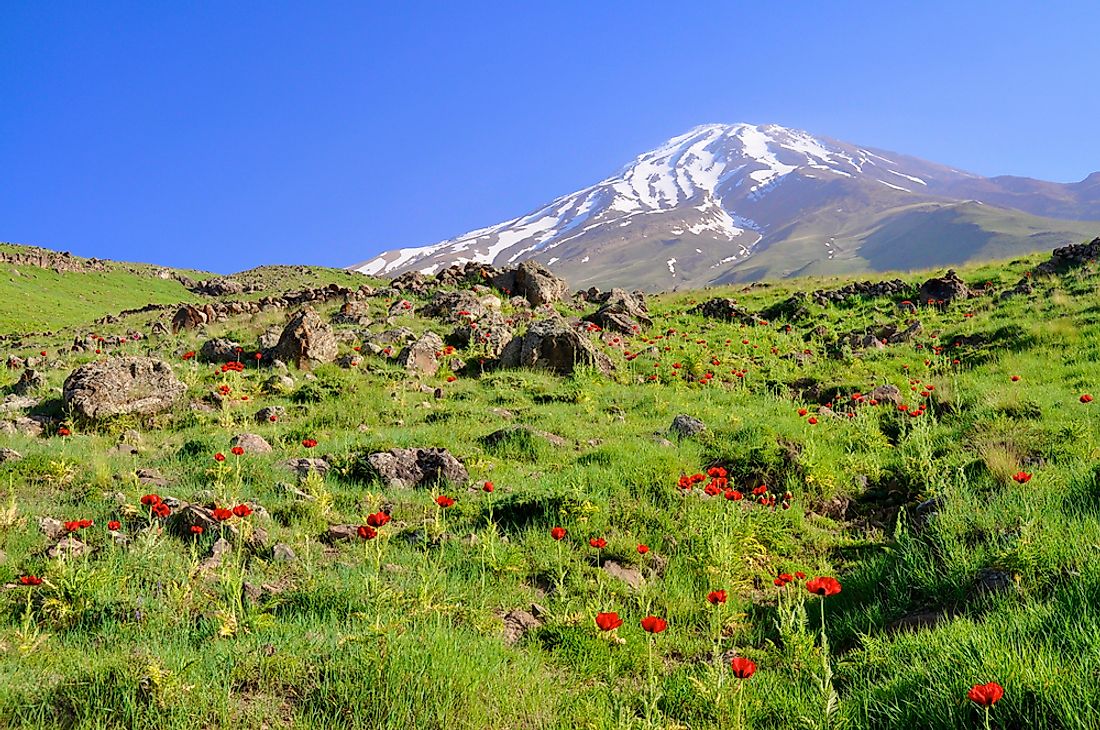 Although most of the world's tallest volcanoes are located in South America, Asia also contains a number of volcanoes with signicant elevations. Most of the continent's highest volcanoes are located in West Asia and the extreme eastern part of the continent, namely Iran, Turkey, and Russia. Some of the highest volcanoes in Asia are highlighted below.
1. Mount Damavand
Mount Damavand is the highest volcano in Asia, with an elevation of 5,609 m. It is a potentially active stratovolcano located in the middle of the Alborz range, near the southern coast of the Caspian Sea, in Amol County, Iran. Mount Damavand is the world's 12th most prominent peak, and the second highest in Asia, after Mount Everest. The mountain is of significant symbolic importance, particularly as a symbol of the resistance of the Iranian people against foreign rule and despotism, and its name is referenced in Persian mythology and literature.
2. Mount Ararat
With an elevation of 5,137 m, Mount Ararat is Asia's second-highest volcano. Located in the eastern part of Turkey, Mount Ararat is a dormant compound volcano with a snow-capped peak. The volcano contains two volcanic cones, Greater Ararat, which is the tallest peak in Turkey, and Little Ararat. Mount Ararat is of great religious significance, as it considered by Christians as the resting place of Noah's Ark. The volcano is also featured prominently in Armenian art and literature, and is even depicted on Armenia's coat of arms.
3. Mount Sabalan
Mount Sabalan is the third-highest volcano in Asia, with an elevation of 4,811 m. Located within the Alborz mountain range in northwestern Iran, Mount Sabalan is an inactive stratovolcano, and features numerous volcanic features such as a permanent crater lake at its summit. The volcano is known for various rock formations on its slopes that resemble animals, insects, and birds. The mineral water springs on Mount Salaban are large tourist attractions, as well as its ski resort and spas. The volcano is also a sacred place within the Zoroastrianism religion.
4. Klyuchevskaya Sopka
With an elevation of 4,750 m, Klyuchevskaya Sopka is Asia's fourth-highest volcano. Located on the Kamchatka Peninsula in Russia, it is an active stratovolcano situated about 100 km from the Bering Sea. The volcano is also part of the Volcanoes of Kamchatka, which are designated as a UNESCO World Heritage Site. The volcano is estimated to have formed approximately 6,000 years ago, but its first recorded eruption occurred in 1697. Since then, Klyuchevskaya Sopka has remained continuously active. In 1788, members of the Billings Expedition were the first to summit the volcano.
5. Mount Krestovsky
Mount Krestovsky is an extinct stratovolcano located in the Klyuchevskaya range of the Kamchatka Peninsula. The volcano has an elevation of 4,108 m and is sometimes also referred to as Ploskaya Blizhniaya. Many climbers who visit the area to summit Klyuchevskaya Sopka also climb Mount Krestovsky. The volcano contains numerous volcanic features and offers stunning views of the surrounding mountainous landscape.
List of the 10 Highest Volcanoes in Asia
| Rank | Volcano | Elevation (m) | Location |
| --- | --- | --- | --- |
| 1 | Mount Damavand | 5,609 | Iran |
| 2 | Mount Ararat | 5,137 | Turkey |
| 3 | Mount Sabalan | 4,811 | Iran |
| 4 | Klyuchevskaya Sopka | 4,750 | Russia |
| 5 | Mount Krestovsky | 4,108 | Russia |
| 6 | Mount Taftan | 3,941 | Iran |
| 7 | Mount Kerinci | 3,805 | Indonesia |
| 8 | Mount Fuji | 3,776 | Japan |
| 9 | Mount Rinjani | 3,726 | Indonesia |
| 10 | Sahand | 3,707 | Azerbaijan |
About the Author
Oishimaya is an Indian native, currently residing in Kolkata. She has earned her Ph.D. degree and is presently engaged in full-time freelance writing and editing. She is an avid reader and travel enthusiast and is sensitively aware of her surroundings, both locally and globally. She loves mingling with people of eclectic cultures and also participates in activities concerning wildlife conservation.
This page was last updated on September 13, 2019.
Citations
Your MLA Citation
Your APA Citation
Your Chicago Citation
Your Harvard Citation
Remember to italicize the title of this article in your Harvard citation.