Environment
The Tallest Volcanoes In South America
The world's 15 tallest volcanoes are all located in South America.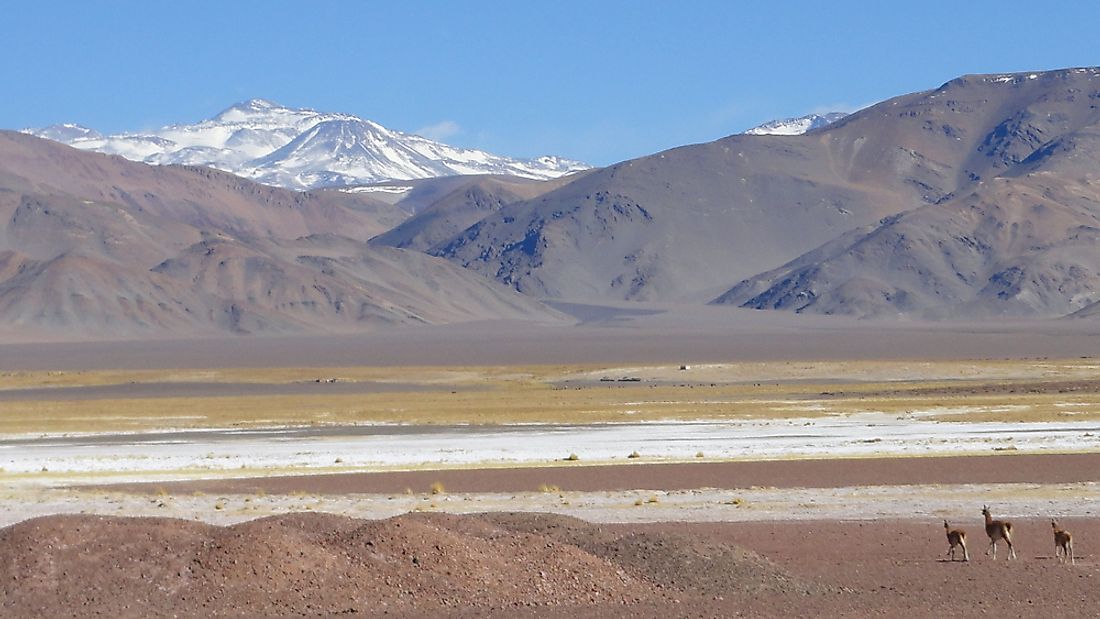 The world's highest volcanoes are located in South America. In fact, all 27 of the world's volcanoes that have an elevation greater than 6,000 m are in South America. These volcanoes are part of the Pacific Ring of Fire, and are primarily located along the backbone of the Andes. Additionally, they were formed through the westward shifting of the Americas by a process called continental drift, which led to the subduction of oceanic plates beneath the continental plates. This tectonic activity resulted in orogeny and volcanic activity. The 15 highest volcanoes in South America, which are also the 15 highest in the world, are highlighted below.
The Five Highest Volcanoes in South America
1. Nevado Ojos del Salado
The Ojos del Salado is the world's tallest active volcano, with an elevation of 6,893 m. It is a stratovolcano in the Andes mountain range, and is located at the border between Chile and Argentina. Ojos del Salado is also the second tallest mountain in both the Southern and Western Hemispheres. Despite its high elevation, the peak of the volcano is only covered in snow during the winter. This is explained by the mountain's proximity to the Atacama Desert, which creates extremely dry conditions and results in little precipitation. However, occasional heavy storms can bring enough snowfall to cover the mountain and its surroundings in a few feet of snow. A permanent crater lake that has a diameter of approximately 100 m is located at the top of the volcano, and is regarded as the highest lake in the world. The Ojos del Salado is relatively easy to climb, and the first ascent to its summit occurred in 1937. The active volcano last erupted in roughly 700 AD.
2. Monte Pissis
Monte Pissis is an extinct volcano located along the Chile-Argentina border. The volcano has an elevation of 6,793 m and ranks as the third highest mountain in the Western Hemisphere. Monte Pissis experiences extremely dry conditions due to its location in the Atacama Desert, although it does featue an extensive glacier with crevasses, which is unique to the region. The mountain was first successfully summited in 1937. The remote location of Monte Pissis creates a long and difficult approach for potential climbers.
3. Nevado Tres Cruces
Located along the border between Argentina and Chile, Nevado Tres Cruces is the third highest volcano in South America. It has two main summits, Tres Cruces Sur, which has an elevation of 6,748 m, and Tres Cruces Centro, which has an elevation of 6,629 m, as well as a third and smaller minor summit. Estimates suggest that Nevado Tres Cruces first erupted approximately 1.5 million years ago, and last erupted 28,000 years ago. The volcano is surrounded by numerous lava domes and craters. The area surrounding Nevado Tres Cruces experiences a dry, desert climate.
4. Llullaillaco
Llullaillaco is a dormant stratovolcano located along the Chile-Argentina border, in the Puna de Atacama region near the Atacama Desert. The volcano has an elevation of 6,739 m, ranking as the fourth highest in South America, as well as the second highest actice volcano in the world. It was formed in two phases during the Pleistocene-Holocene, and last erupted in May 1877. The first recorded summit of Llullaillaco occurred in 1950, although indigenous populations may have previously climbed the volcano. The world's highest archeological site was discovered on Llullaillaco.
5. Cerro Tipas
Cerro Tipas is a massive complex volcano located in the Andes, in northwestern Argentina. With an elevation of 6,660 m, the volcano is the fifth highest in South America. The complex volcano covers an area of 25 km2, and features lava domes, lava flows, and stratovolcanoes. Cerro Tipas was last active in the Holocene, but reports of fumarolic activity occurred in 1991.
List of the 15 Highest Volcanoes in South America
| Rank | Volcano | Elevation (m) | Elevation (ft) | Location |
| --- | --- | --- | --- | --- |
| 1 | Ojos del Salado | 6,893 | 22,615 | Argentina/Chile |
| 2 | Monte Pissis | 6,793 | 22,287 | Argentina/Chile |
| 3 | Nevado Tres Cruces | 6,748 | 22,139 | Argentina/Chile |
| 4 | Llullaillaco | 6,739 | 22,110 | Argentina/Chile |
| 5 | Cerro Tipas | 6,660 | 21,850 | Argentina |
| 6 | Nevado Tres Cruces Central | 6,629 | 21,749 | Chile |
| 7 | Incahuasi | 6,621 | 21,722 | Argentina/Chile |
| 8 | Tupungato | 6,570 | 21,555 | Argentina/Chile |
| 9 | Nevado Sajama | 6,542 | 21,463 | Bolivia |
| 10 | Coropuna | 6,425 | 21,079 | Peru |
| 11 | Cerro El Cóndor | 6,414 | 21,043 | Argentina |
| 12 | Parinacota | 6,348 | 20,827 | Bolivia/Chile |
| 13 | Ampato | 6,288 | 20,630 | Peru |
| 14 | Chimborazo | 6,267 | 20,561 | Ecuador |
| 15 | Pular | 6,233 | 20,449 | Chile |
About the Author
Oishimaya is an Indian native, currently residing in Kolkata. She has earned her Ph.D. degree and is presently engaged in full-time freelance writing and editing. She is an avid reader and travel enthusiast and is sensitively aware of her surroundings, both locally and globally. She loves mingling with people of eclectic cultures and also participates in activities concerning wildlife conservation.
This page was last updated on September 13, 2019.
Citations
Your MLA Citation
Your APA Citation
Your Chicago Citation
Your Harvard Citation
Remember to italicize the title of this article in your Harvard citation.