World Facts
The 10 Most Populated Cities In New South Wales, Australia
Sydney is the most populous city in New South Wales.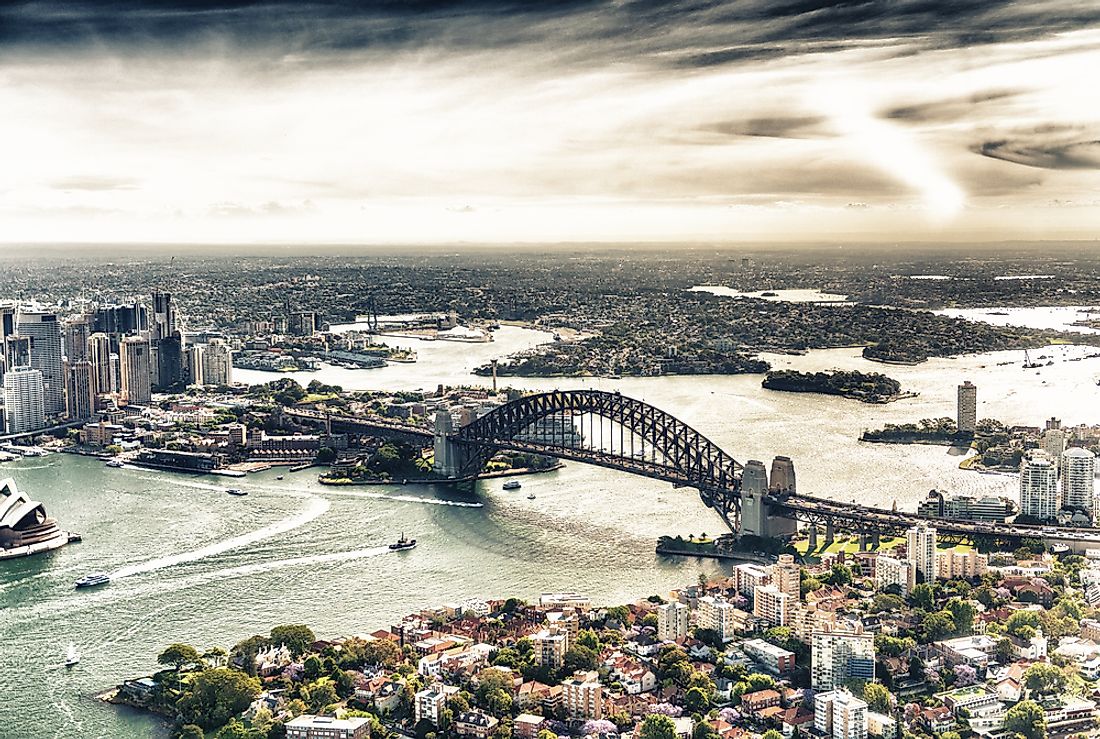 New South Wales is on Australia's east coast, bordering Queensland on the northern side, Victoria and South Australia on the southern and western sides, while the Tasman Sea is on the eastern side. New South Wales has the highest population in Australia at 7,480,228 as of 2016, and the total area of 312,528 square miles. The government in the state is a Constitutional Monarchy with a Governor and a Premier. Sydney is the city with the most significant population size in New South Wales followed by Newcastle, and Central Coast.
Most Populated Cities of New South Wales
1. Sydney
Sydney has the highest population in New South Wales and Australia at large. With an area of 4,775.2 square miles, the Sydney had a population of 4,321,535 as of the census in 2016. A forecast shows that the population will stand at around 8.9 million people in 2061. However, according to the Bureau of Statistics in Australia, Melbourne will overtake Sydney as the most populous city in Australia by 2053. The metropolis in New South Wales' capital has about 658 suburbs. The census in 2016 placed Sydney's median age at 36 years, with 13.9% of the population having 65 and above years while 18.7% were children below 15 years. Married residents in Sydney accounted for 49.7% of the population while 34.7% remained unmarried.
2. Newcastle
Newcastle ranks as the second most populous city in New South Wales. The city's population stood at 322,278 according to the census done in 2016. Newcastle covers an area of 101.1 square miles making it Australia's seventh most significant city. The location of the metropolis is about 101 miles from Sydney at River Hunter's mouth. Newcastle's male population was at 52.5% while the females were at 47.5%, with a median age of 41 years. The University of Newcastle has over 38,000 local students and 7,000 from over 113 countries worldwide.
3. Central Coast
Placed on the coast of Tasman Sea, Central Coast is ranked third most populous city in New South Wales with a population of 307,742 as of the 2016 census. The city's median age was 42 years, with 20.9% of the residents being 65 years or older and 18.4% being under the age of 15 years. The female population in Central Coast surpassed the males by 3.2%. Australian-born residents accounted for 78.8% of the population with dwellers born in England and New Zealand being at 4.6% and 1.7% respectively. Central Coast had 27.6% of the population with no religion in 2016 with Catholics coming in second at 24.7%.
Demographics of New South Wales
The population of New South Wales had more females than males, with the former taking up 50.7% and the latter at 49.3%. The state's median age was 38 years with 18.5% of the population being under 15 years and 16.3% having 65 years and above. Australian-born residents of New South Wales were 4,899,090 accounting for 65.5% of the population with residents born in China and England taking up 3.1% and 3.0% respectively. Majority of the state's dwellers had no religion consisting of 25.1% of the population. At 60.7%, Christianity was the most significant religious group.
The 10 Most Populated Cities In New South Wales, Australia
| Rank | Urban centre | 2016 census |
| --- | --- | --- |
| 1 | Sydney | 4,321,535 |
| 2 | Newcastle | 322,278 |
| 3 | Central Coast | 307,742 |
| 4 | Wollongong | 261,896 |
| 5 | Maitland | 78,015 |
| 6 | Gold Coast–Tweed Heads (Tweed Heads part) | 59,776 |
| 7 | Wagga Wagga | 48,263 |
| 8 | Albury - Wodonga (Albury part) | 47,974 |
| 9 | Coffs Harbour | 48,225 |
| 10 | Port Macquarie | 44,814 |
This page was last updated on March 27, 2018.
Citations
Your MLA Citation
Your APA Citation
Your Chicago Citation
Your Harvard Citation
Remember to italicize the title of this article in your Harvard citation.