Environment
The 10 Largest Lakes In Norway
Mjøsa is the largest lake in Norway in terms of surface area, covering an area of 362 km sq. Learn more about the largest lakes in the country of Norway.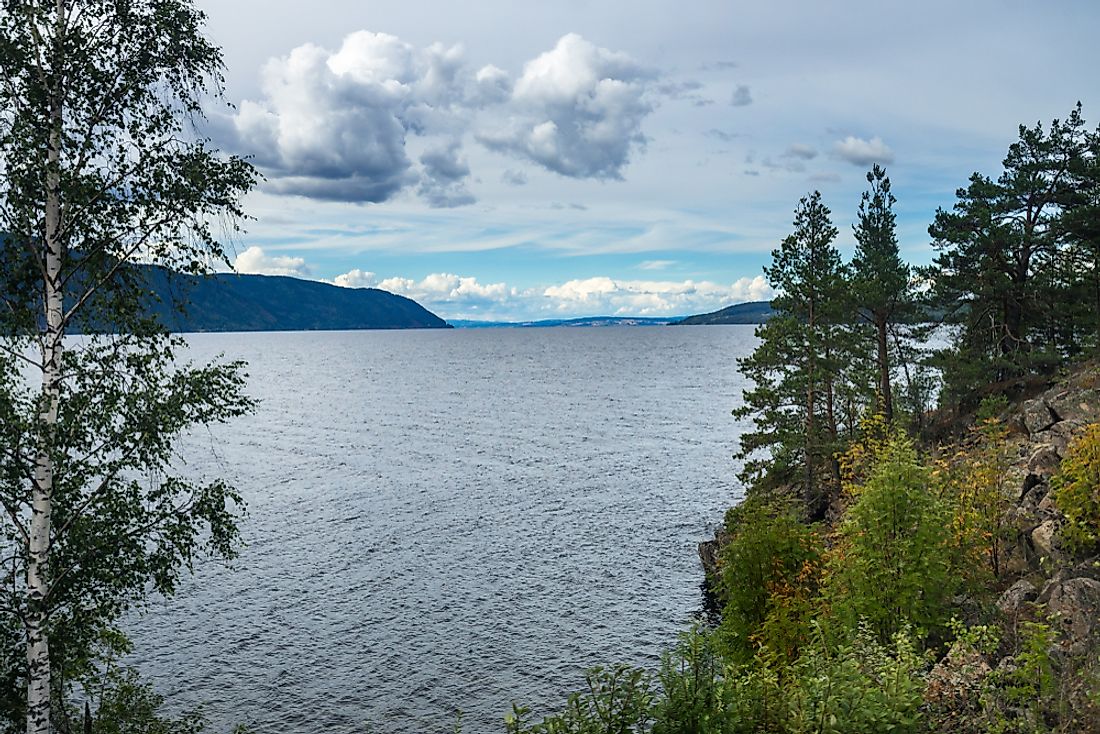 Norway is a country in northern Europe. Officially the Kingdom of Norway, the country contains at least 450,000 freshwater lakes, most of which were formed as a result of glacial activity. Despite a large number of lakes, many are small and make up a combined area of approximately 17,100 km2. In fact, less than 400 of Norway's lakes have a surface area greater than 5 km2. The largest lakes in Norway in terms of surface area are highlighted below.
1. Mjøsa
Mjøsa is the largest lake in Norway in terms of surface area, covering an area of 362 km2. Additionally, with a maximum depth of 468 m, it is the country's fourth deepest lake. Mjøsa is located about 100 km from Norway's capital, Oslo, in the northern part of the country. The Gudbrandsdalslågen feeds the lake in the north, while its primary outlet is Vorma, which is located to the south. Approximately 20 species of fish, including European perch, grayling, common roach, and brown trout, live in the lake. Helgøya is the largest island in the lake, while other islets in Mjøsa include the Steinsholmen, which features a medieval citadel from the 13th century.
2. Røssvatnet
Norway's second largest lake, Røssvatnet, occupies an area of 218.61 km2 in Nordland county, and has a maximum depth of 240 m. The area around Røssvatnet was first inhabited by humans during the Stone Age. Since 1957, the lake's area and volume have been controlled by a dam. Prior to the construction of the dam, the lake had an area of 190 km2.
3. Femunden
Femunden is Norway's third biggest lake, encompassing 203.52 km2. The lake spans across Hedmark and Trøndelag counties, close to the Norway-Sweden border. Femundsmarka National Park begins at the northeastern edge of the lake. Femunden has a maximum depth of 130 m and is located at an elevation of 662 m above sea level.
4. Randsfjorden
With an area of 139.23 km2, Randsfjorden is the fourth most extensive Norwegian lake. It is located in the county of Oppland and has a maximum depth of 120 m. Despite its name, Randsfjorden is not a saltwater inlet of the sea, but an inland freshwater lake that is narrow in shape. Many golf courses have been constructed at the edge of the lake.
5. Tyrifjorden (Lake Tyri)
Norway's landlocked fjord, Lake Tyrifjorden, is located about 40 km northwest of Oslo, in the county of Buskerud. With an area of 138.56 km2, it is Denmark's fifth biggest lake, and reaches a maximum depth of 295 m. The Begna is the lake's primary inflow, while it is drained by the Drammenselva, which exits the lake near the town of Vikersund.
Deepest Lake in Norway
Hornindalsvatnet is not only the deepest lake in Norway, but the deepest in Europe. The lake has a maximum depth of 514 m and an average depth of 236 m. Since the lake is situated at an elevation of 53 m above sea level, the bottom of Hornindalsvatnet is 461 m below sea level. Despite its great depth, the lake is relatively small in area, covering only 50 km2.
List of the 10 Largest Lakes in Norway by Surface Area
| Rank | Lake | County | Surface Area (km²) |
| --- | --- | --- | --- |
| 1 | Mjøsa | Akershus, Hedmark, Oppland | 362 |
| 2 | Røssvatnet | Nordland | 218.61 |
| 3 | Femund | Hedmark, Sør-Trøndelag | 203.52 |
| 4 | Randsfjorden | Oppland | 139.23 |
| 5 | Tyrifjorden | Buskerud | 138.56 |
| 6 | Snåsavatnet | Nord-Trøndelag | 121.58 |
| 7 | Tunnsjøen | Nord-Trøndelag | 100.18 |
| 8 | Limingen | Nord-Trøndelag | 93.50 |
| 9 | Øyeren | Akershus, Østfold | 84.74 |
| 10 | Møsvatn | Telemark | 84.48 |
About the Author
Oishimaya is an Indian native, currently residing in Kolkata. She has earned her Ph.D. degree and is presently engaged in full-time freelance writing and editing. She is an avid reader and travel enthusiast and is sensitively aware of her surroundings, both locally and globally. She loves mingling with people of eclectic cultures and also participates in activities concerning wildlife conservation.
This page was last updated on April 10, 2019.
Citations
Your MLA Citation
Your APA Citation
Your Chicago Citation
Your Harvard Citation
Remember to italicize the title of this article in your Harvard citation.