The Highest Mountains In Norway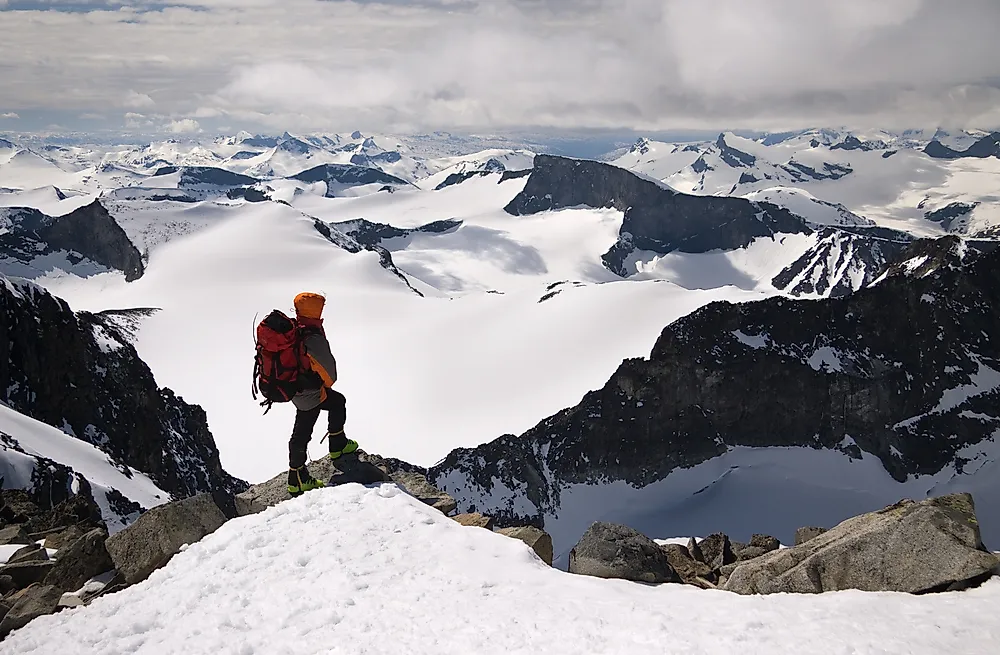 The Mountains Of Norway
Norway is a country located on the Scandinavian Peninsula in northern Europe. The country-length stretch of peaks in Norway is geologically continuous with the mountains of Ireland, Scotland and across the Atlantic Ocean to the North American Appalachian Mountains. According to geologists, the mountains formed a single range prior to the breakup of Pangaea, the ancient supercontinent.
The Three Tallest Peaks Of Norway
Norway features 291 peaks with elevations of over 2,000 meters above sea level. Most of Norway's highest peaks are concentrated in the municipalities of Luster, Vågå, Skjåk, and Lom. Several of these peaks, including the most challenging ones, were summited in the late 19th and early 20th centuries. Explorers from Norway, British adventurers, and local guides comprised the majority of those who ascended the mountains.
Here is a list of the tallest peaks in Norway:
Galdhøpiggen
The Galdhøpiggen is Norway's tallest mountain as well as the tallest mountain in all of northern Europe. The Galdhøpiggen is 2469 m above sea level and is located in the Lom municipality. The mountain is relatively easy to climb and during summers, a few hundred people often climb the peak in a single day. Guides might be required by the tourists to cross the Styggebreen glacier. A ski center called the Galdhøpiggen summer ski center is also present here.
Glittertind
Glittertind is the second highest mountain in Norway at 2,465 m tall. The mountain is located in the Lom municipality of the country. In the past, there was a dispute concerning the ranking of Glittertind as measurements showed that when the glacier at the Glittertind summit was measured, the height of the mountain was found to be more than that of the Galdhøpiggen. However, since then, the glacier of Glittertind has retreated and so the dispute exists no more. The summit of this mountain was first conquered in 1841 by Hans Sletten and Harald Nicolai Storm Wergeland. The mountain can be climbed easily as the summit lacks any crevasses. However, hikers run the risk of getting totally soaked when meltwater flows up across the summit.
Store Skagastølstind
The 2,405 meter tall Store Skagastølstind is Norway's third highest peak. The mountain is located in the country's Sogn og Fjordane county. Unlike the previous two mountains mentioned above, the Store Skagastølstind is fairly difficult to climb. On July 21, 1876, William Cecil Slingsby first summited the mountain.
The Highest Mountains In Norway
| Rank | Name | Elevation (m) | Elevation (ft) | Municipality |
| --- | --- | --- | --- | --- |
| 1 | Galdhøpiggen | 2469 | 8100 | Lom |
| 2 | Glittertind | 2465 | 8087 | Lom |
| 3 | Store Skagastølstinden | 2405 | 7890 | Luster / Årdal |
| 4 | Store Styggedalstinden, E | 2387 | 7831 | Luster |
| 5 | Skarstind | 2377 | 7798 | Lom |
| 6 | Vesle Galdhøpiggen or Veslepiggen | 2369 | 7772 | Lom |
| 7 | Surtningssue or Surtningssui | 2368 | 7769 | Lom / Vågå |
| 8 | Store Memurutinden, E | 2366 | 7762 | Lom |
| 9 | Jervvasstind | 2351 | 7713 | Luster |
| 10 | Sentraltind | 2348 | 7703 | Luster |