Economics
Teresina - The Capital Of The Piauí State Of Brazil
Teresina is the capital and most populous city in the Brazilian state of Piauí.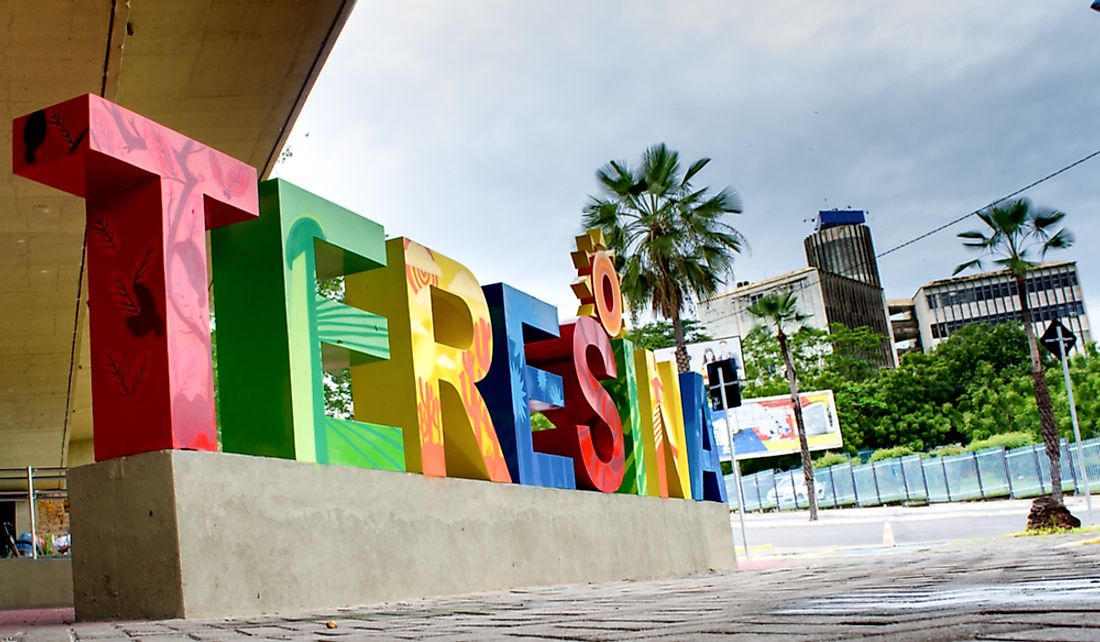 The Brazilian state of Piauí is located in the country's Northeast Region. Piauí covers an area of 251,529 km2 and has a population of 3,160,748, ranking as Brazil's 11th most extensive state and the 18th most populous. Part of the state has a coastline along the Atlantic Ocean, but with a length of only 66km, it is the shortest coastline among Brazil's coastal states. Piauí is unique among other states in the Northeast Region in that colonization of the state began inland and then moved towards the coast. The state contains Serra da Capivara National Park, which is a UNESCO World Heritage Site noted for its rock paintings, canyons, and Caatinga desert vegetation. Teresina is the state capital of Piauí.
Capital of Piauí: Teresina
Teresina is located in the north-central part of the state, approximately 366 km from the Atlantic coast, and is the only inland state capital in Brazil's Northeast Region. The city occupies an area of 1,167.25 km2 and has an average elevation of 87 m. Teresina is situated on the eastern bank of the Parnaíba River, across the city of Timon, which is part of the Brazilian state of Maranhão. Additionally, the Parnaíba River joins the Poti River at the northern end of the city. Located in the transition zone between the North Region dominated by the Amazon Rainforest and the Northeast Region of Brazil, Teresina is surrounded by different vegetation zones and experiences a tropical wet and dry climate.
Demographics of Teresina
Teresina has an estimated population of 861,442, ranking as Brazil's 21st most populous city and the 15th most populous state capital. According to Brazil's FIRJAN System, Teresina has the second best quality of life of all cities in the North-Northeast of Brazil. Teresina is also considered one of the country's safest state capitals.
History of Teresina
Until 1852, the state capital of Piauí was Oeiras. However, Oeiras experienced challenges associated with communication and trade, and therefore it was decided that the state capital should be shifted from Oeiras to a better-connected area. Teresina's location on the Parnaíba River made it a preferred choice.
Teresina was established as Piauí's capital city on August 16, 1852, but was initially named Vila Nova do Poty. It was Brazil's first planned city and was later renamed Teresina in honor of the Brazilian Emperor's wife, Empress Teresa Cristina. The city traces its origins to a small fishing village that was colonized in the 18th century.
Economy of Teresina
About 40% of Piauí's gross domestic product (GDP) comes from Teresina. Textiles and garments are the city's most profitable industries, creating exports to other regions and generating thousands of jobs. Other significant industries in Teresina include pharmaceuticals, chemicals, bicycle manufacturing, furniture, and beverages. The city's construction industry has also experienced recent growth due to the increasing demand for skyscrapers within the capital. Teresina also features a vast transport network that includes subway service, bus service, and an airport.
About the Author
Oishimaya is an Indian native, currently residing in Kolkata. She has earned her Ph.D. degree and is presently engaged in full-time freelance writing and editing. She is an avid reader and travel enthusiast and is sensitively aware of her surroundings, both locally and globally. She loves mingling with people of eclectic cultures and also participates in activities concerning wildlife conservation.
This page was last updated on June 5, 2019.
Citations
Your MLA Citation
Your APA Citation
Your Chicago Citation
Your Harvard Citation
Remember to italicize the title of this article in your Harvard citation.