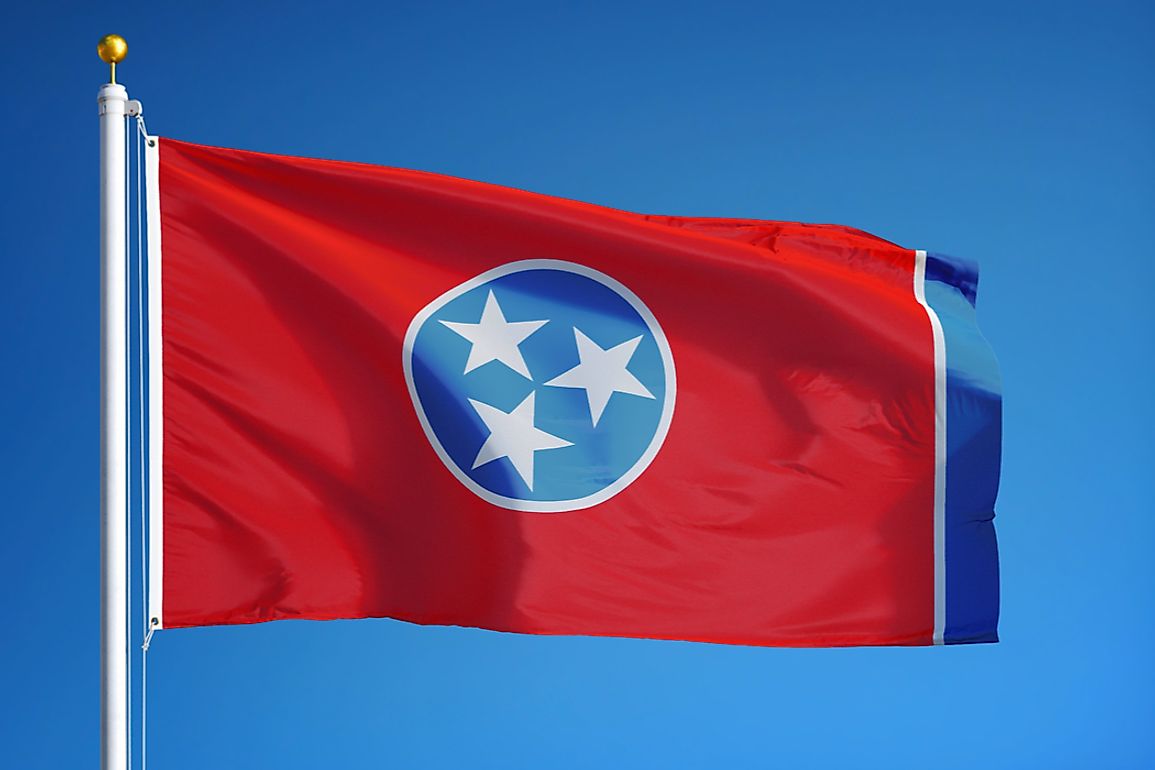 Tennessee is a state in the United States. Its capital city is Nashville which is famous for its beautiful country music. The designer of the Tennessee flag was Colonel LeRoy Reeves. He designed the flag in 1905. When he created the flag, Colonel Reeves belonged to the Tennessee National Guard. The Tennessee State Legislature adopted the flag on April 17th, 1905. Among the US state flags, only Arkansas and Tennessee have flags with red backgrounds.
Design of the Tennessee Flag
The state flag of Tennessee is 3:5 in proportion and it features three primary colors: red, blue and white. The red portion has a blue circular emblem with three white stars bound together by a thin white circle. The stars are five-sided. When drawing the stars, state laws demand that the centers of no two stars should be parallel to each other. The flag also has a thin, blue vertical stripe at the extreme right side of the flag. A white line separates the blue and red portions of the Tennessee flag. Therefore, the Tennessee flag is made up of three bars: the red part which is predominant, the thin white line, and the blue portion.
Meaning of the Symbols
Each section of the flag has a symbolic meaning. The three five-sided stars represent the three grand divisions of Tennessee State namely West Tennessee, East Tennessee, and Middle Tennessee. Also, the blue, white, and red stripes also symbolize the grand divisions of the state of Tennessee. Every division of the state is unique. For example, East Tennessee has two major cities namely Chattanooga and Knoxville. Middle Tennessee, identified by the Tennessee River, is famous for its rolling hills. Furthermore, the city of Nashville is also part of the Middle Tennessee Division. West Tennessee is famous for its fertility resulting from its location between two major rivers. It is home to Tennessee's largest city called Memphis.
Besides the three stars and bars representing the three grand divisions of Tennessee, they also represent the three presidents who ever lived in Tennessee. These presidents are Andrew Johnson, Andrew Jackson, and James Polk. On the other hand, the three bars and stars could also denote the fact that after the original 13 states, Tennessee was the third state to join the Union.
The blue circle on the flag represents the unity of the three grand divisions of Tennessee State.
Uses of the Tennessee Flag
The flag is a national symbol. It is used as both a civil and state flag. As a result, it is not uncommon to see the flag's middle emblem featuring in logos of most Tennessee-based sports teams and companies. Examples of these teams and firms include Tennessee Titans (the National Football League) and the First Tennessee Bank. Used alongside the Tennessee flag is the Governor's flag and the Tennessee General Assembly flag.