The Tallest Mountains In Ireland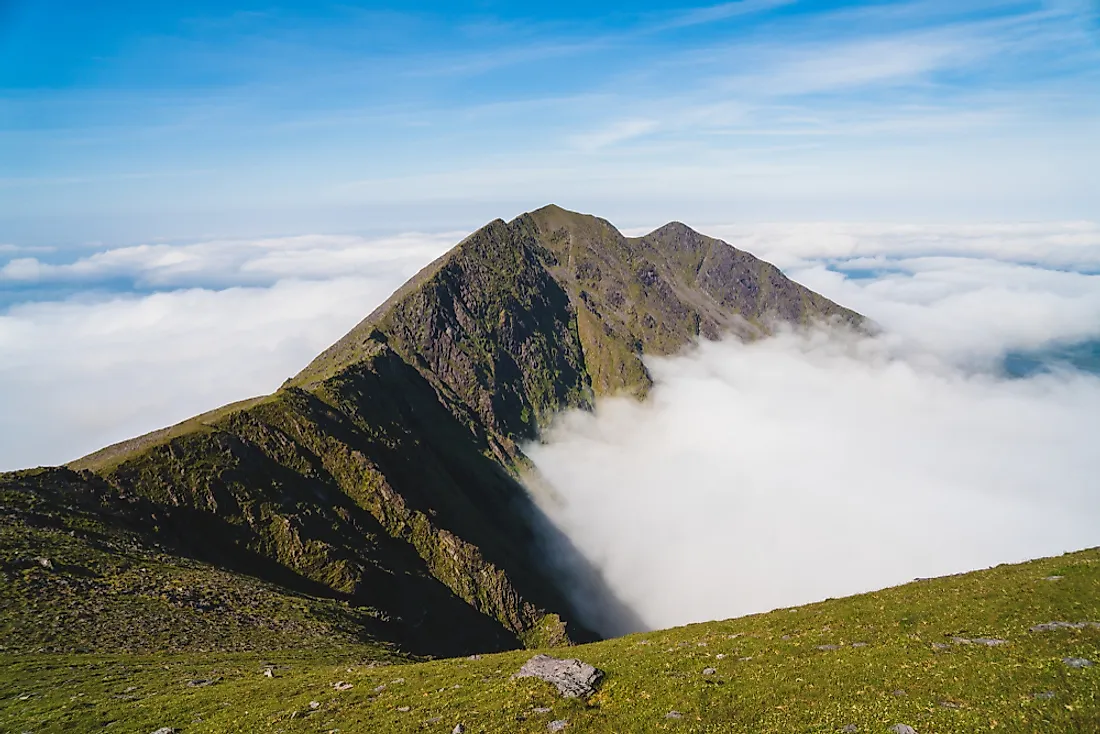 The green, rolling hills of Ireland are a characteristic feature of the country. Although its mountains are generally lower in elevation than those of Scotland across the Irish Sea, Ireland can still boast of housing five "furths", a Scottish term for area mountains higher than 3,000 feet. These are Carrauntoohil, Cnoc na Peiste, Brandon, Lugnaquilla and Galtymore. These are also known as the "Irish Munroes." Other notable mountains include Baurtregaum, Mullaghcleevaun, Mangerton, Purple Mountain and Beenoskee, all with an altitude greater than 2,700 feet.
Almost all of Ireland's highest mountains can be found in County Kerry, with the exception of Mullaghcleevaun and Lugnaquilla in County Wicklow, and Galtymore, which straddles the border between Limerick and Tipperary Counties. Carrauntoohil and Cnoc na Piest, Ireland's two highest mountains, are part of the Macgillycuddy's Reeks mountain range. Baurtregaum, Beenoskee and Mount Brandon are located on the Dingle Peninsula. Mangerton and Galtymore are the highest peaks in their respective eponymous ranges.
Economic and Cultural Importance of Ireland's Peaks
Ireland's mountains and hills attract thousands of recreational visitors each and every week. The topography offers some challenges for mountaineers, but the vast majority opt for a day hike or leisurely walk in the country. Many mountains have names that originate in local legend. Carrauntoohil is said to refer to a sickle, or fang, depending on the source. Lugnaquilla refers to a "hollow of wood." Mullaghcleevaun is Irish for "summit of the cradle." Mount Brandon was named for Saint Brendan, who lived on the mountain, according to local legend. The ruins of a Sixth Century monastical cell still exist near the summit. Purple Mountain is so named in reference to the characteristic slate on its rocky face.
Highland Environments
Ireland's topography has been described as "saucer-like," with a boggy, low-lying central region surrounded by coastal upland areas. Most of its mountains were shaved and scarred by glacial activity during the ice age. Galtymore's slopes are steep, but its summit is broad, rocky and rounded. Lugnaquilla also has a large, rocky plateau on its summit, with steep glacial corries cutting in to its north and south faces. Mount Brandon's western slope is a grassy glen descending in a series of rock steppes, while its eastern side has been gouged by glacial corries. These rocky summits are known as "nunataks", an Inuit word used to describe stone outcrops which have been untouched by glaciers and ice fields. Fringed sandalwort is an herb which is still thriving here after 150,000 years, having survived the ice age atop these mountain peaks. Killarney National Park includes the slopes of both Mangerton and Purple Mountain. The mountains' lower slopes are characterized by remnants of the original oak forests which carpeted the country before human settlement in the region.
Territorial Disputes
Ireland's coastal mountain areas have been the site of many wars and armed conflicts over the centuries, from the early Viking and Norman invasions of long ago to the Northern Ireland conflicts of the late Twentieth Century. The northern slope of Mount Mangerton was the cite of a 1262 battle between Gaelic and Anglo-Norman forces. During World War II, a number of Axis and Allied aircraft crashes took place on the sides of Irish mountains such as Cnoc na Péiste and Mount Brandon.
Tallest Mountains In Ireland
| Rank | Tallest Mountains in Ireland | Elevation |
| --- | --- | --- |
| 1 | Carrauntoohil | 3,406 feet |
| 2 | Cnoc na Peiste | 3,241 feet |
| 3 | Brandon | 3,127 feet |
| 4 | Lugnaquilla | 3,035 feet |
| 5 | Galtymore | 3,015 feet |
| 6 | Baurtregaum | 2,792 feet |
| 7 | Mullaghcleevaun | 2,785 feet |
| 8 | Mangerton | 2,753 feet |
| 9 | Purple Mountain | 2,730 feet |
| 10 | Beenoskee | 2,710 feet |