World Facts
Steepest Streets in the World
At 37 percent gradient, Canton Street in hilly Pittsburgh, Pennsylvania is the world's steepest residential street on record.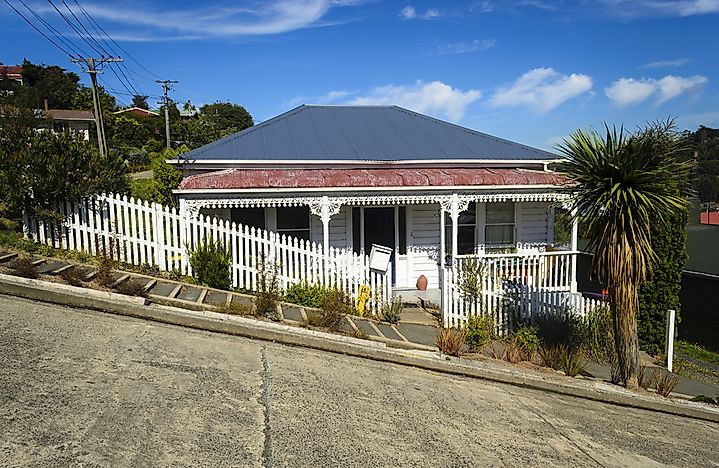 Some of the world's steepest streets are so steep that they can damage car brakes. Some others, such as Baldwin Street, have attracted ambitious runners and been the site of organized races. Many also serve as tourist attractions.
Top Steepest Roads
Canton Avenue
Canton Avenue is the steepest street in the United States. With a grade of 37%, the street stretches for a short 21 feet, paved with cobblestones in the place of asphalt and stairs in the place of a typical sidewalk. The "Do Not Enter" sign is erected on both directions, but this has not prevented car drivers and bikers from going up. Canton Avenue is notable for being a part of the annual Dirty Dozen bike race that takes cyclist over the Pittsburgh's 13 steepest hills.
Waipio Road
Waipi'o, which translates to "curved waters" in the Hawaiian language, is the name given to a very steep road on the island of Hawaii. The paved Waipio Road is less than a mile long but has an average grade of 25% with some parts of the slope reaching almost 37%. The road is known to destroy car breaks for cars on their way down and stops the engines for the cars on their way up. Since Waipio Road causes damages to small cars and poses risks to other road users, it is only open for use by four-wheel drive vehicles only.
Baldwin Street
Baldwin Street ranks among the world's steepest roads with a grade of 35 percent. The 0.2-mile long road in Dunedin, New Zealand rises from 0.02 miles to 0.6 miles above the sea. The street is so steep that the surface was made of concrete, as tar would melt down the street on a warm day if asphalt were used. Baldwin Street is part of Dunedin's annual Cadbury Chocolate Carnival. New Zealand is also home to the world's longest place name.
Vale Street
Totterdown in the United Kingdom has several steep streets. However, Vale Street is the steepest and one of the steepest residential streets in England. The street has a grade of 35 percent and remains unpopular with drivers and cyclists. Cars are parked sideways on the sides of the road as safety measures. The Park Street can be seen at the bottom of Vale Street by those driving from the top. The annual egg rolling game is held on this street with the residents sending hard boiled eggs down the steep street.
The Creation of Steep Streets
Often, a steep street is an unintentional creation formed when streets are planned following a grid format without terrain being taken into consideration.
Steepest Streets in the World
| Rank | Street Name | Location | Gradiant (%) |
| --- | --- | --- | --- |
| 1 | Canton Avenue | Pittsburgh, United States | 37 |
| 2 | Waipio Road | Hawaii, United States | 37 |
| 3 | Baldwin Street | Dunedin, New Zealand | 35 |
| 4 | Vale Street | Totterdown, United Kingdom | 35 |
| 5 | 28th Street | Los Angeles, United States | 33 |
| 6 | Eldred Street | Los Angeles, United States | 33 |
| 7 | Hard Knott Pass | Cumbria, United Kingdom | 33 |
| 8 | Baxter Street | Los Angeles, United States | 32 |
| 9 | Filbert Street | San Francisco, United States | 31 |
| 10 | Lombard Street | San Francisco, United States | 27 |