Religious Beliefs In South Sudan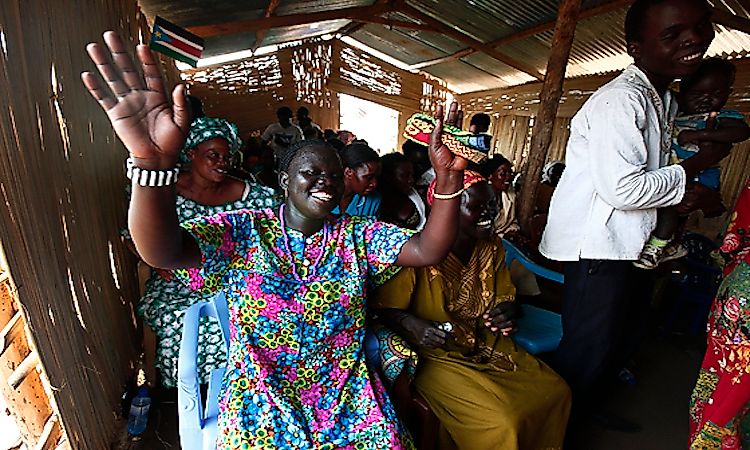 Religion is an important social and economic aspect in South Sudan. Socially, religion is considered a unifying factor in a country that has been ravaged by decades of civil war. Religion has been used to bridge the ethnic differences in the country which is one of the leading causes of war. Religious leaders have been in the forefront negotiating for peace deals in the country. Religious groups such as the Catholics have engaged in missionary work which included the building of schools and provision of medical services especially to the refugees and communities in war-torn areas of South Sudan and the Capital Juba. South Sudan respect and uphold the freedom of religion. There is no state religion in the country. However, the main religious groups in South Sudan include;
Religious Beliefs In South Sudan
Roman Catholic Christianity
In South Sudan, about 6.2 million people out of a population of over 16 million people or 37.2% of the population are Roman Catholic Christians. The Catholics in the country are part of the worldwide Catholic Church headed by the Pope in Rome. South Sudan has one Ecclesiastical province with one archdiocese and six dioceses. Roman Catholic Christian missionaries came to Sudan in 1842 as part of the missionary work that was carried out in East Africa. They built schools and hospitals and improved the lives of the locals who were affiliated with the traditional religion. Due to the success of the missionary work, most of the locals abandoned their religion and joined the Roman Catholic leading to its spread and popularity. When South Sudan broke away from Sudan, the majority of the Catholics who were concentrated in Juba and the surrounding town chose to remain in South Sudan.
Episcopal Churches And Other Forms Of Christianity
The Anglicans through the Church Missionary Society entered into Sudan in 1899 converting tens of thousands through their missionary work and preaching. Currently, the Anglican Church represented by the Episcopal Church of Sudan is the second largest church in both Sudan and South Sudan after the Catholic Church. The United Presbyterian Church began its work in Sudan in 1900. The Presbyterian Church emerged from the Southern part of Sudan (the current South Sudan) as a result of the missionary work that was largely accepted in the South and opposed in the North. In the 20th century, several other missionary groups arrived in Sudan with most of their activities confined to the South including the Evangelicals, Sudanese Church of Christ, and the African Inland Church. These Christian groups account for 36.5% of South Sudan's population.
Traditional African Beliefs and Animism
Before the coming of Missionaries to Sudan, most of the population practiced traditional belief and animism which involved belief in a creator, spirits, the power of the dead, use of magic, and traditional medicine. There were sacred places of worship like rivers, and forest and sacrifices were offered. Today, only 19% of the population practice traditional religions with the majority in the villages of South Sudan. However, their myths and beliefs are quickly fading away with the modern generation preferring other forms of religion like Islam or Christianity.
Other Forms of Religion in South Sudan
Apart from Christianity and African traditional beliefs, other minority religions in South Sudan include Islam. However, Islam is blamed for the segregation and hate that existed before South Sudan seceded from Sudan. 0.4% of South Sudanese are either atheist or irreligious, not subscribing to any of the above religions despite part of their families belonging to at least one of the faiths.
Religious Beliefs In South Sudan
| Rank | Belief System | Share of Population in South Sudan |
| --- | --- | --- |
| 1 | Roman Catholic Christianity | 37.2% |
| 2 | Episcopal Churches and Other Forms of Christianity | 36.5% |
| 3 | Traditional African Beliefs and Animism | 19.7% |
| 4 | Islam | 6.2% |
| | Other Beliefs | 0.4% |