Politics
Presidents Of The Republic Of Italy
Italy's President is the country's Head of State, nominates a number of high-ranking positions, and is also important in Italy's foreign relations.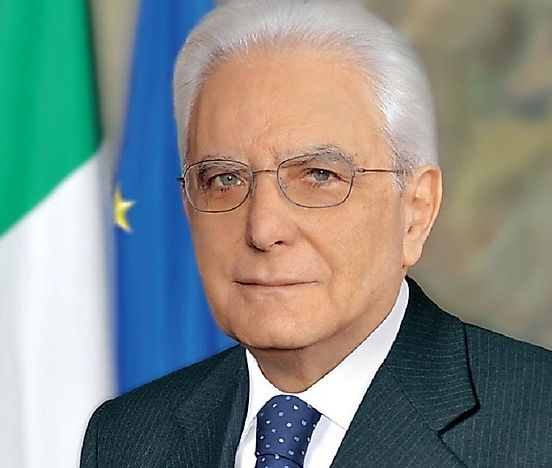 Italy's President is the country's Head of State, and nominates some of the government's highest ranking positions, while also being at the center of Italian foreign affairs. Before the first presidential election in 1946, Italy was a monarchy which was replaced by a parliamentary republic through a national referendum. The president of Italy is elected after every seven years by a college composed of both Houses of Parliament and three representatives from each region. Among the President's duties are appointing the country's Prime Minister, ratifying international treaties and declaring war with parliament's authorization, authorizing government's bills to be introduced to both Houses, promulgating laws and issuing decrees and calling for national referendums as provisioned for in the constitution. The President of Italy is also the commander of the armed forces.

Enrico De Nicola
Enrico De Nicola was the first president of the Republic of Italy, serving from 1946 to 1948. Born in Naples on November 9, 1877, Enrico graduated from the University of Naples in 1896 having studied law. In the course of his law career, he earned a reputation as one of the best penal lawyers in Italy. Enrico identified with the Italian Liberal Party and represented Afragola in the Chamber of Deputies between 1909 and 1919. He held several government positions among them the undersecretary of state for colonies, undersecretary of state of Treasury and President of the Chamber of Deputies. After the advent of fascism, Enrico distanced himself from the government and concentrated on his law practice. After the fall of Benito Mussolini in 1943, Enrico was the most notable mediator between the Italian Crown and Allies in the transition of power. Enrico was elected to power on July 1, 1946 by a newly established Constituent Assembly. He is credited with guiding Italy to become a fully functional Republic. He is remembered as a noble and humble man. He did not stand for the next elections and he was made a Senator for life from 1956. Enrico died on October 1, 1959 in Torre del Greco, Italy.
Luigi Einaudi
Luigi Einaudi succeeded Enrico De Nicola as President and served between 1948 and 1955. Born on March 24, 1874, Luigi graduated from the University of Turin in 1895 having studied law. He became exposed to socialist ideas and began contributing to La Stampa, Turin's most popular newspapers. He served as a professor at Pisa, University of Turin, Polytechnic University of Turin and the Bocconi University. He fled Italy to Switzerland after Armistice was declared in 1943.
After his return to Italy in 1945, Luigi served as governor of the Bank of Italy, as a member of the Constituent Assembly, as Minister of Budget, and as Deputy Prime Minister. He became a member of the Italian Republic's Senate in 1948 and was elected President on May 11, 1948. He is credited as a brilliant economist and an astute politician. He is also remembered for his enthusiasm in agricultural activities, having been involved in the tradition of wine making in his farm. He died on October 30, 1961, in Rome, Italy.
Giovanni Gronchi
Giovanni Gronchi was the third president of the Republic of Italy, serving from 1955 until 1962. Born on September 10, 1887, in Pontedera, Giovanni acquire a degree in literature and philosophy from the University of Pisa. He was a high school teacher in classics in various Italian towns from 1911 to 1915. After volunteering in WWI, he became a founding member of the Catholic party named Popular Party. He was elected as a Deputy in 1919 and served as the undersecretary of industry and commerce. He became the Popular Party's leader in 1924 and was at the frontline of the Aventine Movement, which opposed the fascist regime. He was subsequently expelled from parliament and became involved in business. He served in several government posts after WWII and was elected president on May 11, 1955. He embarked on efforts to improve Italy's international affairs, although he is criticized for failing to achieve an'opening to the left' in Italian politics. Giovanni died on October 17, 1978.
Antonio Segni
Antonio Segni succeeded Giovanni Gronchi as President, and served between 1962 and 1964. Born on February 2, 1891, in Sassari, Sardinia, Antonia studied agriculture and commercial law. He gained membership in the Italian Popular Party in 1919 and was an organizer in the provinces. Antonio went on to teach agrarian law in the Universities of Perugia, Pavia, and Cagliari for 17 years after political parties were banned under the fascist rule. He was a founding member of the Christian Democratic Party in 1943, after which he held numerous government posts in successive Christian Democratic Party-led governments. His most notable achievements were the agrarian reforms he instituted when he was Minister for Agriculture (1946-1951). He served as Prime Minister for two terms before he was elected president, during which Italy co-founded the European Economic Community (EEC), and social reforms were established. He served for two and a half years as President and resigned due to deteriorating health. Antonio died on December 1, 1972, in Rome, Italy.
Presidents Of The Republic Of Italy
| Presidents of the Republic of Italy | Term in Office |
| --- | --- |
| Enrico De Nicola | 1946-1948 |
| Luigi Einaudi | 1948-1955 |
| Giovanni Gronchi | 1955-1962 |
| Antonio Segni | 1962-1964 |
| Giuseppe Saragat | 1964-1971 |
| Giovanni Leone | 1971-1978 |
| Sandro Pertini | 1978-1985 |
| Francesco Cossiga | 1985-1992 |
| Oscar Luigi Scalfaro | 1992-1999 |
| Carlo Azeglio Ciampi | 1999-2006 |
| Giorgio Napolitano | 2006-2015 |
| Sergio Mattarella (Incumbent) | 2015-Present |