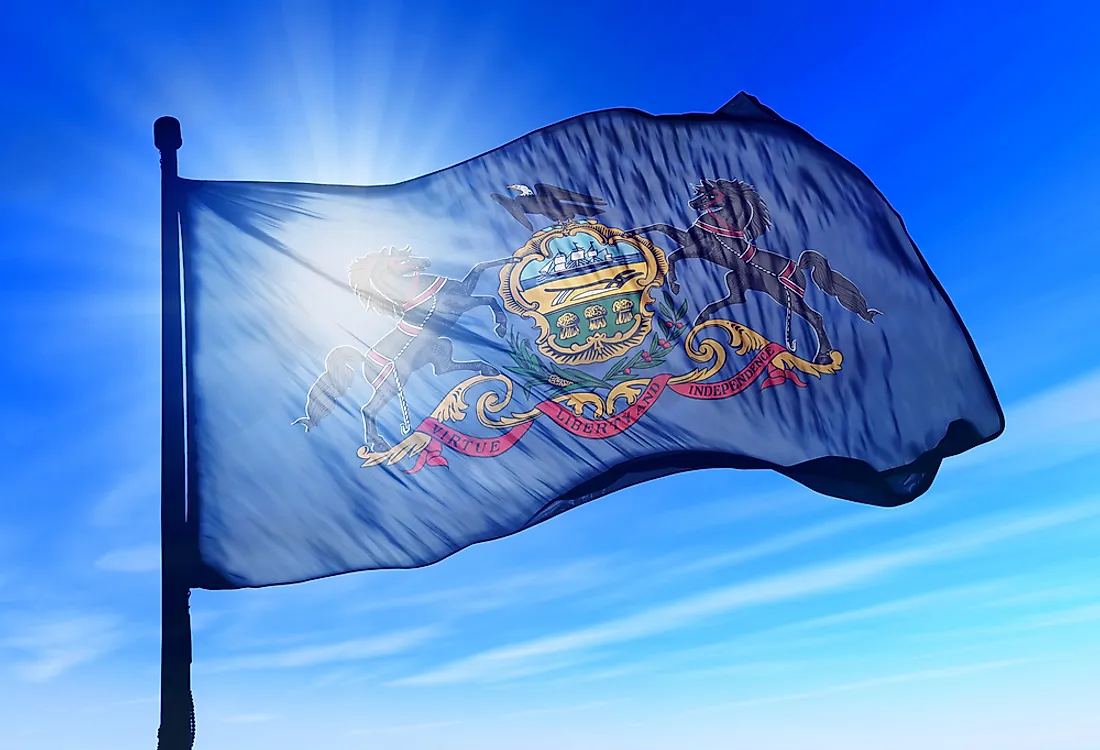 The official flag of the state of Pennsylvania was adopted by the state in 1778 and then standardized about a century and a half later on July 13th, 1907.
According to the 2001 survey carried out by the North American Vexillological Association (NAVA), the intricate design was ranked at the 57th spot out of the possible 72, due to the inclusion of the Canadian provincial emblems.
A bill has been passed by the House of Representatives, which allows the state to emblazon the word "Pennsylvania" at the bottom of their flag. However, the Senate has yet to give its opinion on the matter.
Design
According to the statutes, this flag has a deep blue background, also called the field. The exact color of the field matches the color of the flag of the United States of America, also called the Old Glory. All items are proper, meaning they do not have outstanding colors; rather they have real-life colors.
On this background, the official seal or the coat of arms of the Commonwealth of Pennsylvania is displayed. The coat of arms of the State is quite intricate. The official seal displays the shield or the Escutcheon divided horizontally (Party per fess) into two distinct tinctures with azure above the vert. The chief of the shield shows a ship fully laden, sailing in water, the fess shows a plow in a crimson hue, and the base shows three sheaves of wheat that have been stacked upright and made ready.
On the top part of the shield, called the crest, the American Bald Eagle is displayed in the rousant form, as it is prepared to take flight. The eagle holds a wreath horizontally in its talons. The supporters of the shield are two horses that have been bridled and made ready to plow the fields or pull carts. Both horses are displayed rearing and facing each other.
The ribbon is displayed below a cross of an olive branch and a cornstalk. It displays the motto of the state "Virtue, Liberty, and Independence."
Symbolism
The flag is replete with symbolism. The first thing is the American Bald Eagle that sits atop the seal. This is a symbol of the union of the people of America and a symbol of their freedom. The olive branch and the stalk of corn displayed in the base are symbols of peace and fertility respectively.
The ship sailing in the waters is a symbol of the commercial and industrial development of the State considering the fact that it exports goods to all parts of the globe.
The plow is the symbol of the backbone of the state–its most powerful industry, which is believed to be that of agriculture. The sheaves of wheat reinforce the idea of an agricultural state and show that the basic production is of wheat. The horses displayed as supporters are representing the horses that are used both in agriculture and in transportation. They have been shown with bridles to emphasize this point.