Travel
Mount Rushmore - Unique Landmarks around the World
Perhaps the most iconic landmarks in America, Rushmore was constructed using dynamite by workers desperate for pay during the Great Depression.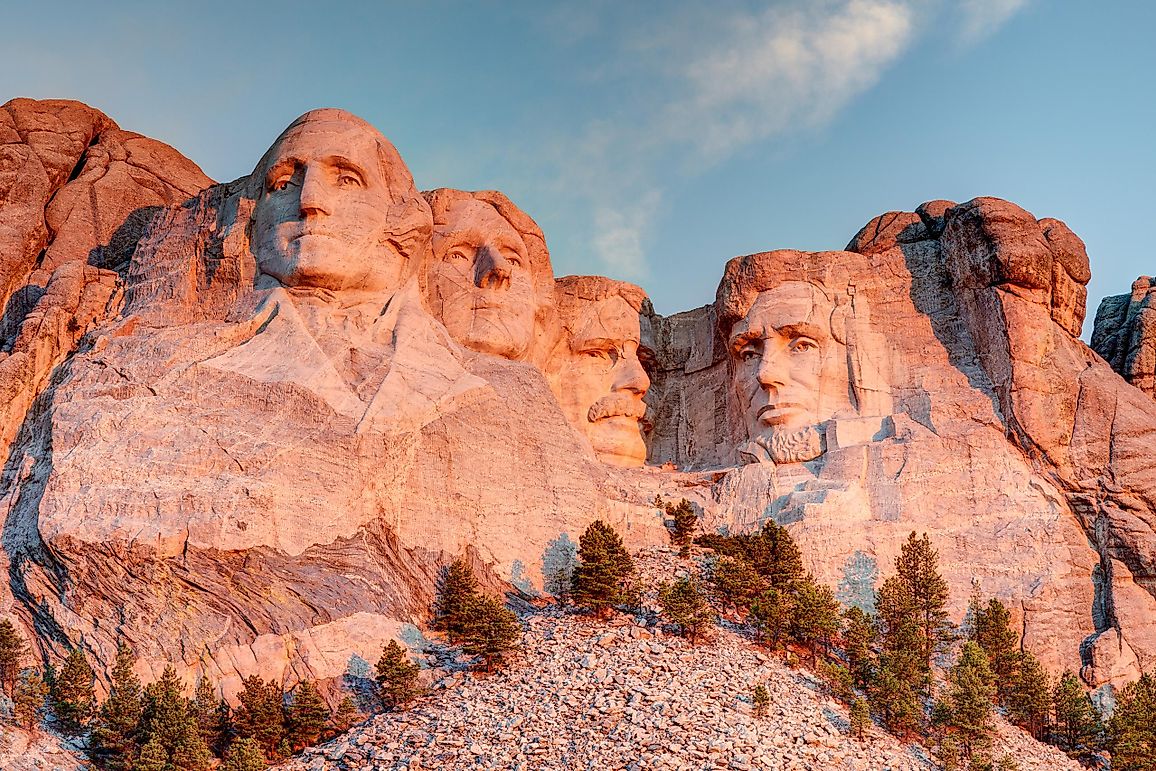 Description
Mount Rushmore is a US national memorial located in Black Hills National Forest, in the state of South Dakota. It is 60 ft high and contains sculptured faces of four US Presidents: George Washington, Thomas Jefferson, Abraham Lincoln and Theodore Roosevelt. Doane Robinson is credited with the idea of carving famous people into the Black Hills region of South Dakota in order to promote tourism in the region. They Mount Rushmore location was chosen for the quality of granite and the advantage of facing southeast for maximum sun exposure. It has become an iconic symbol of the United States and attracts roughly two million people annually.
Tourism
Yearly, Mount Rushmore attracts nearly 3 million visitors. It is 35 miles from Rapid City Regional Airport on highway 244. Visitors using cars on interstate-90 can exit at Rapid City and follow US Highway 16 southwest to Keystone, and then highway 244, to Mount Rushmore. Those coming from the South can follow highway 385 north to highway 244, which leads to the memorial. As the region has no public transport to Mount Rushmore, rental cars and private tour companies transport visitors from Rapid City to the memorial.
Uniqueness
The most compelling reason to visit Mount Rushmore is to learn on-site how this monstrous granite sculpture was constructed from experienced park rangers, or by watching a film at the Lincoln Borglum Visitor Center. The historical legends of its construction from 1927 to 1941 are as spell-binding as its appearance. 400 men and women were involved in Mount Rushmore's construction in extreme cold and hot weathers.The work was risky and thrilling, as 90 percent of it was carved using explosive dynamite. As it was constructed during the Great Depression, workers were willing to take the risks to earn $8 a day. Visitors also get a picturesque view of the Black Hills and wildlife like bison, elk, pronghorn, mountain lion and others.
History
The sculptor Gutzon Borglum viewed it as a commemoration of the foundation, preservation and continental expansion of the United States. The four presidents carved on the memorial had played an important role in American history. George Washington for being the first US president and for his role in American independence. Thomas Jefferson for his belief people should be allowed to govern themselves, which was the foundation of democracy. Abraham Lincoln for his belief that all people are equal and helping end slavery. Theodore Roosevelt for his influence on the world, which won him a Nobel Peace Prize for mediating the end of a war between the Russia and Japan, and for his conservation efforts.
Threats
Historically, no visitors have been reportedly exposed to danger when visiting Mount Rushmore. However, the ecosystem of Black Hills National Forest where Mount Rushmore is nestled is always at risk from manmade or lightning-ignited forest fires when it is dry. In the past there have been instances when officials have prohibited fireworks at Mount Rushmore to prevent dry trees destroyed by pine beetle from igniting and starting wildfires.
This page was last updated on April 25, 2017.
Citations
Your MLA Citation
Your APA Citation
Your Chicago Citation
Your Harvard Citation
Remember to italicize the title of this article in your Harvard citation.