Society
Monarchs Of The Netherlands
The Netherlands is a constitutional parliamentary monarchy, and has had seven monarchs since 1813.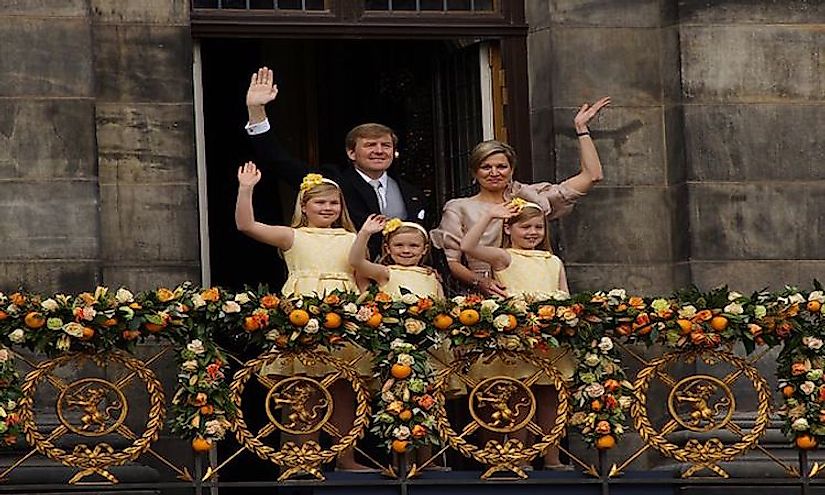 The Netherlands has a hereditary constitutional monarchy that was established in 1815. The monarchy is a hereditary position within the Royal House of Willem, where heredity is determined by proximity of blood. Both males and females alike are allowed to inherit the monarchy on equal grounds. The constitution identifies the roles and duties of the monarch as well as the monarchy's cycle. An heir can become a king or queen as long as they are 18 years or above and if below 18, a regent is appointed. The monarch is the chief head of state that is responsible for appointing the prime minister. The monarch does not have absolute powers over the government but is responsible for signing laws that have been approved by parliament. The monarch is expected to uphold the constitution in carrying out their duties. Netherlands regained independence in 1813 and became a kingdom in 1815. Since its establishment, Netherlands has had seven monarchs who have inherited the throne mainly from their relatives.
Monarchs Of The Netherlands
Willem I
Willem Frederick was the first king of Netherlands who served between 1813 and 1840. He had close to absolute powers given to him by the constitution. He declared Netherlands a kingdom in 1815. His major focus during his reign was to unify the people.
Willem II
Willem II served as the king of Netherlands from the abdication of his father in 1840 until his death in 1849. Previously, he served in the British Army which saw him rise through the ranks and win several awards. During his reign, the constitution of 1848 was established, making Netherlands a parliamentary democracy. Though he was a conservative, he allowed for constitutional reforms and rarely interfered with government matters. His reign ended after his death in 1849, when he was succeeded by his son.
Willem III
Willem III was the king of Netherlands from 1849 to 1890. He succeeded the throne after the death of his father in 1849. Willem III was a conservative inclined towards the military, with his reign characterized by several dismissed cabinets and disbanded State generals. The reign of Willem III saw the institution of the reactionary constitution for Luxembourg. He ruled Luxembourg on his own until it became a fully independent country once again, following the second treaty of London. The king's behavior was often described as bordering on dictatorial and violent, drawing fear from his servants and ministers and constant conflicts with his wife, Sophia. He was succeeded by Wilhelmina after his death.
Wilhelmina
Wilhelmina served as the queen of Netherlands from 1890 to 1948. Wilhelmina was born on August 31, 1880. She succeeded her father, King Willem III, after his death when she was ten years old. She took over from her mother who served as her regent until she was eighteen. Wilhelmina reigned for about 58 years until her abdication. During her reign, she was identified as a strong-willed woman with a thorough understanding of business which saw her become the richest woman in the world. She reigned during the two world wars during which she inspected the progress of her army and went to exile during the Second World War. She ceded her monarchial duties to her daughter, Juliana in 1948 due to health problems.
Who Is The Current Monarch Of The Netherlands?
Netherlands has been served by other monarchs including Queen Juliana (1948-1980), Beatrix (1980-2013) and the current monarch King Willem-Alexander who took over the kingdom in 2013 after the abdication of his mother, Queen Beatrix.
Monarchs Of The Netherlands
| Monarchs of the Netherlands | Reign |
| --- | --- |
| Willem I (Willem Frederik) | 1813-1840 |
| Willem II | 1840-1849 |
| Willem III | 1849-1890 |
| Wilhelmina | 1890-1948 |
| Juliana | 1948-1980 |
| Beatrix | 1980-2013 |
| Willem-Alexander (Incumbent) | 2013-Present |
This page was last updated on April 25, 2017.
Citations
Your MLA Citation
Your APA Citation
Your Chicago Citation
Your Harvard Citation
Remember to italicize the title of this article in your Harvard citation.