How Much Meat Do Americans Eat?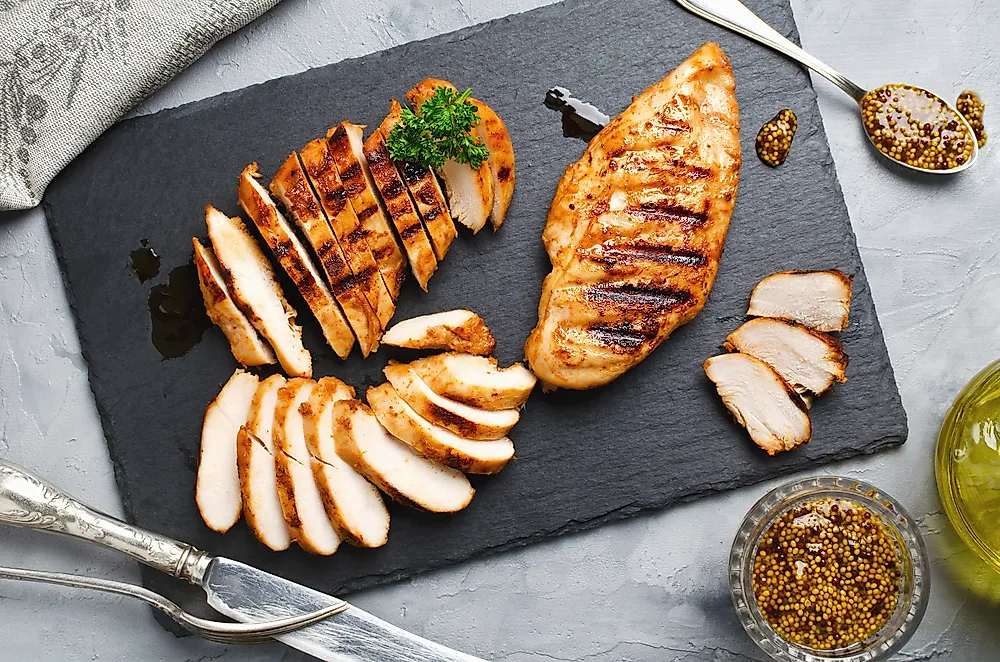 At the start of 2018, the U.S. Department of Agriculture predicted an increase in the consumption of beef, pork, and poultry. Although the total meat consumption per capita in the United States has grown over the past five decades, according to research by the OECD the types of meat consumed have dramatically shifted. In particular, the proportion of beef within total meat consumption is declining. Pork consumption has remained relatively constant, while chicken consumption has more than doubled over the same period. Most Americans are shunning carbohydrates in favor of protein for health reasons. However, while the government recommends 5-6.5 ounce of meat for an adult, some people consume almost 10 ounces of meat each day.
Quantity of Meat Consumed
Poultry
Poultry is the most consumed meat in the United States. On average, each American ate 48.8 kg of chicken in 2017. Chicken has become the most popular meat, toppling beef, which was the favorite for a long time. The poultry industry is one of the fastest growing industries in the U.S. due to the increasing demand for chicken products, with companies such as Tyson Foods Inc. taking the lead. This high consumption has been attributed to shifting diets, with most people swapping beef for chicken. This shift has been attributed to health concerns that link beef to various lifestyle diseases.
Beef and Veal
In 2017, Americans consumed an average of 25.8 kg of beef, up from 25.2 kg in 2016. The increased consumption comes after a decade in which the beef consumption in the country plummeted by 15%. Increased disposable income, low prices, and changes in perception have contributed to the rising popularity of beef on most tables. The popularity of beef is expected to keep rising in the coming years, with hamburgers and other beef products also expected to make a comeback.
Pork
Americans who have been long devoted to beef and chicken are now eating more pork than ever before. An American consumes an average of 23.6 kg of pork annually. Pork is most commonly consumed in the form of bacon. Several restaurants in the U.S. have introduced dishes made of pork belly, shoulder, and better chop cuts. The U.S. Department of Agriculture has predicted that pork production and consumption will soon equal and exceed that of beef.
Lamb
Sheep meat is not as popular as beef, chicken, and pork. On average, an American consumes 0.4 kg of lamb annually. The majority of people who eat lamb and mutton in the U.S. are immigrants from countries where lamb is commonly consumed. Thus, the U.S. imports most of its lamb to meet the current demand.
Expected Growth Trends
The per capita meat consumption in the United States is expected to grow in the coming years, and this growth is expected to boost the country's agriculture sector. Increased poultry consumption is expected to continue the strong growth in per capita consumption witnessed in the last five decades. For pork, the growth will return consumption to a stable level, while growth in beef consumption per capita will return it to the pre-recession level. Increased disposable income, cheap prices, and changing lifestyle are expected to increase per capita consumption levels.
How Much Meat Do Americans Eat?
| Rank | Meat Type | Per Capita Consumption (kg) |
| --- | --- | --- |
| 1 | Poultry | 48.8 |
| 2 | Beef and Veal | 25.8 |
| 3 | Pork | 23.6 |
| 4 | Lamb | 0.4 |