In mammals, pregnancy can be described as the period in which a female carries the offspring in its womb from implantation through gestation to the time of delivery. The gestation period is the period in which the fetus develops, starting from fertilization to birth. The gestation period varies from one species to another, depending on the extent of fetal growth and development before birth in the species. Smaller species tend to have shorter gestation periods compared to the larger ones. So, which species of mammals give birth to their young ones in the shortest span of time? Here is the answer:
Mammals With Shortest Gestation Periods (less than a month)
Stripe-faced dunnart - 11 days
Opossum (Virginia) - 12 days
Mouse (domestic white) - 19 days
Hamster - 20 days
Mouse (meadow) - 21 days
Rat - 22 days
Gerbil - 24 days
Wombat - 27 days
Muskrat - 29 days
Some interesting facts related to the birth process of the first five mammals from the above list have been mentioned below:
1. Stripe-faced Dunnart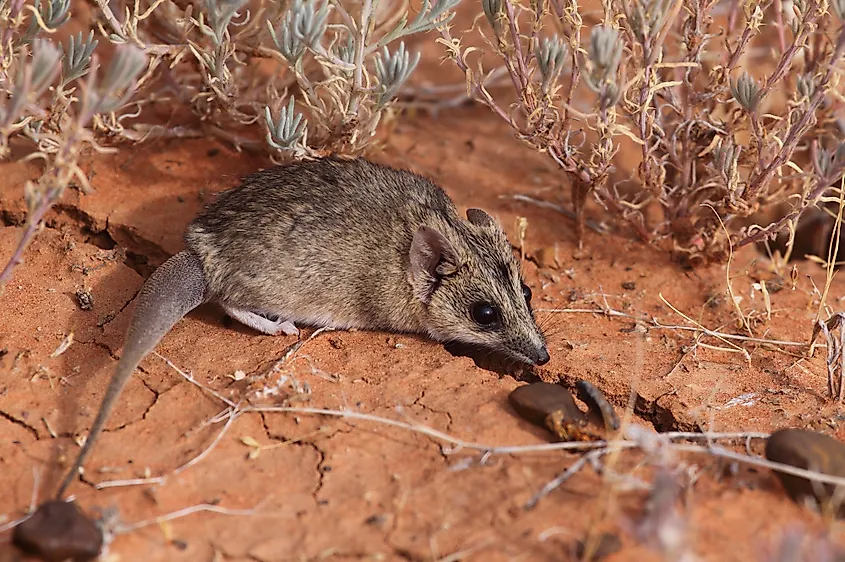 The stripe-faced dunnart, a tiny carnivorous marsupial found in Australia, has the shortest gestation period of any mammal of just 11 days. Females and males mature at 4 and 9 months of age respectively. They breed from July through February. A maximum of 8 joeys are born per litter as that is the number of teats present in the female. Around 2 litters are born per season. The young ones first enter the pouch of the female after which they exit to enter the nest where they suckle for about a month before leaving the nest.
2. Opossum (Virginia)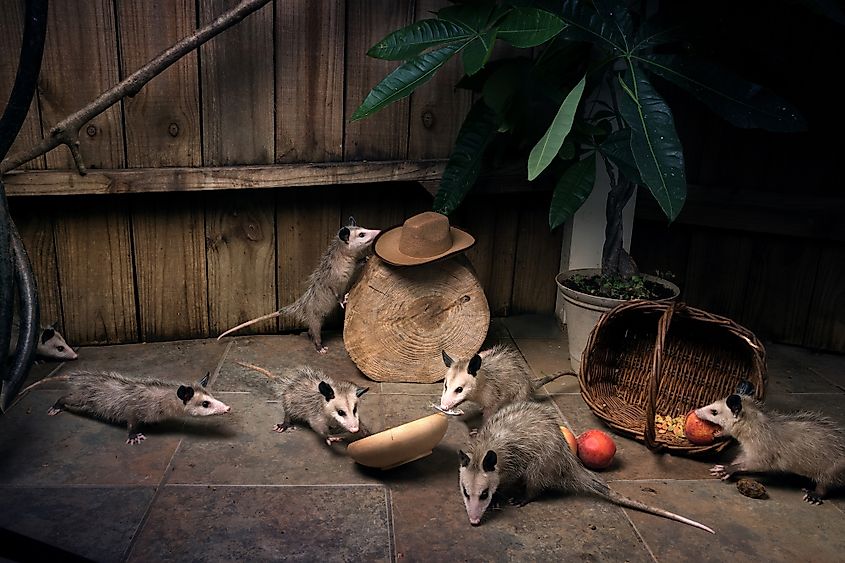 Virginia opossum is the only marsupial found in the United States. It has a gestation period of only 12 days. A female gives birth to one to 3 litters a year. About 8 to 9 young ones, the size of honeybees, are born per litter. Upon birth, they enter the female's pouch to suckle. A female has 13 teats on her. For about 2 months, the joeys remain latched to her teats and leave the pouch at about 2.5 months. After exiting the pouch, they ride on the back of their mother for another 2 months when they learn survival skills before they are ready to live a life on their own. However, survival rates of these joeys is extremely low. Only 1 in 10 reach reproductive adulthood.
3. Mouse (domestic white)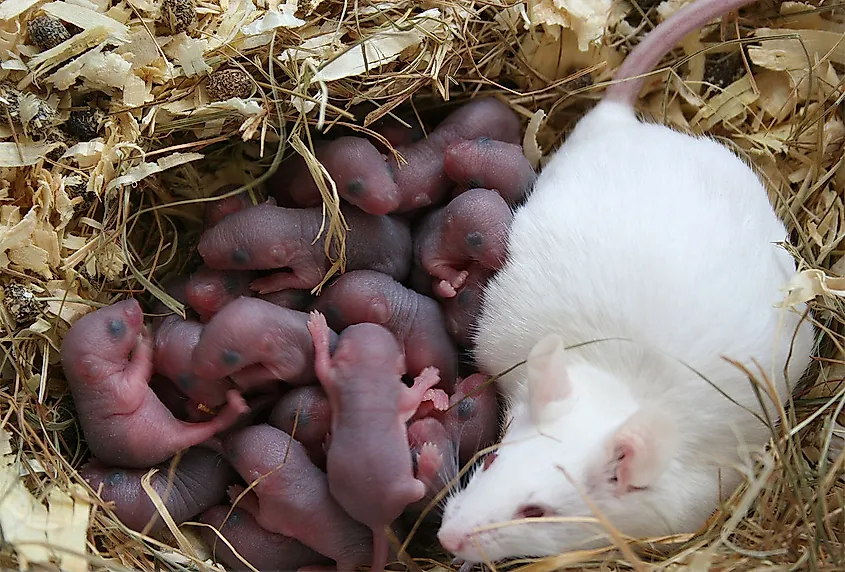 Domestic mice have a gestation period of only about 19 days. About 4 to 12 pups are born per litter but occasionally, as many as 30 offsprings can be born in a litter. These mammals have an extremely high reproductive rate where males can mate with the female as soon as a litter is born. Hence, a female can become pregnant again in only 3 days after giving birth. The pups are born naked, deaf, and blind. By 14 days, they can see, hear, and also have fur on their bodies. By the age of 3 weeks, they look like miniature versions of the adult mice. 
4. Hamster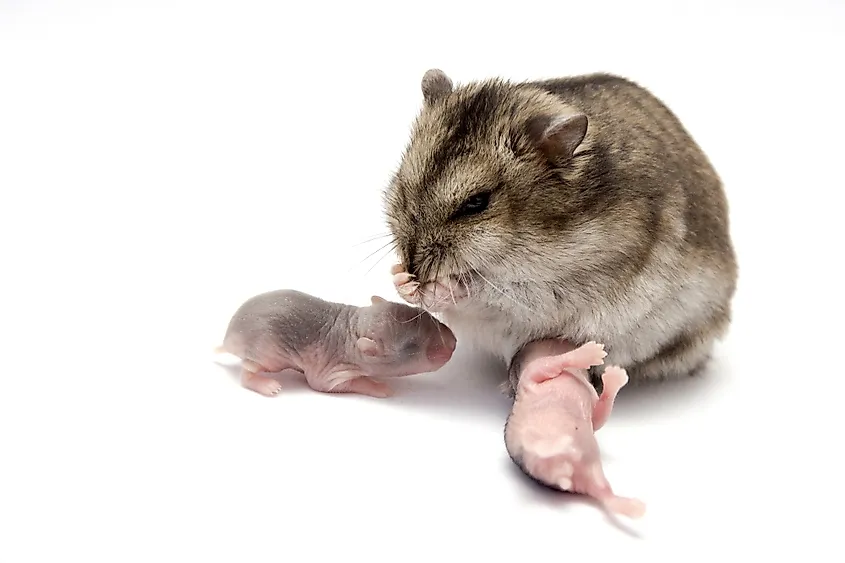 Hamsters are a group of rodents with 19 species. They are often kept as pets in homes. The average gestation period of a hamster is 20 days. Hamsters give birth to several litters a year with 1 to 13 pups being born in each litter. The pups are born blind and hairless. They stay in the nest for about a week after birth and then come out to explore the outside world.
5. Mouse (meadow) Mouse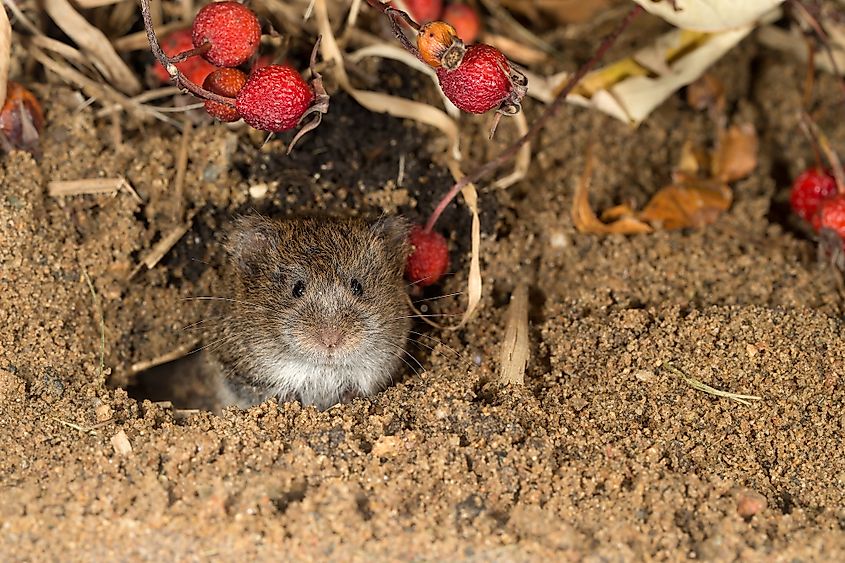 The average gestation period of a meadow mouse, also called meadow vole, is 21 days. The species is found across North America. On average, a litter has 4 to 6 pups but sometimes it can be as high as 11. The neonates are deaf, blind, and hairless just like domestic mouse pups. Weaning lasts for 12 to 14 days.
Advantages Of Short Gestation Periods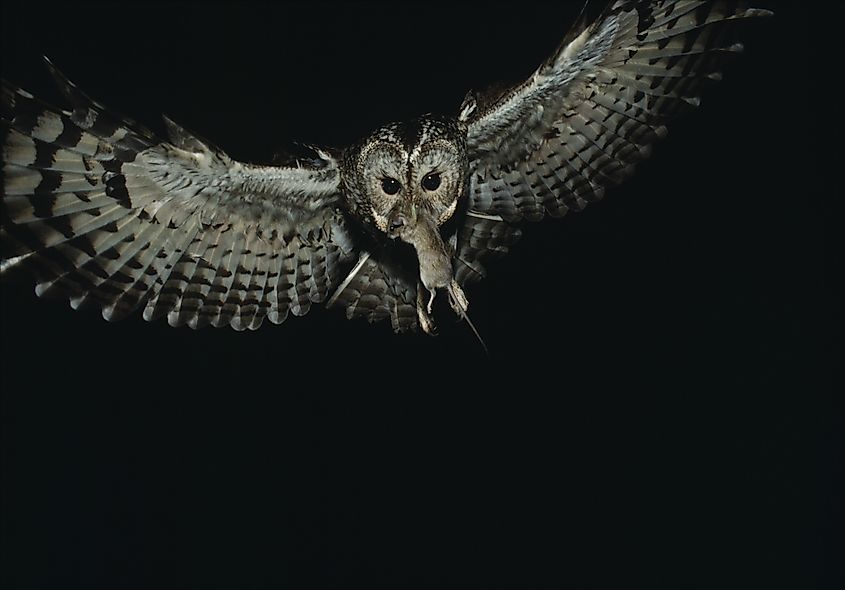 Size of the mammal often determines the length of the gestation period with smaller animals usually having shorter gestation periods. These animals have high mortality rates when born and are often in the lower levels of the food chain. So, they are needed in greater numbers to serve as food for animals higher up in ecological pyramids. Hence, they need to reproduce faster. It could be one of the reasons why nature has desgined them to have shorter gestation periods.