Society
Biography of Malcolm X
Malcolm X was one of the most influential Americans despite being assassinated while in the prime age of his life.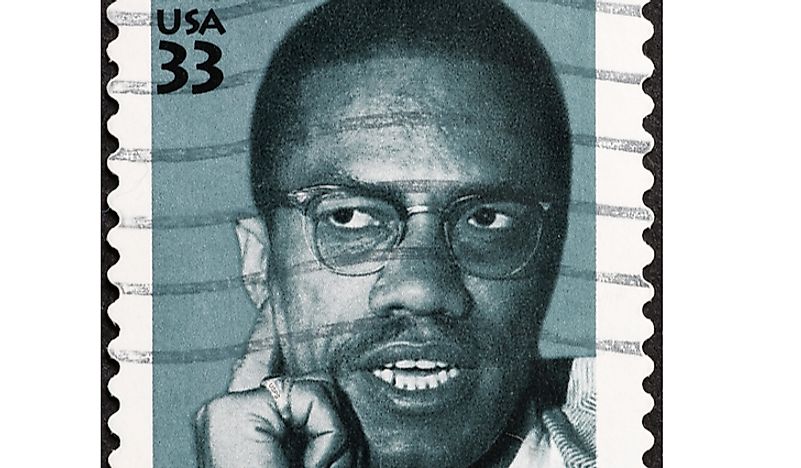 Malcolm X is considered by many to be one of the most influential Americans despite being assassinated while in the prime age of his life. He was an outspoken human rights activist advocating for the rights of black Americans. He was an influential leader of the Nation of Islam from 1952 to 1964 when he left the group to travel Africa and the Middle East. He continued his work advocating for the right of black Americans until his assassination on February 21, 1965.
Early Life
He was born on May 19, 1925, and his parents christened him Malcolm Little. His childhood was plagued with difficulty with his father being killed when Malcolm was only six years old. Seven years later when he was 13, tragedy would once again afflict him as his mother was admitted to a mental institution. Malcolm did not have a stable home environment as he lived in a series of foster homes until he became of age. Malcolm's early misfortunes continued when he was sent to prison, at the age of 20, where, after joining the Nation of Islam, he changed his name to X from Little.
The Nation of Islam
Malcolm X joined the Nation of Islam at the urging of his siblings particularly his brother Reginald. Malcolm had a well-publicized disdain for religion, but after his brother's visit, he began corresponding with Elijah Muhammad, the Nation of Islam's leader, who managed to fully convert him to the teachings of the Nation of Islam. In 1952, he was paroled and went on to meet with Elijah Muhammad. He rose through the ranks partly due to his oratory skills as well as strong physique. In 1957, a brutal attack by the police on a member of the Nation of Islam made Malcolm X famous for the power he wielded in controlling the large crowd that had gathered around the police station. His increasing prominence allowed him to meet with notable international leaders like Gamal Abdel Nasser and Fidel Castro. Malcolm believed in the doctrine of the Nation of Islam, and he advocated for some hardliner position such as the complete separation of the races. He was one of Dr. Martin Luther King's fiercest critics believing that he did not want to improve the conditions of African Americans. In 1964 Malcolm left the Nation of Islam partly due to the disillusionment with the leadership of Muhammad.
Achievements
One of Malcolm's crowning achievements was increasing the number of people joining the Nation of Islam as he convinced thousands of African Americans, including legendary boxer Muhammad Ali, to join the organization. He defended the rights of African Americans who were victims of a racially biased justice system such as Hinton Johnson; due to the extent of his injuries, Malcolm had to arrange for medical treatment. After the police brutally attacked and killed members of the Nation of Islam in Los Angeles, California, Malcolm was on the front lines demanding justice. Malcolm was an articulate speaker and was invited for a debate held in the United Kingdom. There was such an enormous public appetite to hear the words of Malcolm X that the BBC televised the discussion nationally.
Death and Legacy
Due to his public fallout with the Nation of Islam, Malcolm consistently received death threats. One leader in the organization had called for the bombing of his car. His death came at the hands of members of the Nation of Islam on February 19, 1965. Close to 30,000 mourners attended the public viewing of his body, and his funeral drew a lot of high profile guests. In many parts of the world, Malcolm X is considered a martyr who gave his life in the pursuit of freedom. His life continues to inspire people to strive towards a more just and equal society.
This page was last updated on July 15, 2019.
Citations
Your MLA Citation
Your APA Citation
Your Chicago Citation
Your Harvard Citation
Remember to italicize the title of this article in your Harvard citation.