Economics
Leading Export Partners Of Russia
China is the top export partner of Russia in terms of export value.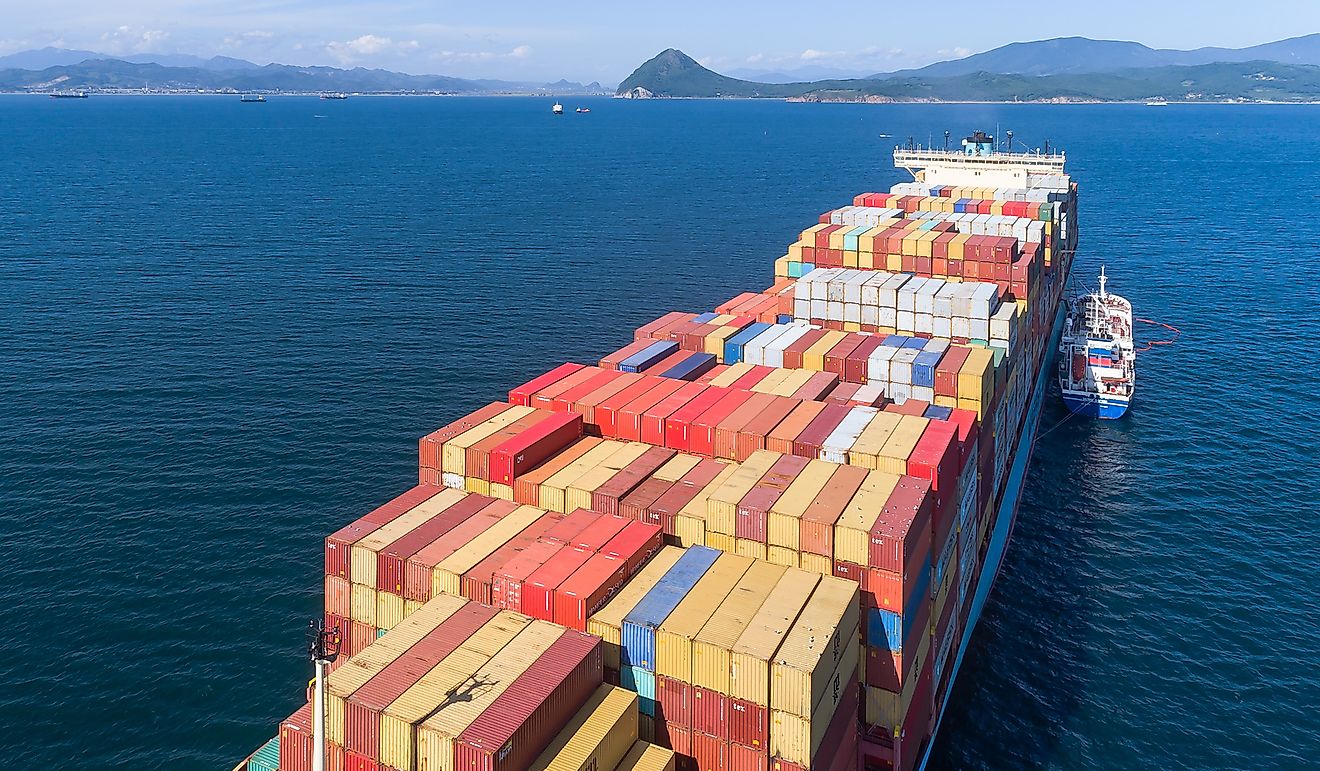 Russia's economy can be described as an upper-middle income mixed economy. It is the 12th largest economy by nominal GDP and the 27th most complex economy in the world. The country has enormous natural resources including natural gas and oil. Russia has the 14th largest export economy in the world. In 2018, the country's total export amounted to $452 billion, about 25% up from the previous year, while imports amounted to $240.5 billion, resulting in a positive trade balance of $211.5 billion. Russia's top exports are refined petroleum, crude petroleum, wheat, coal, and petroleum gas. Its top export destination includes China, the Netherlands, Germany, Belarus, and Turkey. Below are the top export partners of Russia.
The 10 Leading Export Partners Of Russia
1. China
According to the Russian Ministry of Economic Development, the country's total turnover trade grew by about 17.5% in 2018 to about $688 billion. The growth is a result of the contribution by the several trading partners, key among them being China. China is Russia's leading trading partner with a trade turnover between the two countries reaching $108 billion. In 2018, the value of Russia's export goods to China increased by 44% to $56 billion up from $39.1 billion the previous year. This positive growth is attributed to the increased sale of petrochemicals, refined copper, and crude oil. China is also Russia's leading import partner.
2. Netherlands
The EU is Russia's largest trading partner while Russia is the EU's 4th largest trading partner. The Netherlands is the leading export partners of Russia among the EU countries. The country's trade turnover with Russia grew by more than 19% to $42.7 billion in 2018. In the same period, the value of goods exported by Russia to the Netherlands grew by 57% to $43.47 billion. The export growth was promoted by increased volumes of raw aluminum and petrochemicals shipped into the country through the Rotterdam Port, the largest port in Europe. The Netherlands is Russia's second-largest crude petroleum market.
3. Germany
Germany was once the second-largest market for Russian goods. However, it has since been displaced to third by the Netherlands. Mutual trade between the two countries amounted to about $59 billion in 2018, representing an increase of 19.3% from the previous year. According to the 2018 UN COMTRADE report on international trade, Russia's export to Germany amounted to $34.10, a 14.6% growth from the previous year. The largest export products to Germany include mineral fuel, distillation products, and oils which amounted to a total of $16.42 billion. Other products include iron, steel, copper, and machinery.
4. Belarus
In 2018, Russia's trade turnover with Belarus surged by 11% to $34 billion. According to the Government of Russia, the growth was as a result of the growing export of energy commodities to Belarus. Belarus is Russia's fourth-largest market, with the export to the country totaling $21.82 billion in 2018 up from %18.5 billion the previous year, representing 18% growth. Russia's largest exports to Belarus are crude petroleum, coal, and oil with a total value of $8.41 billion. Other notable export products were iron and steel ($1.43 billion), machinery and boilers ($1.05 billion, and electrical and electric equipment ($1.04 billion).
5. Turkey
Russia is the third-largest exporter to Turkey after China and Germany. Turkey is an important market for Russia's petrochemicals and energy commodities which account for $7.88 billion of the total $21.35 billion export value to Turkey. Between 2012 and 2015, Russia recorded a decline in commodity export to Turkey, exporting less than $10 billion in 2015. The decline was a result of a strained relationship between the two countries. However, the value has since doubled in the last three years following the normalization of ties between the two countries.
6. Republic of Korea
The increasing pace at which South Korea's foreign trade has been growing since 1980 has caused it to play an important role in the global market. Since the establishment of the trade relations between South Korean and Russia, the trade between the two countries has demonstrated stable growth. In 2018, Russia's export to the Republic of Korea was $17.83 billion up from $12 billion the previous year. Mineral products (mainly crude oil and petroleum products) account for the highest proportion of export, at 82% of Russia's total export to South Korea. The second-largest export commodities are food products and agricultural raw material.
7. Poland
Although Russia-Poland relations have been long and turbulent with the majority of Poles expressing negative views about the relations, Poland remains one of Russia's main markets. Russia's export to Poland was $16.54 billion in 2018 up from $11.8 billion in 2017, representing a 40% increase. Mineral fuel, distillation products, and oil account for 73% of all Russia's export to Poland. Other significant exports to the country include iron, steel, inorganic and organic chemicals, aluminum, rubber, fertilizer, and wood and wood articles.
8. Italy
Export from Russia to Italy was $16.4 billion in 2018 up from $14 billion in the previous year. Russia's mining industry accounted for about 60% of the export to Italy while 30.1% came from the manufacturing sector. The products exported to Italy included oil and petrochemicals, machinery, wood, agricultural and food products, vehicles, and electrical equipment. The trade turnover between the two countries amounted to $27 billion in 2018, making a 12.7% growth against 2017. Italy is also a leading import partner of Russia.
9. Kazakhstan
Trade turnover between Kazakhstan and Russia amounted to over $12 billion in 2018. Export from Russia to Kazakhstan increased by 4.86% to $12.9 billion in 2018 up from $12.3 billion the previous year while import from Kazakhstan $5.2 billion. Main export products to Kazakhstan include mineral products, machinery, metal, nuclear reactors, chemicals, and agricultural supplies. Energy commodities account for 10% of the exports while types of machinery account for 9%.
10. United States
Russia is currently the 28th largest goods trading partner of the United States. Goods exported to the US from Russia totaled $12.53 billion in 2018 down from $15.4 billion. The top export commodities to the US were refined petroleum, raw aluminum, platinum, iron, and precious stones. Russia exports more than it imports from the US, leading to a trade surplus which has a positive impact on the Russian economy.
Leading Export Partners Of Russia
| Rank | Export partner | Exports in billion US dollars |
| --- | --- | --- |
| 1 | China | 56.04 |
| 2 | Netherlands | 43.47 |
| 3 | Germany | 34.10 |
| 4 | Belarus | 21.82 |
| 5 | Turkey | 21.35 |
| 6 | Republic of Korea | 17.83 |
| 7 | Poland | 16.54 |
| 8 | Italy | 16.40 |
| 9 | Kazakhstan | 12.92 |
| 10 | United States | 12.53 |
About the Author
Sharon is a Kenyan native with a wide range of interests. An accountant and financial analyst by profession, Sharon enjoys writing about world facts, the environment, society, politics, and more.
This page was last updated on December 9, 2019.
Citations
Your MLA Citation
Your APA Citation
Your Chicago Citation
Your Harvard Citation
Remember to italicize the title of this article in your Harvard citation.