Economics
Largest Uncut Diamonds Ever Found
The Sergio diamond discovered in Brazil in 1895 weighed an astounding 3,150 carats uncut.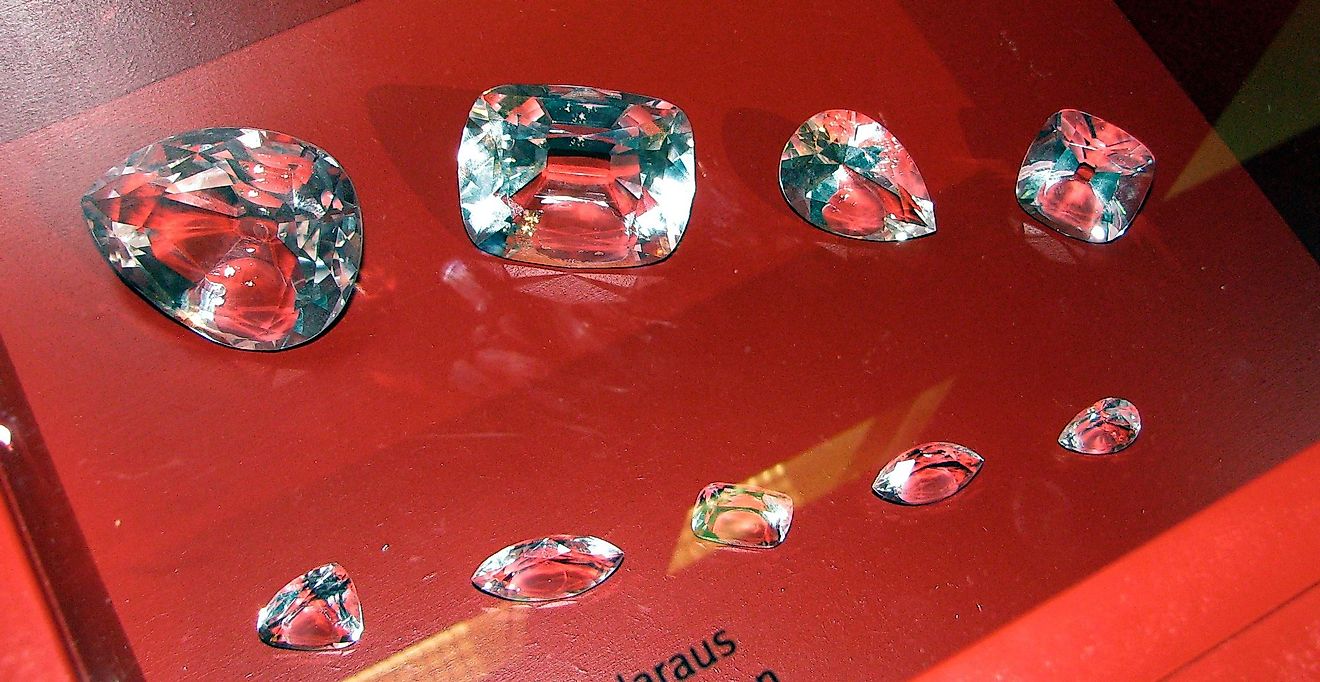 Something about diamonds has fascinated humans for centuries. The sparkling brilliance, the rough beginnings, and the trade value are some of the reasons that diamonds have such a long history with humans. Often valued for their size (which is measured in carats), mining sites all over the world have turned up some enormous diamonds. This article takes a look at the largest, uncut diamonds on earth.
Largest Uncut Diamonds
Sergio
The diamond that takes first place is the Sergio. This rock was found in Brazil in 1895 and weighs 3,150 carats (about 1.4 pounds) making it the largest uncut diamond in the world. The Sergio is even more interesting because of its color, a rare black. Black diamonds like the Sergio are believed to have their origins in meteorites.
Cullinan

Following the Sergio Diamond, is the Cullinan at 3,107 carats. This stone is the largest clear diamond in the world and was discovered in South Africa in 1905. Today, a replica rests in a display case at the Cape Town Diamond Museum. The original diamond was given to King Edward VII and was cut into several smaller pieces. The largest of these was named the Cullinan I and weighs 530.4 carats and now takes the place as the largest cut diamond in the world and is mounted in the Sovereign's Sceptre with Cross. The second largest of these pieces took its place on the Imperial State Crown.
Lesedi La Rona

The 3rd largest, uncut diamond in the world is the Lesedi La Rona with 1,111 carats. It was found in 2015 in Botswana and is considered a gem quality stone like the Cullinan. It received its name from a naming competition held by the mining company. The winner won $2,170; when translated from its original Tswana, Lesedi La Rona means "Our Light." On June 29, 2016, the diamond was set to go up for auction at Sotheby's in London. Surprisingly, the bids did not exceed the reserve price of £50 million. The Lucara Diamond Corp mining company is still in possession of the stone though it saw its stock fall just over 14% after the auction.
Excelsior

Following the most recently discovered diamond is the Excelsior. With this diamond, the sizes go below 1,000 carats. The Excelsior was discovered in South Africa in 1893 and weighs 995 carats. When the miner saw this stone in his shovel, he immediately delivered it to the mine manager who rewarded him with £500 and a saddled horse. This large diamond went on to become ten smaller, marquis and pear shaped gemstones. The biggest of these was the Excelsior I, a 69.68 carat pear shaped stone. Robert Mouawad purchased it in 1996 for $2,642,000 and set it in an astounding diamond bracelet.
The Other Beauties
The remaining large, uncut diamonds are less than 1,000 carats. Four of them were found in Africa, 1 in India, and 1 in Brazil. Those stones and their weights are as follows: Star of Sierra Leone from Sierre Leone in 1972 (969 carats), The Incomparable from DR Congo in 1984 (890 carats), Koh-i-Noor from India in 1250 (793 carats), Millennium Star from DR Congo in 1990 (777 carats), Golden Jubilee from South Africa in 1985 (756 carats), and the Vargas from Brazil in 1938 (727 carats).
Diamond Popularity
Historians believe that diamonds first gained popularity in India from where they were traded with neighboring countries. Eventually, they were sent to Europe where they also captivated the population, particularly the elite. Since then, they have gone from fashion accessories to symbols of neverending love and are even used for industrial applications. Diamonds have always been desired by people.
What is the Largest Uncut Diamond That Has Ever Been Found?
The Sergio diamond was found in Brazil in 1895 and weighs 3,150 carats, or 1.4 pounds. It is the largest uncut diamond in the world.
Largest Uncut Diamonds Ever Found
| Rank | Diamond, Country Found In, Year Discovered | Size |
| --- | --- | --- |
| 1 | Sergio, Brazil, 1895 | 3,150 carats |
| 2 | Cullinan, South Africa, 1905 | 3,107 carats |
| 3 | Lesedi La Rona, Botswana, 2015 | 1,111 carats |
| 4 | Excelsior, South Africa, 1893 | 995 carats |
| 5 | Star of Sierra Leone, Sierra Leone, 1972 | 969 carats |
| 6 | The Incomparable, DR Congo, 1984 | 890 carats |
| 7 | Koh-i-Noor, India, c.1250 | 793 carats |
| 8 | Millennium Star, DR Congo, 1990 | 777 carats |
| 9 | Golden Jubilee, South Africa, 1985 | 756 carats |
| 10 | Vargas, Brazil, 1938 | 727 carats |
About the Author
Amber is a freelance writer, English as a foreign language teacher, and Spanish-English translator. She lives with her husband and 3 cats.
This page was last updated on April 25, 2017.
Citations
Your MLA Citation
Your APA Citation
Your Chicago Citation
Your Harvard Citation
Remember to italicize the title of this article in your Harvard citation.