Environment
Lake Malawi - Lakes of the World
Also referred to as Lago Niassa in Mozambique and Lake Nyasa in Tanzania, Lake Malawi covers 30,044 square kilometers abounding with freshwater fish.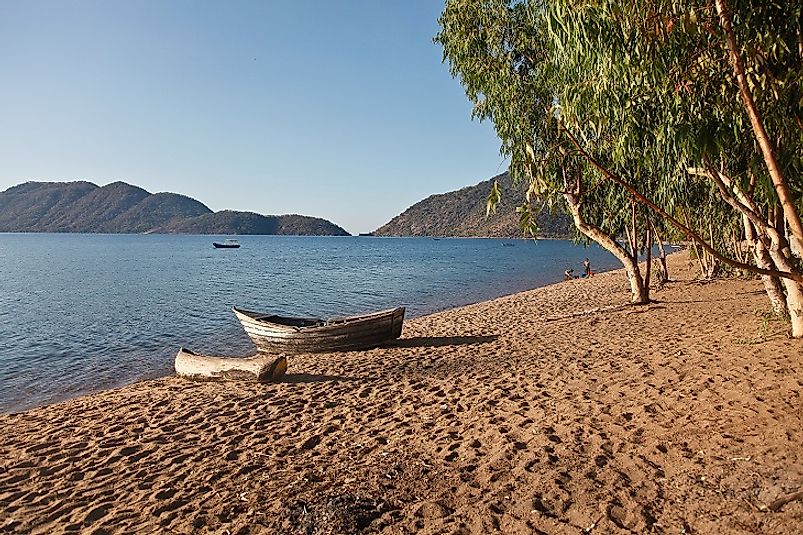 Description
Lake Malawi is a freshwater African lake shared by the nations of Malawi, Tanzania, and Mozambique. The lake occupies 20 percent of Malawi's total area, and it has a surface area of 11,390 square miles. Lake Malawi's mean depth is 264 meters, and its maximum depth is 706 meters, according to World Lakes. The lake's water volume is 2015 cubic miles, and this water has an estimated residency time of 114 years. In Tanzania it's called Lake Nyasa, and in Mozambique it's known as Lago Niassa. The lake has three layers, with different densities due to variations in temperature at each depth. Due to the diversity of endemic fish species found in Lake Malawi, UNESCO has designated it as being a World Heritage Site.
Historical Role
When Dr. David Livingstone, the famed Scottish missionary, reached Lake Malawi during his expedition from 1858 to 1862, he found it being used as an ivory and slave trade route by Swahili and Arab traders. One of the slave traders, Salim bin Abdullah (or Jumbe), had set up his headquarters by the lake at Nkhotakota in the 1840s. Once the slaves' total numbers reached 1,000, they were shipped across the lake to East African markets, according to UNESCO. At Nkhotakota, Dr. Livingstone negotiated a treaty with Jumbe and local Chewa chiefs calling for the halting of the slave trade there. Jumbe, however, didn't stop the trade, though it ultimately ended in 1891, when Malawi became a British protectorate. During his time by the lake, Dr. Livingstone nicknamed it the "Lake of Stars", due to the reflection of the stars twinkling at night upon its surface.
Modern Significance
Lake Malawi houses more known fish species than any other lake in the world. There an estimated 500 to 1,000 fish species therein, belonging 11 fish families, according to a World Bank study. Of these, the endemic species of the Cichlidae Family make up over 90 percent of the fish species found in the lake. At the lake, the Cichlids control the vegetation, and in turn are food source for native birds like the African fish eagle. Lake Malawi is also a tourism destination and has state-maintained park areas set aside in and around it. The aquatic recreational activities at the lake are inclusive of snorkeling, scuba diving, yachting, fishing, kayaking, water skiing, sail boarding, and swimming. At the parks, the recreational activities include birdwatching, hiking, mountain biking, and walking upon the trails that circle the lake. Sports venues for volleyball and golf are available to visitors as well.
Habitat and Biodiversity
The mean annual temperature around Lake Malawi is 22.7 degrees Celsius, with the average annual rainfall amounting to 766 millimeters. This climate sustains the woodland and scrubby vegetation that is seen dotting the national park's hills and flatter expanses around the lake. Acacia, baobab, and ficus are the dominant trees species spread out in the park. There are also swamps and lagoons near the lake. Underwater rocks are coated densely with the algae which is an important food source for the lake's fish. Lake Malawi has within its bounds 15 percent of the varieties of freshwater fish species found globally. The diversity of species at the lake is supported by a range of underwater habitats, including sandy, weedy, rocky, and rock-sand terrains, as well as reed beds.
Environmental Threats and Territorial Disputes
Overfishing, water pollution from runoff like sewage, sediment loading, receding water levels due to climate change, increased nutrient inputs, and changes in phytoplankton composition are among the threats researchers cite as most greatly affecting Lake Malawi's fragile ecosystems. The clearing of land around the lake for agriculture, the use of chemicals like fertilizers, and the continued deforestation activities seen here are also affecting biodiversity and ecological balance in and around Lake Malawi. When chemicals used on land get washed into the lake, especially fertilizer from cultivated crops, they promote the growth of blue-green algae, which is harmful to the aquatic life in the lake. Increased silt deposits are also interfering with places where the lake's fish have long laid their eggs to reproduce.
How Big is Lake Malawi?
Lake Malawi has a surface area of 30,044 square kilometers.
This page was last updated on April 25, 2017.
Citations
Your MLA Citation
Your APA Citation
Your Chicago Citation
Your Harvard Citation
Remember to italicize the title of this article in your Harvard citation.