Highest Peaks In California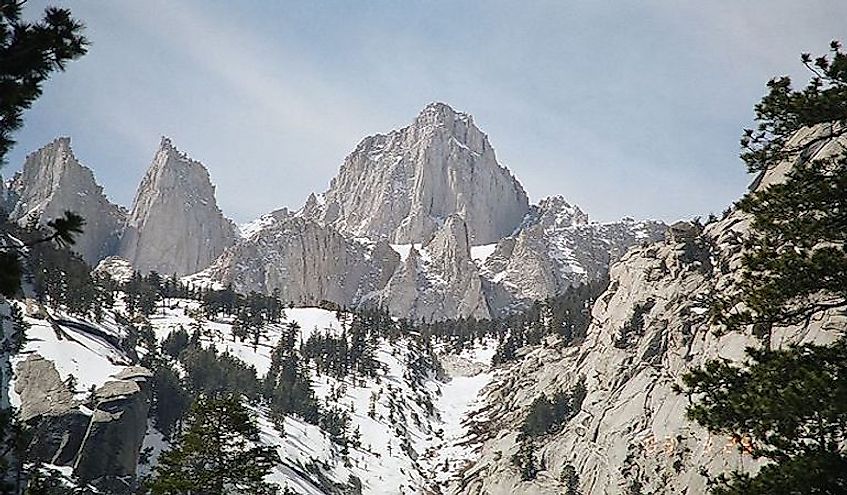 California, one of the 50 states making up the US, is the most populous state in the country. Located in the western part of the country, California is bordered by the states of Oregon, Nevada, and Arizona. California is divided into two major regions; the Northern California, comprising of 48 counties and Southern California, comprising of 10 counties. California Central Valley, which lies in the central region of the state, is the state's productive agricultural heartland. Most of the state is under Mediterranean climate characterized by cool winters and hot summers. The Northern part of the state experiences more rains than the southern part. The mountain ranges also influence the climate of the state with the west-facing mountain slopes receiving a lot of rainfall. Highest peaks in California include;
Mount Whitney
Mount Whitney ranks first among the highest peaks in California. It is also the highest peak in the Sierra Nevada Range with an elevation of 14,505 feet. The mountain is located between the boundary of Inyo and Tulare, the two counties in California. The summit of Mount Whitney is on the Great Basin Divide and Sierra Crest which rises above the Owens Valley. Mount Whitney is characterized by an alpine climate and ecology with very few plants (sky pilot) growing near the summit. In 1864, the mountain was named after Josiah Whitney who was a state geologist of California. Mount Whitney was first climbed by Charles Begole and John Lucas on August 18, 1873, who renamed the mountain "Fisherman's Peak. However, in 1891, the US Geological Survey's Board recognized "Whitney" as the peak's official name. Mount Whitney Trail, starting from Whitney Portal, is the most popular route to the summit of this peak.
Mount Williamson
Ranking second among the highest peaks in California is Mount Williamson. It is also located in the Sierra Nevada Range and has an elevation of 14,379 feet. The mountain is located in the John Muir Wilderness within the Inyo National Park. Mount Williamson is also located 10 km north of Mount Whitney and is more remote in access compared to Whitney. Mount Williamson was named after Robert Stockton Williamson who conducted Pacific Railroad Survey in California. The first ascent of the mountain was made by W. L. Hunter and Mulholland in 1884 through the Southeast Slope Route. Currently, the standard route to the summit of Mount Williamson is on the West Side Route which can be accessed from Shepherd's Pass.
White Mountain Peak
The 14,252 feet tall White Mountain Peak is the highest peak in the White Mountain. The summit has a tundra climate with extremely severe winters. The peak receives an upward of 400 cm of snow annually. The peak is characterized by low moisture level, dry air, and high winds. White Mountain Peak has some of the oldest living things with sparse and delicate plants and wildlife. Access to the White Mountain is restricted to hikers by locked gate before Barcroft Station.
The highest peaks in California are located within two ranges; the Sierra Nevada and White Mountain. Sierra Nevada Range is home to most of the highest peaks in California including North Palisade, Mount Tom, Mount Humphreys, Mount Darwin, Mount Kaweah, Mount Keith, Mount Morgan, Mount Gabb, and Mount Pinchot.
Highest Peaks In California
| Rank | Mountain peak | Mountain range | Elevation |
| --- | --- | --- | --- |
| 1 | Mount Whitney | Sierra Nevada | 14,505 ft |
| 2 | Mount Williamson | Sierra Nevada | 14,379 ft |
| 3 | White Mountain Peak | White Mountains | 14,252 ft |
| 4 | North Palisade | Sierra Nevada | 14,248 ft |
| 5 | Mount Shasta | Cascade Range | 14,179 ft |
| 6 | Mount Humphreys | Sierra Nevada | 13,992 ft |
| 7 | Mount Keith | Sierra Nevada | 13,982 ft |
| 8 | Mount Darwin | Sierra Nevada | 13,837 ft |
| 9 | Mount Kaweah | Sierra Nevada | 13,807 ft |
| 10 | Mount Morgan | Sierra Nevada | 13,758 ft |
| 11 | Mount Gabb | Sierra Nevada | 13,747 ft |
| 12 | Mount Tom | Sierra Nevada | 13,657 ft |
| 13 | Mount Dubois | White Mountains | 13,565 ft |
| 14 | Mount Pinchot | Sierra Nevada | 13,500 ft |
| 15 | Mount Ritter | Sierra Nevada | 13,149 ft |
| 16 | Red Slate Mountain | Sierra Nevada | 13,129 ft |
| 17 | Mount Lyell | Sierra Nevada | 13,120 ft |
| 18 | Mount Dana | Sierra Nevada | 13,063 ft |
| 19 | Mount Conness | Sierra Nevada | 12,649 ft |
| 20 | Needham Mountain | Sierra Nevada | 12,545 ft |