Costa Rica, one of the safest countries in Central America and a favorite among American tourists, is teeming with beautiful flora, unique fauna, and packed to the brim with awe-inspiring sites to see. It offers visitors a beautiful hodgepodge of ancient gems, geological wonders, fun activities for adventure junkies, and unique dishes to try.
Although travel and accommodations are a bit more expensive compared to other Central American countries, with a very low crime rate and all the fun things to do here, a trip will be worth every penny.
Costa Rica attracts around 1.7 million visitors each year. Most of them are from the US and Canada and many, who have fallen in love with the country and its people, have been coming here a few times. Want to know what keeps people coming back? Here's a list of the amazing things to do, see, try, and experience in fascinating Costa Rica.
10. See: Ancient Stone Spheres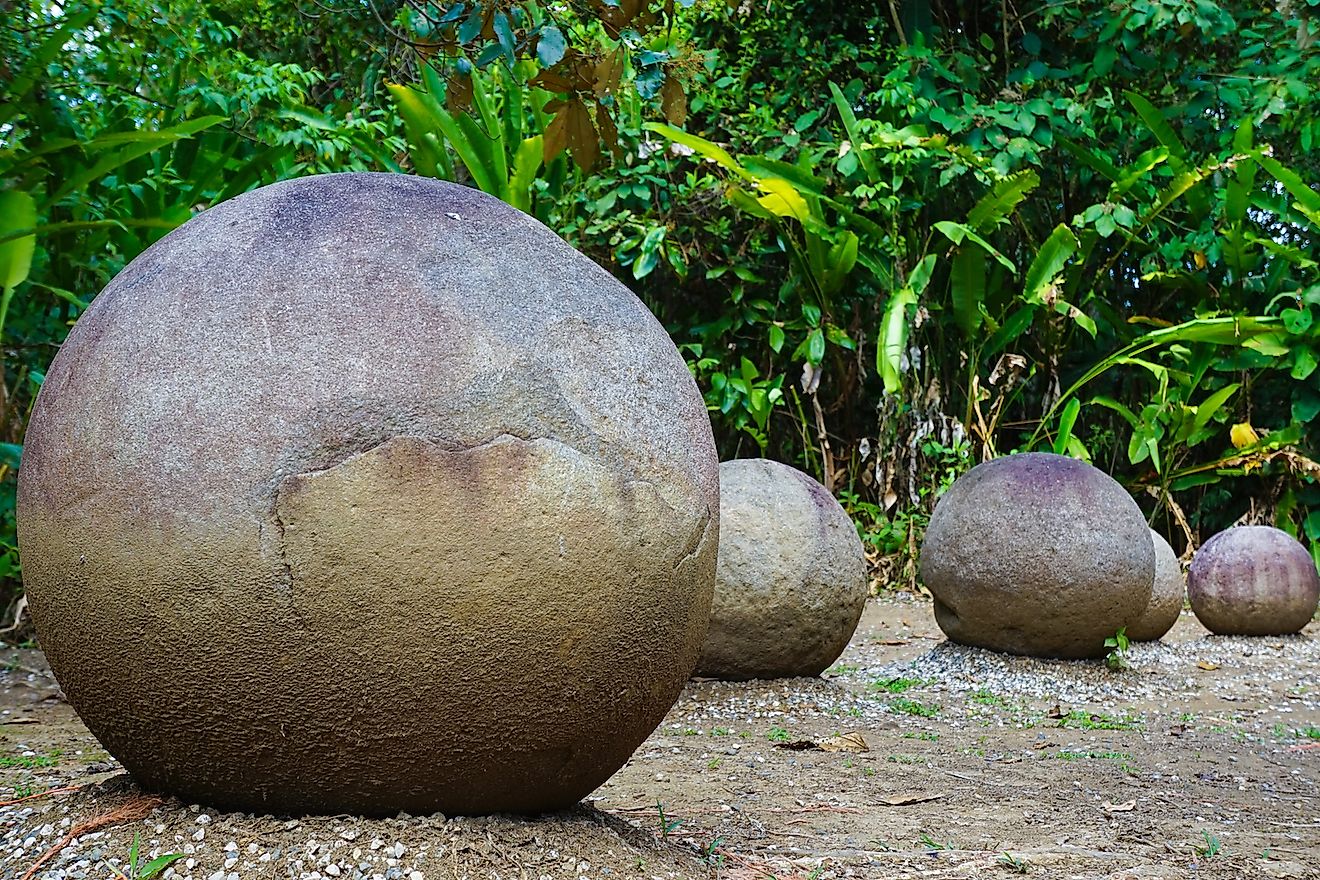 Located on the Southern Pacific side of Costa Rica in the Diquis Delta region, this collection of around 300 mysterious polished stones are believed to have been created in 600 AD long before the Spanish conquest. Sitting across the forest, with some scattered atop hills overlooking the sea, they are made up of solid stone balls in varying sizes, the largest of which weighs 16 tons. Many speculate that these were part of the lost continent of Atlantis, while others believe that they were used as ancient navigational tools related to the Stone Hedge. Scientists are still baffled by their existence.
9. Do: Hike in a Cloud Forest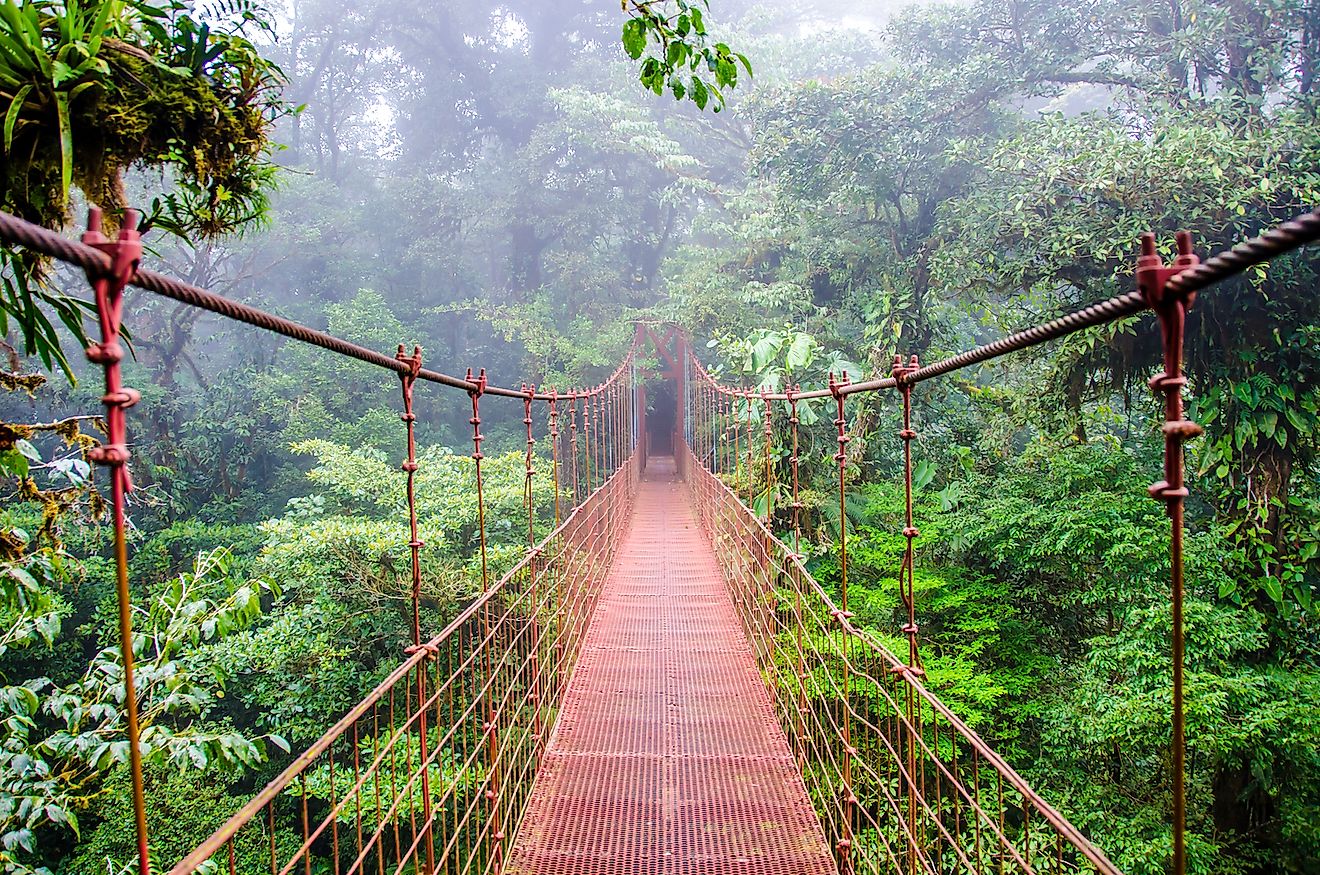 You may have visited a rainforest, but have you ever seen a cloud forest? A cloud forest is subtropical evergreen montane that is perpetually covered in a mist-like cloud. Costa Rica has a few of these enchanted-looking forests which offer tourists a unique hiking experience. The most famous of which is Monteverde, with its well-maintained trails, hanging bridges that afford a breathtaking view of the forest canopy, and unique fauna, 10% of which are endemic to the area.
8. See: Boiling Mud Pots of Rincon de la Vieja National Park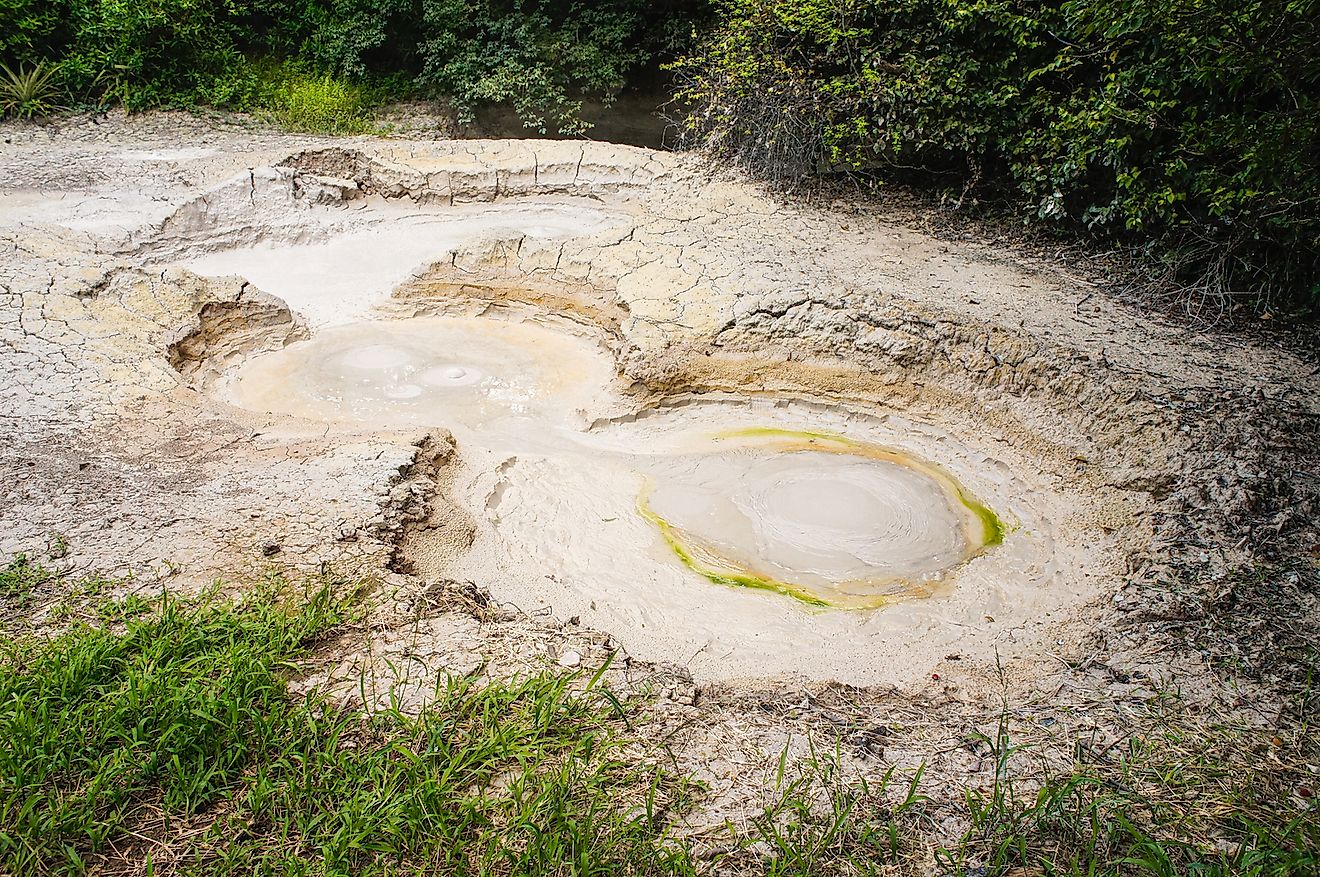 Located in the Northwest portion of Costa Rica, Rincon de la Vieja National park sits atop an active volcano. It's most famous for its scalding hot, bubbling mud pots. A short hike will take you up close to these amazing geological wonders to see the slurry volcanic mud and fuming steam vents that blow out smoke. Aside from seeing volcanic action up close, you can also visit any one of the 32 rivers and streams in the park as well as its refreshing lagoons and hot springs.
7. Do: Enjoy a Mud Bath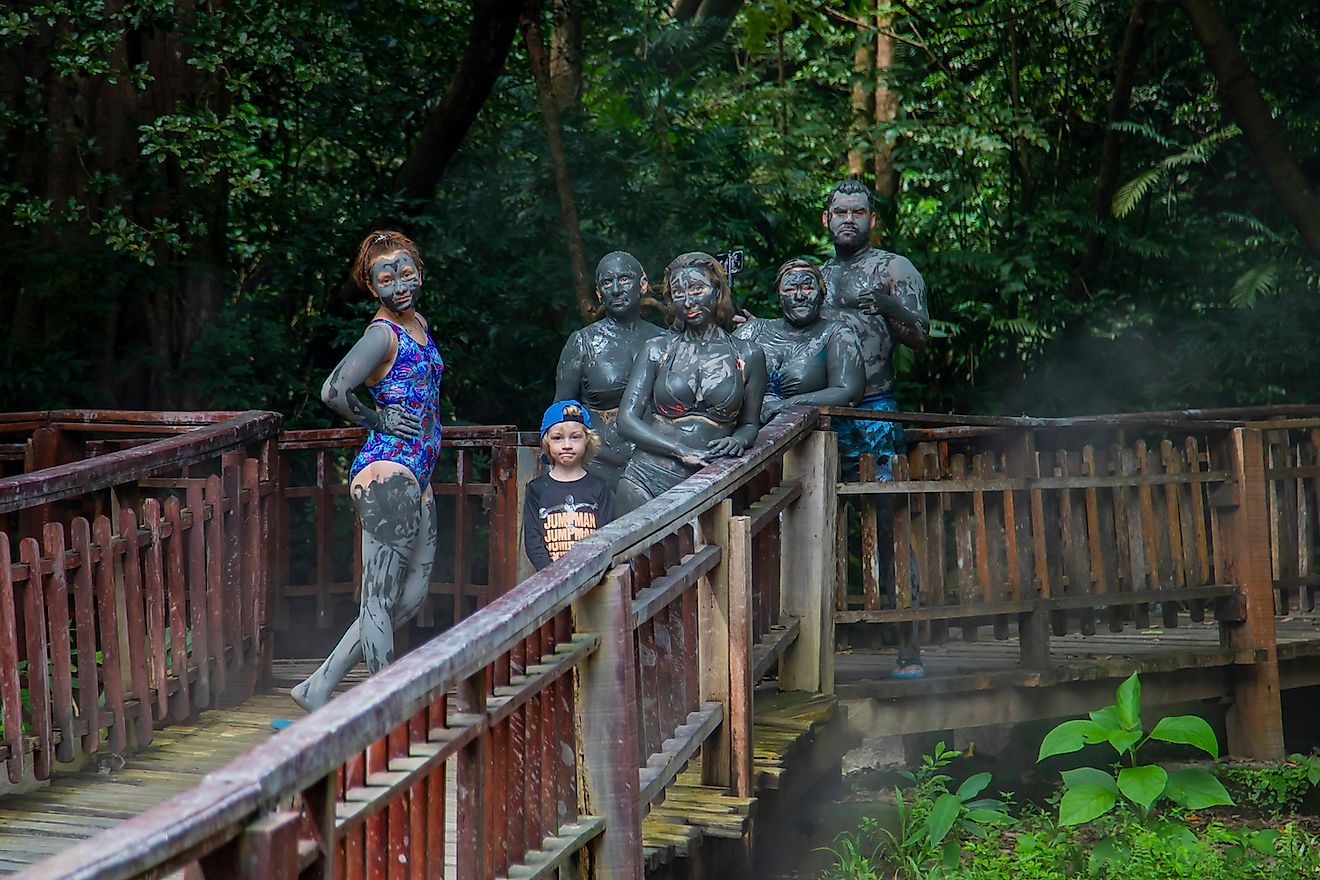 While you can't exactly swim in Rincon Park's volcanic mud pots without burning yourself to a crisp, you can visit any of the other hot springs and mud pools in Costa Rica instead. Natural mineral hot springs in Costa Rica allow you to, yes,  slather yourself all over with natural, therapeutic slurry volcanic mud. It's a fun and relaxing experience if you are not too squeamish. If you are not a fan of getting covered with anything sticky, try any of their relaxing natural springs instead. The country is surrounded by volcanoes that many of its springs have geothermally heated water that is rich in minerals and is generally believed to have restorative properties.
6. See: Unique Fauna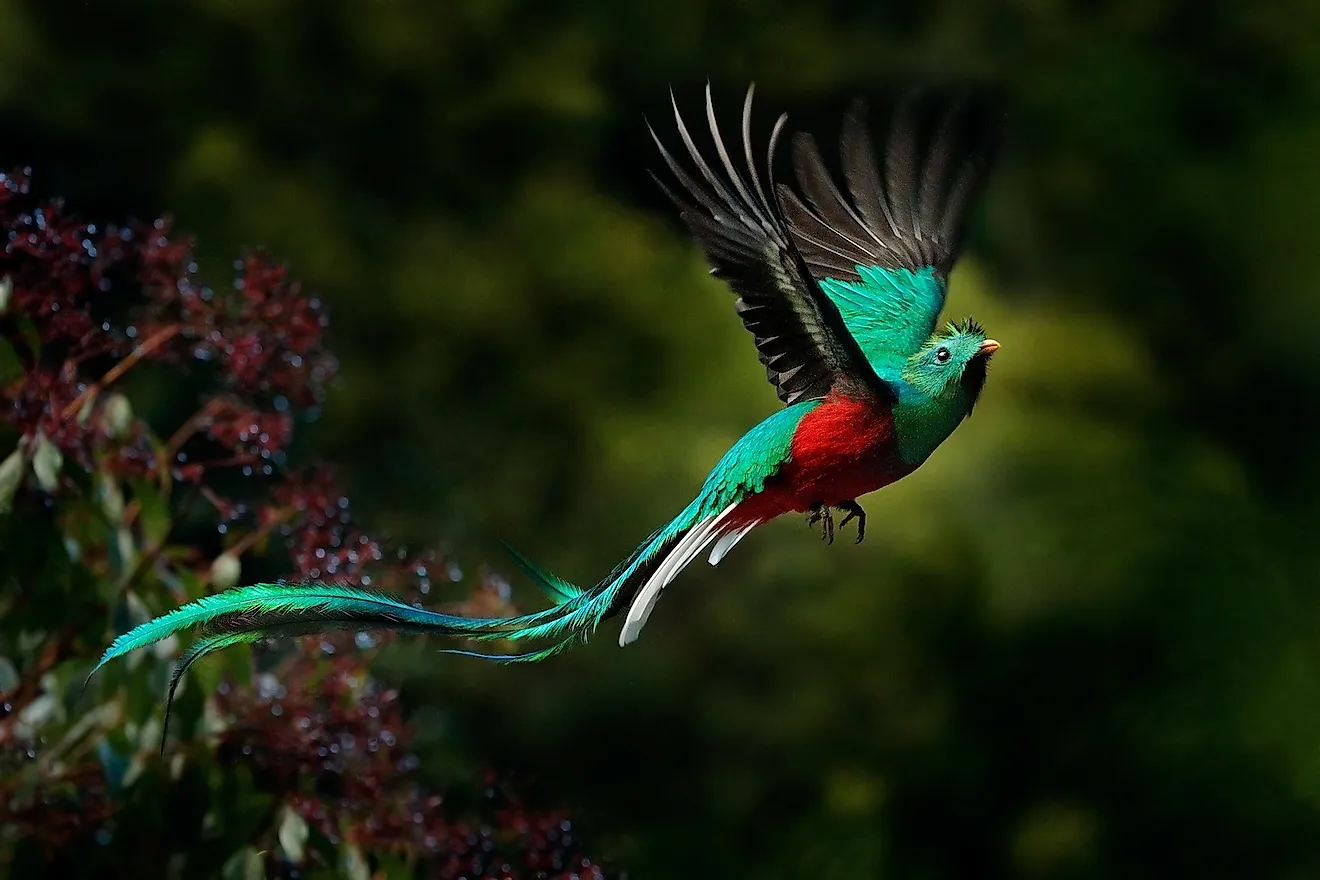 Costa Rica is home to many animals that are endemic to the country including mesmerizing birds you won't find elsewhere. Its forests are home to several colorful toucans, beautiful macaws, and pretty hummingbirds that make the country a virtual paradise for bird watchers. Also found in its forests are Ocelots, a unique species of wild cats that look like a cross between a domestic cat and a jaguar. Another charming creature worth seeing there is the slow-moving sloth, many of which are kept in Costa Rica's Sloth Sanctuary.
5. Try: Gallo Pinto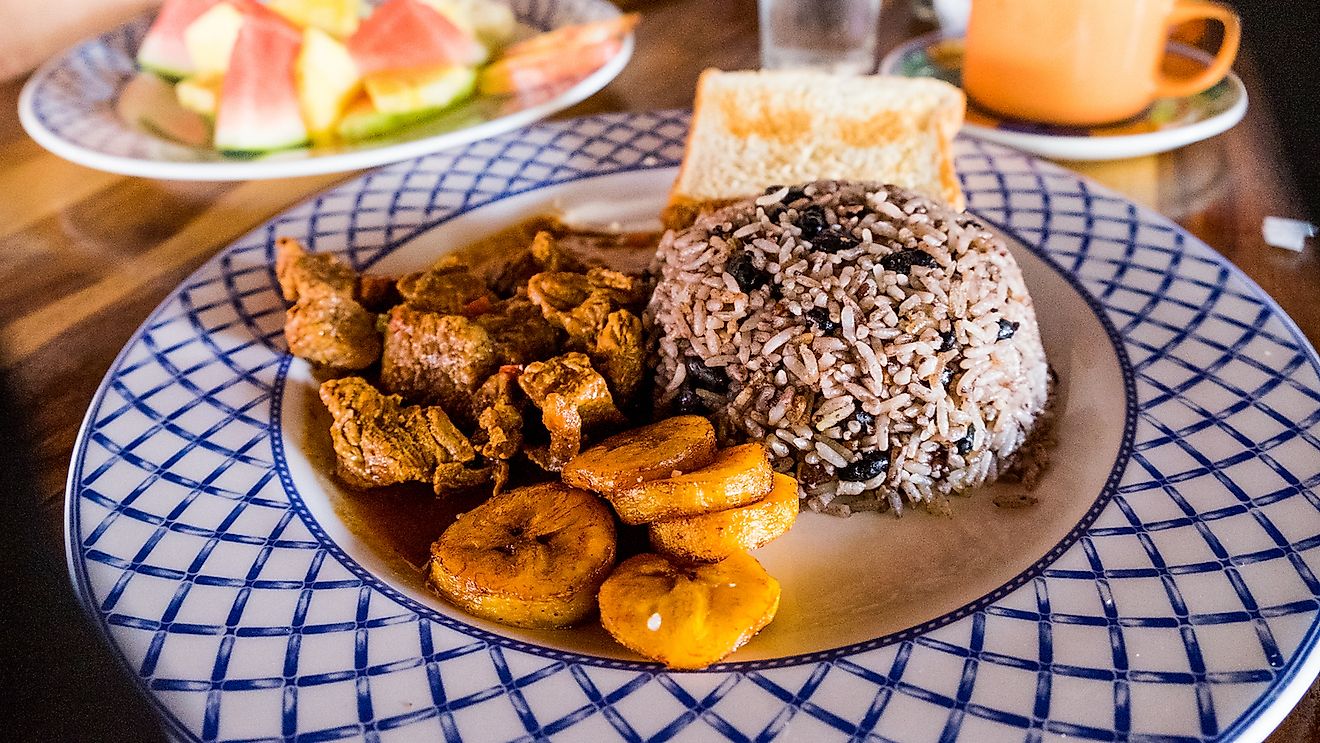 A trip to Costa Rica wouldn't be complete without chomping down on a plate of the country's national dish, Gallo pinto. Usually eaten for breakfast, its main food item is a scoop of rice that's typically cooked with a delicious serving of chopped cilantro, beans, bell pepper, and onions. It's often served with slices of fried plantains or fresh avocados (or both depending on your appetite) and topped with one sunny-side-up egg. It's the perfect flavorful combo of carbs and vitamins enough to fuel you for a day of adventure.  
4. Do: Waterfall Rappelling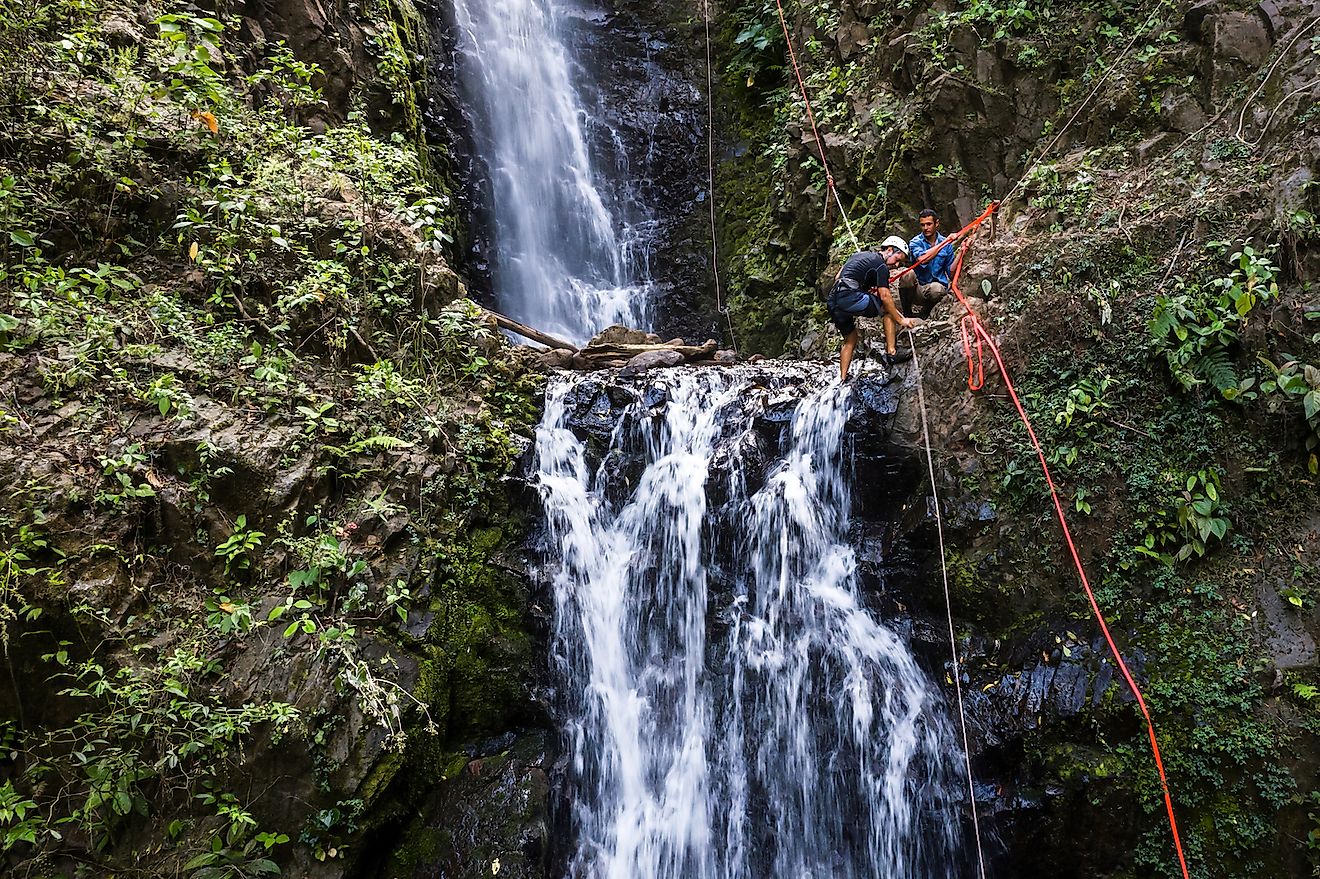 There are a lot of fun activities for adrenaline junkies who visit Costa Rica. Some are perfectly happy with ziplining through any of the country's lush forests but those who may have already found it ho-hum and ordinary go waterfall rappelling instead. The activity involves hiking through a forest and then climbing atop a rushing waterfall. From there you'll set up an anchor for the rope and go on a dazzling descend onto the water below. It's one of the most thrilling experiences you can try in Costa Rica and many enthusiasts believe once you get the initial fear out of the way you'll want to do it over and over again.
3. See: Parque Francisco Alvarado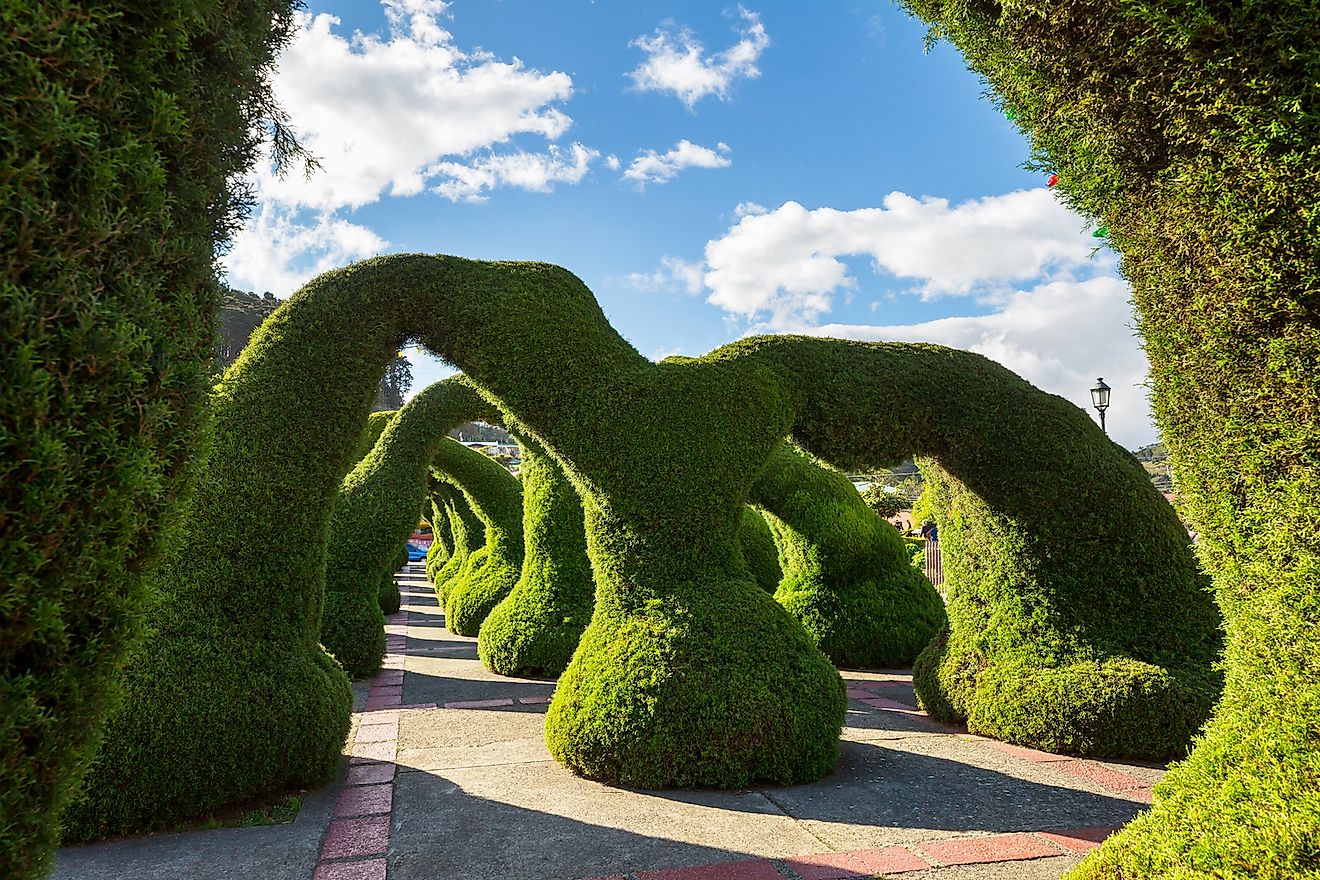 This quirky park located in the city of Zarcero has been entertaining visitors since the 60s. It features a collection of weird topiary figures spread out in front of a church. The interesting art installations are the work of gardener cum artist Evangelisto Blanco, who has been maintaining the garden for years. It features many trees and plants cut and shaped like animals, and people. The most beautiful of which is a series of green arches that create an enchanting tunnel of leaves.  
2. Experience: Fiestas Civicas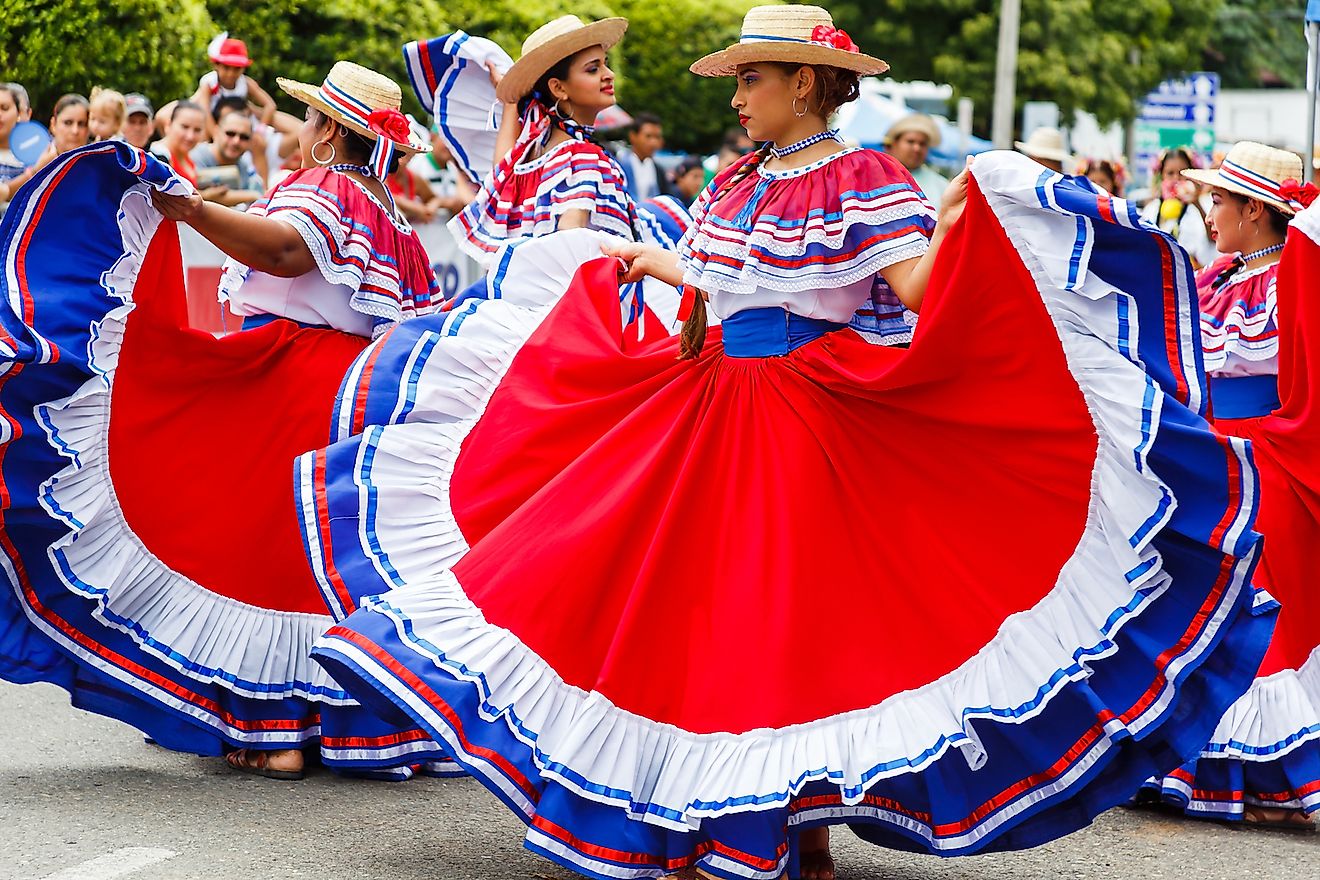 The best way to experience Costa Rica's culture is to join their fiestas. There are many of these, celebrated throughout the year, which showcase the country's colorful culture and allow visitors to experience their scrumptious cuisine, unique customs, and festive traditions. One of the most colorful is the Fiestas de los Diablitos or the Festival of Little Devils. The fiesta celebrates the local tribe's victory over the Spanish Conquistadors, with colorful masks and costumes, lots of dancing, music, different performances, and lots of tasty local fares.  
1. Try: Costa Rican Coffee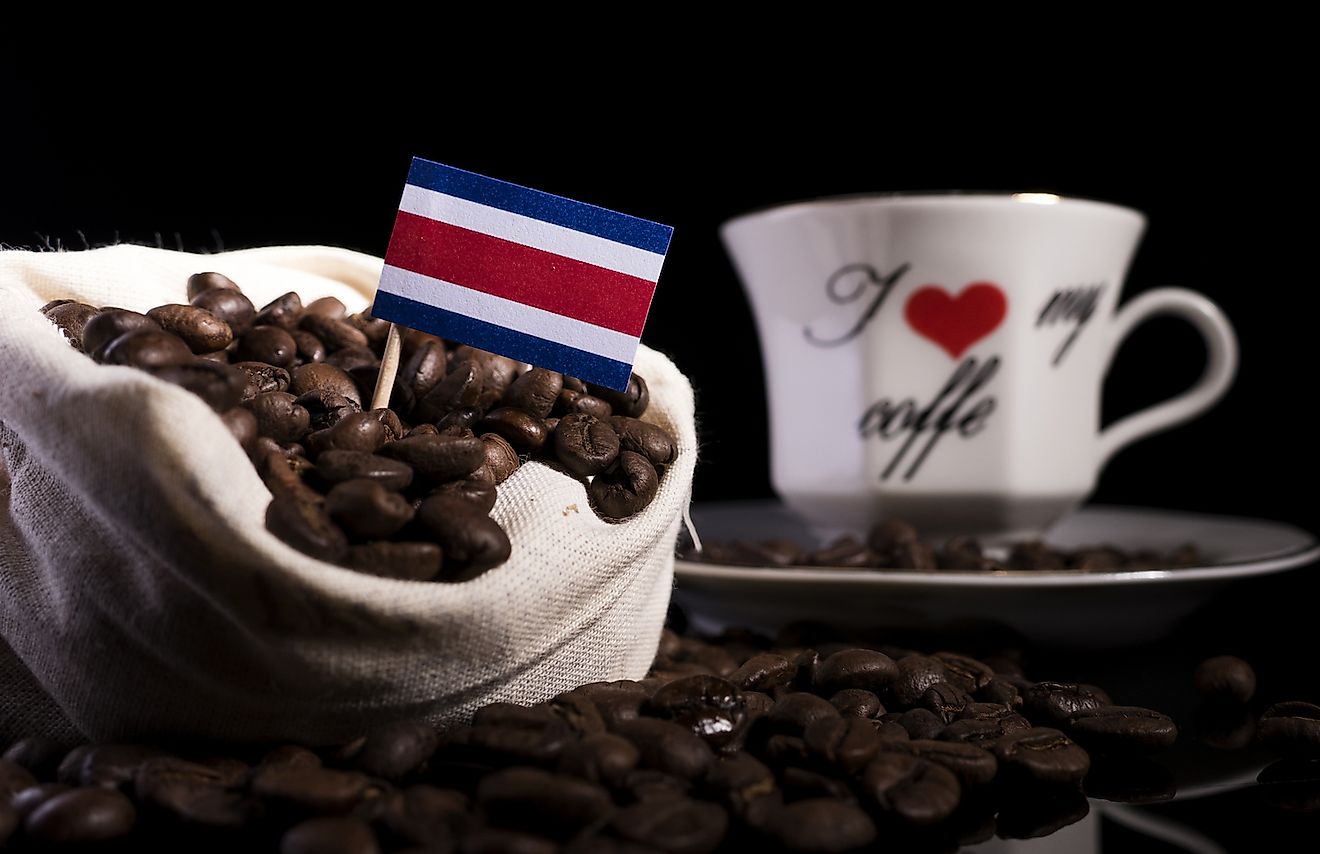 Costa Ricans take their coffee production seriously, so much so that at some point it was illegal to produce bad coffee in the country. They take pride in producing one of, if not the best-tasting coffee in the world. They are known to produce some of the best arabica beans from its plantations located throughout eight coffee-growing regions. Many believe that the country's climate and typography make for the perfect conditions to grow delicious coffee beans. Others say it's in how they handle and process the beans. This is why many come to see the sites and try a cup of coffee here.