Infant Mortality Rate by Country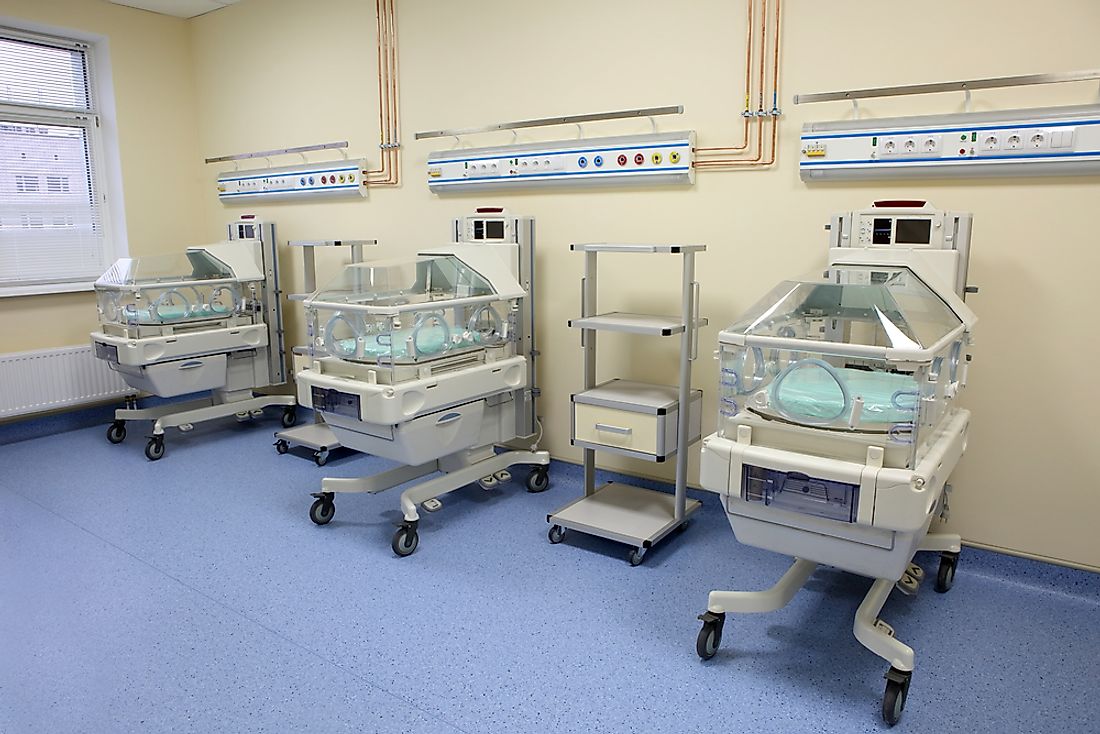 The infant mortality rate is calculated over number of deaths per live birth of 1,000 infants. One of the biggest challenges in both the developed and developing countries in the 20th and 21st centuries has been to decrease infant mortality rates. After much hard work and undertaking huge measures, many countries have found huge reduction in the infant mortality rate but there are many other countries still in worse situation. The major reasons behind this include lack of access to funds and infrastructure, lack of medical professionals, poverty, and discrimination. In addition, there are certain diseases that infants are particularly vulnerable to, such as pneumonia, diarrhea, malnutrition, asphyxia, birth complications, and malaria.
Select Infant Mortality Rates From Around the World
Afghanistan - 110.6 per 1,000
Afghanistan has the highest infant mortality rate in the world, with 110.6 deaths per 1,000 children 5 years old and younger. This sad reality is mainly due to sheer lack of medical facilities. This access is even worse in rural areas outside of the country's major cities. Lack of women's rights and access to healthcare for women also helps to exacerbate this problem. In addition, women often give birth at home, which means that qualified doctors are not usually present to provide medical care.
France - 3.2 per 1,000
France's infant mortality rate is among the lowest in the world, at 3.2 deaths per 1,000 live births. Over the past few decades, France has seen a gradual decrease in infant mortality rate, which was around 21.8 per 1,000 in the 1960s. It is no coincidence then that since 1974, the French have had access to high-quality universal healthcare.
Cuba - 4.4 per 1,000
The island nation of Cuba experiences an infant mortality rate of 4.4 per 1,000. Although this number is higher than several European and North American countries, it is still much lower than the world average of around 30.5 per 1,000. Cuba's rate is currently at the lowest number in the country's history. The prevention of diseases such as measles and whopping cough through vaccination as well as the increased treatment of diseases are two reasons behind the country's decreasing rate.
United States - 5.8 per 1,000
The infant mortality rate in the US is 5.8 per 1,000. Though below the world average, this is above the country's neighbors like Cuba and Canada. The higher rate in the US has been blamed on a lack of accessible healthcare and the lack of a quality social safety net in general. Low-income families and children in the United States are especially vulnerable to infant mortality.
Brazil - 17.5 per 1,000
Many improvements have been made in Brazil in recent years in an effort to address the country's infant mortality rate. Today, Brazil's infant mortality rate is 17.5 per 1,000. The majority of these deaths are said to spur from complications and illness, such as sepsis and meningitis. However, as the country's living standards gradually improve, infant mortality rates are predicated to lower.
Nigeria - 69.8 per 1,000
Nigeria's infant mortality rate is unfortunately among the world's top ten highest, with around 69.8 infant deaths per 1,000 births. In 2016, it was estimated that 10% of all newborn deaths in the world happened in Nigeria. In Nigeria, many pregnant women do not have access to quality, affordable healthcare. As a result, preventable illnesses like diarrhoea and pneumonia claim the lives of many.
North Korea - 22.1 per 1,000
North Korea is estimated to have an infant mortality rate of 22.1 per 1,000. This high rate has been blamed on a shortage of both food and medical staff. It is estimated that nearly half of North Korean children suffer from malnutrition.
Venezuela - 12.2 per 1,000
As Venezuela is currently in a terrible economic crisis, it would make sense that the infant mortality rate is rising. Today, it sits at around 12.2 deaths per 1,000 children born. Along with the infant mortality rate, other illnesses have also increased in Venezuela, such as diphtheria, Zika, and malaria.
Mali - 94.8 per 1,000
Mali has the second highest infant mortality rate in the world, and the highest mortality rate in Africa. Lack of access to medical care for mother and baby, as well as the prevalence of diseases such as malaria are behind these high rates. Unfortunately, although many of these deadly diseases such as malaria and diarrhea are preventable, the lack of resources available in Mali mean that these diseases are not treated.
Somalia - 86.3 per 1,000
Somalia has the second highest infant mortality rate in Africa, as well as the third highest infant mortality rate in the world. Pregnant women who give birth in Somalia are at risk of not only losing their baby, but also their own life. Inadequate health infrastructure only makes the problem harder to solve.
Steps Taken By The Government And UNICEF In Controlling Infant Mortality Rates
The important point to understand before taking measure is that, these places have been affected by wars and had remained isolated from the mainstream. The unstable government and complex laws have broken the rib of the country. Moreover, poor economies have made the situation worse. UNICEF and the governments of these countries have been working together to remove misunderstandings in childbirth. There have been measures taken to reduce illiteracy, polygamy, inhumane laws, and unawareness. The government and UNICEF have setup many medical hospitals and nursing homes. The schools have also benefited children in developing their lives and careers. Although these are steps in the right direction, there are many measures still needed to be taken to reduce the infant mortality rates.
Countries With The Highest Infant Mortality Rates
| Rank | Country | Infant Mortality Rate (Per 1,000 Live Births) |
| --- | --- | --- |
| 1 | Afghanistan | 110.6 |
| 2 | Somalia | 94.8 |
| 3 | Central African Republic | 86.3 |
| 4 | Guinea-Bissau | 85.7 |
| 5 | Chad | 85.4 |
| 6 | Niger | 81.1 |
| 7 | Burkina Faso | 72.2 |
| 8 | Nigeria | 69.8 |
| 9 | Mali | 69.5 |
| 10 | Sierra Leone | 68.4 |
| 11 | Congo, Democratic Republic of the | 68.2 |
| 12 | Angola | 67.6 |
| 13 | Mozambique | 65.9 |
| 14 | Equatorial Guinea | 65.2 |
| 15 | South Sudan | 62.8 |
| 16 | Zambia | 61.1 |
| 17 | Gambia, The | 60.2 |
| 18 | Comoros | 60.0 |
| 19 | Burundi | 58.8 |
| 20 | Uganda | 56.1 |
| 21 | Cote d'Ivoire | 55.8 |
| 22 | Congo, Republic of the | 54.9 |
| 23 | Benin | 52.8 |
| 24 | Liberia | 52.2 |
| 25 | Pakistan | 52.1 |
| 26 | Mauritania | 51.9 |
| 27 | Western Sahara | 51.9 |
| 28 | Cameroon | 51.0 |
| 29 | Guinea | 50.0 |
| 30 | Laos | 49.9 |
| 31 | Ethiopia | 49.6 |
| 32 | Senegal | 49.1 |
| 33 | Sudan | 48.8 |
| 34 | Swaziland/Eswatini | 48.4 |
| 35 | Cambodia | 47.4 |
| 36 | Haiti | 46.8 |
| 37 | Lesotho | 46.1 |
| 38 | Yemen | 46.0 |
| 39 | Djibouti | 45.8 |
| 40 | Sao Tome and Principe | 45.3 |
| 41 | Eritrea | 45.0 |
| 42 | Gabon | 44.1 |
| 43 | Malawi | 43.4 |
| 44 | Togo | 42.2 |
| 45 | Madagascar | 41.2 |
| 46 | Tanzania | 39.9 |
| 47 | India | 39.1 |
| 48 | Iraq | 37.5 |
| 49 | Kenya | 37.1 |
| 50 | Papua New Guinea | 36.3 |
| 51 | Burma | 35.8 |
| 52 | Bolivia | 35.3 |
| 53 | Ghana | 35.2 |
| 54 | Namibia | 35.1 |
| 55 | Timor-Leste | 35.1 |
| 56 | Turkmenistan | 34.3 |
| 57 | Zimbabwe | 32.7 |
| 58 | Bhutan | 32.1 |
| 59 | Kiribati | 32.1 |
| 60 | Tajikistan | 31.8 |
| 61 | Bangladesh | 31.7 |
| 62 | South Africa | 31.0 |
| 63 | Guyana | 30.4 |
| 64 | Rwanda | 29.7 |
| 65 | Botswana | 29.6 |
| 66 | Tuvalu | 29.0 |
| 67 | Nepal | 27.9 |
| 68 | Kyrgyzstan | 25.9 |
| 69 | Suriname | 24.5 |
| 70 | Azerbaijan | 23.8 |
| 71 | Indonesia | 22.7 |
| 72 | Trinidad and Tobago | 22.3 |
| 73 | Korea, North | 22.1 |
| 74 | Maldives | 22.0 |
| 75 | Cape Verde | 21.9 |
| 76 | Morocco | 21.9 |
| 77 | Philippines | 21.4 |
| 78 | Guatemala | 21.3 |
| 79 | Mongolia | 21.1 |
| 80 | Micronesia, Federated States of | 19.8 |
| 81 | Algeria | 19.6 |
| 82 | Kazakhstan | 19.6 |
| 83 | Marshall Islands | 19.3 |
| 84 | Egypt | 19.0 |
| 85 | Belize | 18.9 |
| 86 | Paraguay | 18.7 |
| 87 | Samoa | 18.6 |
| 88 | Peru | 18.4 |
| 89 | Nicaragua | 18.3 |
| 90 | Uzbekistan | 18.0 |
| 91 | Turkey | 17.6 |
| 92 | Brazil | 17.5 |
| 93 | Dominican Republic | 17.5 |
| 94 | Vietnam | 17.3 |
| 95 | Honduras | 17.2 |
| 96 | El Salvador | 16.8 |
| 97 | Gaza Strip | 16.6 |
| 98 | Ecuador | 16.4 |
| 99 | Iran | 15.9 |
| 100 | Georgia | 15.2 |
| 101 | Syria | 14.8 |
| 102 | Solomon Islands | 14.7 |
| 103 | Vanuatu | 14.4 |
| 104 | Jordan | 14.2 |
| 105 | West Bank | 14.1 |
| 106 | Colombia | 13.6 |
| 107 | Saint Helena | 13.3 |
| 108 | Saudi Arabia | 13.2 |
| 109 | Cook Islands | 13.0 |
| 110 | Jamaica | 12.8 |
| 111 | Oman | 12.8 |
| 112 | Armenia | 12.7 |
| 113 | Northern Mariana Islands | 12.7 |
| 114 | Guam | 12.6 |
| 115 | Malaysia | 12.5 |
| 116 | Montserrat | 12.3 |
| 117 | Venezuela | 12.2 |
| 118 | Antigua and Barbuda | 12.1 |
| 119 | British Virgin Islands | 12.1 |
| 120 | Tunisia | 12.1 |
| 121 | China | 12.0 |
| 122 | Moldova | 12.0 |
| 123 | Saint Vincent and the Grenadines | 12.0 |
| 124 | Albania | 11.9 |
| 125 | Mexico | 11.6 |
| 126 | American Samoa | 11.3 |
| 127 | Bahamas, The | 11.3 |
| 128 | Tonga | 11.3 |
| 129 | Saint Lucia | 10.9 |
| 130 | Libya | 10.8 |
| 131 | Aruba | 10.7 |
| 132 | Dominica | 10.6 |
| 133 | Palau | 10.6 |
| 134 | Barbados | 10.2 |
| 135 | Turks and Caicos Islands | 10.1 |
| 136 | Seychelles | 10.0 |
| 137 | United Arab Emirates | 10.0 |
| 138 | Panama | 9.9 |
| 139 | Argentina | 9.8 |
| 140 | Mauritius | 9.8 |
| 141 | Grenada | 9.7 |
| 142 | Brunei | 9.6 |
| 143 | Fiji | 9.5 |
| 144 | Romania | 9.4 |
| 145 | Croatia | 9.3 |
| 146 | Thailand | 9.2 |
| 147 | Bahrain | 8.9 |
| 148 | Greenland | 8.9 |
| 149 | Bulgaria | 8.4 |
| 150 | Saint Kitts and Nevis | 8.4 |
| 151 | Sri Lanka | 8.4 |
| 152 | Uruguay | 8.3 |
| 153 | Costa Rica | 8.0 |
| 154 | Cyprus | 7.9 |
| 155 | U.S. Virgin Islands | 7.9 |
| 156 | Nauru | 7.8 |
| 157 | Ukraine | 7.8 |
| 158 | Lebanon | 7.4 |
| 159 | Macedonia | 7.4 |
| 160 | Kuwait | 7.0 |
| 161 | Russia | 6.8 |
| 162 | Chile | 6.6 |
| 163 | Saint Pierre and Miquelon | 6.5 |
| 164 | Puerto Rico | 6.4 |
| 165 | Qatar | 6.2 |
| 166 | Cayman Islands | 5.9 |
| 167 | Gibraltar | 5.9 |
| 168 | Serbia | 5.8 |
| 169 | United States | 5.8 |
| 170 | Bosnia and Herzegovina | 5.5 |
| 171 | Faroe Islands | 5.4 |
| 172 | Latvia | 5.2 |
| 173 | New Caledonia | 5.2 |
| 174 | Slovakia | 5.1 |
| 175 | Hungary | 4.9 |
| 176 | French Polynesia | 4.6 |
| 177 | Greece | 4.6 |
| 178 | Canada | 4.5 |
| 179 | Cuba | 4.4 |
| 180 | New Zealand | 4.4 |
| 181 | Poland | 4.4 |
| 182 | Australia | 4.3 |
| 183 | Portugal | 4.3 |
| 184 | San Marino | 4.3 |
| 185 | Taiwan | 4.3 |
| 186 | United Kingdom | 4.3 |
| 187 | Wallis and Futuna | 4.3 |
| 188 | Liechtenstein | 4.2 |
| 189 | Denmark | 4.0 |
| 190 | European Union | 4.0 |
| 191 | Isle of Man | 4.0 |
| 192 | Slovenia | 3.9 |
| 193 | Estonia | 3.8 |
| 194 | Jersey | 3.8 |
| 195 | Lithuania | 3.8 |
| 196 | Andorra | 3.6 |
| 197 | Belarus | 3.6 |
| 198 | Ireland | 3.6 |
| 199 | Netherlands | 3.6 |
| 200 | Switzerland | 3.6 |
| 201 | Malta | 3.5 |
| 202 | Austria | 3.4 |
| 203 | Belgium | 3.4 |
| 204 | Germany | 3.4 |
| 205 | Guernsey | 3.4 |
| 206 | Israel | 3.4 |
| 207 | Luxembourg | 3.4 |
| 208 | Anguilla | 3.3 |
| 209 | Italy | 3.3 |
| 210 | Spain | 3.3 |
| 211 | France | 3.2 |
| 212 | Macau | 3.1 |
| 213 | Korea, South | 3.0 |
| 214 | Hong Kong | 2.7 |
| 215 | Czech Republic | 2.6 |
| 216 | Sweden | 2.6 |
| 217 | Bermuda | 2.5 |
| 218 | Finland | 2.5 |
| 219 | Norway | 2.5 |
| 220 | Singapore | 2.4 |
| 221 | Iceland | 2.1 |
| 222 | Japan | 2.0 |
| 223 | Monaco | 1.8 |