As 2020 dawned, COVID-19 began taking the world by storm and in many cases overwhelming intensive and critical care capacities of health networks across the globe. By March, Italy had been pushed to the breaking point in its hospitals as the virus ran rampant through the small European country. As the novel coronavirus made its way into other jurisdictions, governments and health officials were forced to look closely at their abilities to provide acute care for those hit hardest by COVID-19.
Some countries were ill equipped to handle the pandemic and began scrambling to provide the necessary beds, physicians, and equipment to care for patients suffering from the virus. This led to a microscopic look at the number of beds available in various countries and which regions of the world could be rendered helpless in the wake of COVID-19.
A study found the United States had the most intesive care unit (ICU) beds per capita, at 34.7 per 100,000 citizens, with Germany not far behind with 29.2. On the other end of the spectrum, countries like China and India found themselves ill-equipped with only 3.6 and 2.3 ICU beds per 100,000 people respectively.
What Is Critical Care?
Critical care is a relatively new aspect of medical practice, developed from the acute care models established to treat wounded soldiers during the Second World War. Over the course of the next 70 to 80 years, ICUs became common in hospitals - specialized units containing sophisticated life-saving equipment, usually with a high ratio of medical staff to the number of patients. The ICU serves patients in immediate life-threatening condition.
Ordinarily, hospitals do not require extensive numbers of critical care beds. However, during epidemics and pandemics like the COVID-19 crisis, the need increases manifold. For example, during the COVID-19 crisis many countries realized that their capacities to care for growing numbers of patients in dire condition were lacking. In many cases, makeshift ICUs were set up in other wards of hospitals with any additional equipment health care authorities could possibly attain.
Which Countries Are Best Equipped?
United States (34.7 beds per 100,000 people)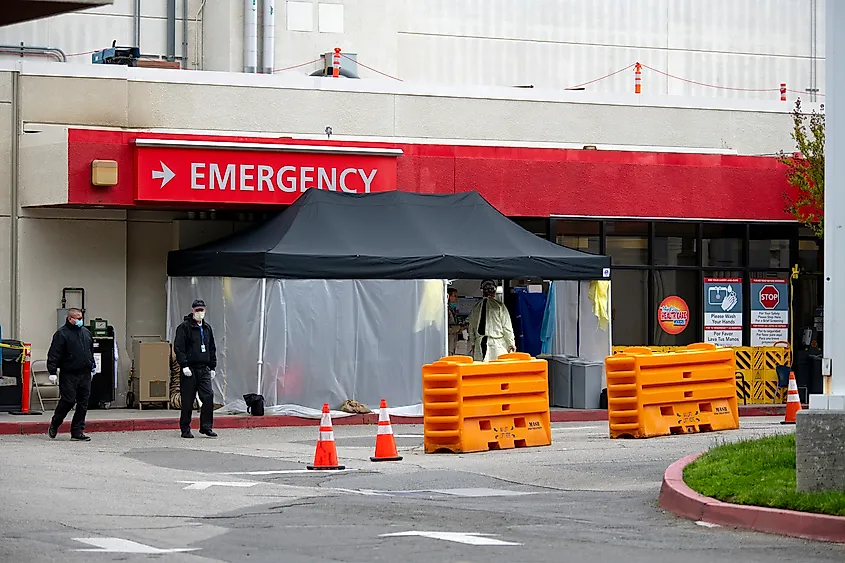 The United States has a total of 6,146 hospitals, according to statistics provided by the American Hospital Association, and more than 50,000 intensive care beds in various wards, including cardiac ICU, medical-surgical ICU, neonatal and pediatric ICU, and burn care. Even with 34.7 critical care beds per 100,000 people, authorities in the US warned citizens of the importance of following health guidelines to flatten the curve and prevent its hospitals from becoming overwhelmed with severe COVID-19 cases. Thus, it becomes clear that the country with the highest number of critical care beds per capita is also ill-equipped to handle an epidemic. The following scenario explains this more clearly:
When the COVID-19 pandemic struck the US, space to treat the number of people affected by the virus was of paramount concern, particularly as Italy was struck by the virus in March. The number of patients became too much to handle there and doctors were told to practice wartime-like triage in assessing those who needed ventilators and immediate attention. Though the United States boasts more ICU beds than European countries on average, doctors were still concerned of the country's capacity to treat the potential number of seriously affected individuals if the spread was not contained, as a mild outbreak following the patterns in Italy and China would have seen 200,000 people requiring ventilation and if numbers ran similar to the 1918 Spanish flue pandemic about 2.9 million would require ICU care, more than the number of beds available at any given time in the US.
Germany (29.2 beds per 100,000 people)
Politicians and economists in Germany have sounded the alarm for years over the country's seemingly high number of hospitals (1,400) for its population, with a study conducted by the Bertelsmann Foundation suggesting in 2019 the number be halved. However, in the eye of the COVID-19 pandemic, the previously scrutinized oversupply of beds was suddenly seen as a benefit to the country. There were 28,000 ICU beds in Germany when the virus entered its borders and hospitals acted quickly to create more intensive care beds, upping that number to 40,000 in a matter of weeks.
At the onset of the pandemic spread in Europe, Germany had more than twice the number of open ICU beds as England could count overall in its healthcare system. In addition, the country began running more COVID-19 tests per day than its neighbors and immediately increased its supply of ventilation equipment from 20,000 to 30,000 as it braced for a spike in critical patients. In doing so, Germany was able to limit its death rate in March and April to about 2%, compared to 13% in Italy and 10% in Spain. Taking preparations one step further, a makeshift hospital specifically for coronovirus patients was established in the fairgrounds in Berlin with 1,000 additionall beds.
Why The Number Of Critical Care Beds Is Not Enough For A Pandemic: Case Of Italy
Italy (12.5 beds per 100,000 people)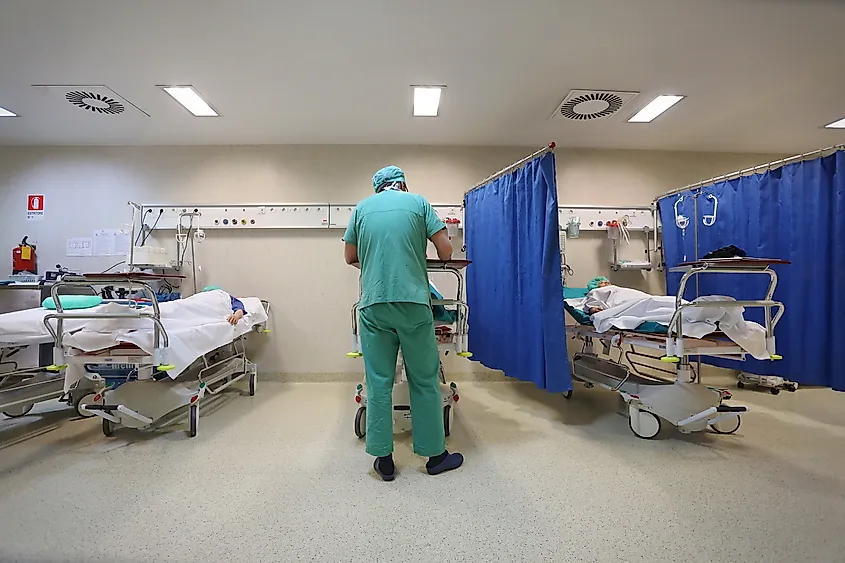 Just three weeks into the pandemic in Italy, unused hospital wards were being transformed into ICUs to accommodate a surging number of critical COVID-19 patients requiring ventilation and intensive treatment, while tented field hospitals were erected to conduct tests for infection. The trajectory of cases matched that of China and left the country's hospitals failing as they tried to keep up with the number of people in critical condition. The public health system of Italy was overwhelmed quickly and scrambled to create bed space for its citizens in need.
Italy's critical care system had not been upgraded for years, with only 350 ICU beds being added to hospitals since 2010, but in the first two weeks of the pandemic hospitals were able to increase capacity by more than 15%. As the number of patients being admitted rose exponentially, hospitals were mandated to increase critical care by 50%. To do so, elective surgeries were put on hold and operating rooms were transformed into ICUs, semi-intensive care beds were upgraded to full intensive care, specialists in respiratory and emergency care were recruited - including those completing their third year of medical school or recently retired, patients on ventilators were weaned quickly off the machines so they could be put to use on other patients, and some hospitals were dedicated to the treatment of COVID-19 patients who did not require full ventilation support any longer. In total, nearly 500 ICU beds were created to help in the fight against the novel coronavirus.
However, the country still struggled to keep up with increasing numbers of infected individuals, forcing doctors to triage in a new way and determine who needed ventilation most - essentially deciding which patients to save and which to potentially leave to die of acute respiratory failure.
All this happened despite Italy having a relatively high number of critical care beds per capita. 
Ill-equipped Countries: Good Emergency Response Can Come To The Rescue
China (3.6 beds per 100,000 people)
When the COVID-19 pandemic first arose in China with a steep spike in the number of infected patients, medical officials took on aggressive measures to contain its spread and treat those affected. These tactics included quickly building makeshift hospitals - two in Wuhan, where the virus originated - that were able to provide 2,000 additional critical care beds within two weeks. The facilities were built by crews of more than 7,000 to have them up and running within 14 days, and they were used exclusively for those with confirmed cases of COVID-19.
This fast-paced initiative was touted as the key to saving Chinese lives by the World Health Organization. However, reports on the ground claimed the number of critical care beds was still inadequate and hospitals were being overwhelmed. Chinese health officials designated 46 hospitals in the Wuhan province specifically for COVID-19 treatment and repurposed facilities like exhibition centers into temporary ICUs and triage units. Thus, despite having one of the lowest numbers of critical care beds, China's fast-paced response to the emergency situation helped to deal with the pandemic in a more effective manner.